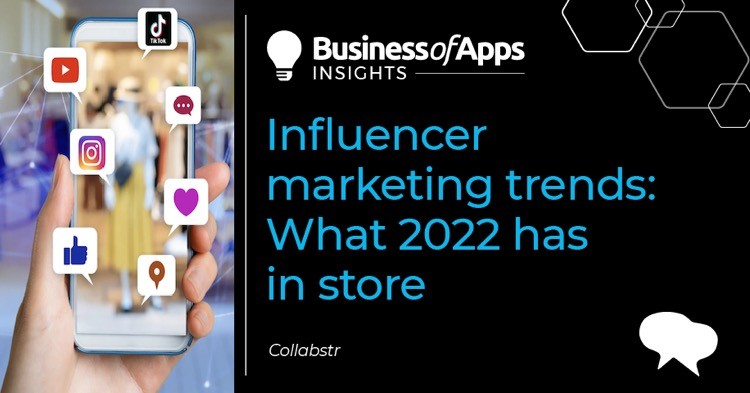 Stir a mix of short videos, an increase in mobile device usage of 30% during the pandemic, and a buzzing social conformity effect – and you have the untapped power of influencer marketing.
But as quickly as influencer marketing is becoming one of the most crucial marketing tools, it is further evolving and presenting brands with new challenges (such as setting a budget, calculating the ROI, and choosing the best platform type). Only those who understand where the industry is heading can juggle its potency well.         
Let's take a look at what trends brands need to embrace and what role TikTok plays in this game.
Not all collaborations offer the same value
Let's start with the basics. While Facebook is the social media platform with the highest number of users worldwide – while Instagram ranks 5th and Tiktok 8th – when it comes to influencer marketing, Instagram is the most favored tool. In 2021, 48% of influencer marketing budgets were spent by advertisers directly on Instagram. TikTok was close behind, with 46% of the influencer marketing budget distributed towards influencers on the platform. YouTube came in last, amounting to only 6% of influencer marketing expenses by marketers.
However, you shouldn't just choose your next influencer marketing battleground based on these statistics. Analyzing general trends, we found that even though YouTube is a very effective medium, the cost of long video content is simply considered too high for many brands. Furthermore, Instagram is often perceived as evergreen because it has been widely utilized in the past, and the newer TikTok is often still underestimated despite its clear benefits for brands. 
Unlike Instagram, TikTok's algorithm helps brands reach a much larger audience with organic content than any other media. Instead of using the number of followers as an indicator to get your videos in front of wider masses, the algorithm focuses on the quality of the content, measured by each video's engagement rates.
Our survey also drew the notice of a gap between the female and male influencer market. The vast majority of today's influencers are female, even though, for example on TikTok, almost half of the users are actually male. This does by no means indicate you need to invest in female influencers only. On the contrary, depending on the target group, it could be a smart move right now to produce content with male users, where the market is not yet oversaturated, cheaper, and welcoming new trends.
How short video outperforms them all
The phrase short video is here to stay is a complete understatement of what the future of video content holds for us. Easily-digestible video content that comes in bite-size has taken the world by storm, and it is expected to make up for 82% of all internet traffic this year.
The rise of short video in the influencer industry has led to an unprecedented supply of content creators in every niche imaginable for advertisers to partner with – making TikTok the king. Influencer collaboration and TikTok together are fastly growing to one of the most-wanted marketing instruments for brands across industries.
Video is not just a phenomenon rolling the balls on TikTok or Instagram Reels. Brands that get short video content by influencers can embed these into landing pages, in email newsletters, and in their own social media channels. They will reach a much larger audience and attract higher engagement rates than with images (in fact, twice as much). 
Organic User-Generated Content (UGC)
The influencer marketing report has shown that, so far, 13.6% of influencers have been willing to charge advertisers for user-generated content (UGC) – the rest was entirely built on brand loyalty. Some common use-cases for UGC are:
Product tutorials
Testimonials
Product shots
Ad material
UGC gets much better engagement than brand-owned content, and platforms are developing tools to allow for organically driven but still paid-for content. What sounds like an oxymoron – organic paid ads – is capturing attention both on TikTok and Instagram and offers immense opportunities for brand marketing. TikTok Spark Ads can be used to promote user-generated content posted on an influencer's page rather than a brand's own page – preserving the power of organic for marketing purposes.
Identify the right price before your overpay
From comedy to beauty to cryptocurrencies, any niche can see a winning strategy in the very dynamic marketplace. Right now, the stakes are high for building a multimillion-dollar brand with a relatively small investment in influencer marketing.
Average price for content in Top 10 niches

Source: Collabstr
At the moment, the average cost of Instagram content is $410, including static posts, stories, and reels. On TikTok, this price is slightly higher at $530, explained by the fact that the platform works exclusively with video content. On YouTube, the average cost for content collaborations on the platform is $1025, which is not surprising since YouTube's audience is arguably the most valuable compared to Instagram and TikTok, and long videos take a great deal of effort. Prices further vary among industry niches: The less saturated an industry niche is for influencer marketing (e.g., comedy, travel, medicine), the higher prices can climb. 
Lifestyle: $485
Fashion: $440
Beauty: $460
Health & Fitness: $460
Travel: $600
Food & Drink: $590
Modeling: $515
Comedy & Entertainment: $715
Music & Dance: $530
Art & Photography: $555
Still, one of the biggest mistakes brands commit when deciding how to spend their budget is choosing celebrities or mega-influencers instead of micro-influencers that fit well with the brand (for less cash). 
Micro-influencing should be much more praised than it is. Gymshark is one great example of a transformation into a million-dollar company: Sending several fitness influencers free sportswear to wear and promote the brand proved to be an extremely effective strategy for them. These influencers are now highly recognized as Gymshark ambassadors, reaching millions of people with branded content daily. 
Lessons learned: Micro-influencers help reach a larger number of target audiences instead of a wide spectrum of uninterested people.
What the return on investment reveals
The return on investment (ROI) of influencer marketing is steadily rising. According to a study by Mediakix, 89% of marketers agree that the ROI on influencer marketing is comparable, if not better, than other marketing channels.
When engaging in influencer marketing, brands will struggle to reliably quantify the value of building brand awareness and selecting brand ambassadors who create unique content just for their brand – though its value is unparalleled.
However, there are some ways to monitor key performance indicators. To measure the effectiveness of a partnership, you can look at engagement rates of posts, such as views, shares, and direct responses to videos (e.g., using hashtag challenges and using pieces of content from another post to create your own content). You can also work with discounts and promo codes that influencers advertise on their profile and convert their visitors into sales for you. 
Lastly, using tools like TikTok Spark Ads, it is relatively easy to measure how many people have seen the content posted by the creator (for example, up to five seconds or until the end). It also allows marketers to measure website clicks and direct sales (conversions).
Common mistakes brands need to stop making
Many brands' biggest mistake, putting their marketing strategy at risk, is not tailoring a partnership to their desired target audience. Advertisers miscalculate going broad and sending collaboration offers to all and sundry. When in reality, they should be focusing on individuals who possess a select group of attributes and are much more likely to buy from them or follow their social media channels.
When searching for and hiring influencers, brands must first filter by industry and targeted social media platform to grasp the market better and then look at the types of posts the selected influencers publish. The goal is to discover their values, style, language, and engagement and check whether those match the brand's message and values. Let's say you are selling a fintech software that helps people manage their budgets and set monthly goals for investing into a recommended portfolio. In that case, a brand should only hire an influencer who can confidently talk about investment opportunities, maybe drawn from their own experience or studies related to the topic.
Influencer marketing is essential. Still, many companies need a more sophisticated strategy to precisely analyze their target audience, the platform where their audience is active, and how they can reach them. It often helps to think outside the box – and strategies like investing in male YouTubers, or hundred of TikTok nano-influencers, might be just what you need to stand out.
Ready to find brand ambassadors? Find a perfect match with Collabstr, your influencer marketing place.