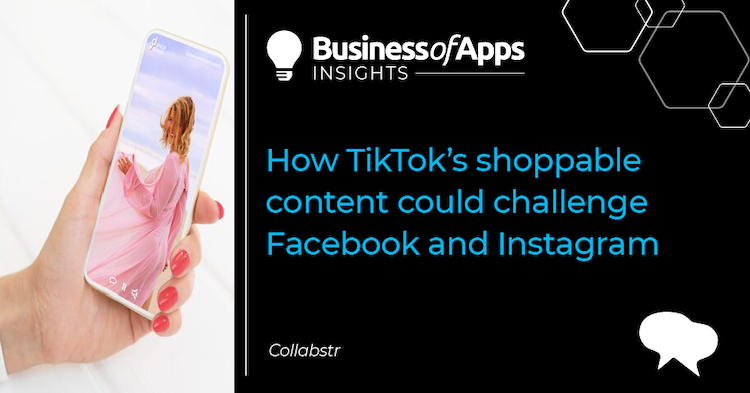 Social commerce, the act of buying products on social media platforms, is one of the fastest-growing sales channels to date. In 2020, nearly 80 million shoppers in the US made purchases through social media platforms, and the trend will most likely continue to grow globally by another 30% in the next seven years.
Causing a great stir in the world of social commerce, TikTok and Shopify recently expanded their partnership by allowing Shopify merchants to directly sell on the platform. Although Instagram and Facebook are in no way inferior to TikTok, the new shoppable content features on TikTok appear as a game-changer for social media commerce and marketing. Let's discover what lies behind TikTok's popularity, and how can brands embrace this newfound social commerce potential.
How does shoppable content work on social media?
Integrated shopping is by far not a new feature, but people's appetite for it has skyrocketed during the pandemic. Facebook and Instagram were the first to fulfill the growing demand for social media shopping, offering a seamless customer experience on social media platforms. Both platforms opened up the possibility for customers to browse products and purchase them in one stroke, without ever closing the window. 
Facebook is particularly popular with brands from all industries, as the site often serves as the first port of call when customers search for a company. At the same time, Facebook Ads is a trendy tool for paid advertising. Ahead of the curve, Facebook recently introduced their own Facebook Pay, so that people can pay for products purchased on Whatsapp, Messenger, Instagram, or Facebook.
On Instagram, brands can establish a business channel to sell from their profile, run paid ads or work together with influencers to build brand awareness and sales in an organic way. Influencers can advertise products and tag the selling point—users can buy the item directly from an influencer's profile, which boosts content collaborations for sales.
On the other end, TikTok has also been steadily developing e-commerce features. Their (paid) Hashtag-Plus challenge, a paid competition that also redirects visitors to shop directly via the app, created a lot of hype in the retail sector. And since Walmart introduced live shopping streams on TikTok this year, social media shopping has reached new ends, kind of like a revolutionary form of teleshopping (only much more effective). 
Thanks to the latest feature, the partnership between Shopify and TikTok, merchants can now synchronize their product catalog and add a shopping tab to their profile. A Shopify merchant can also run and optimize TikTok marketing campaigns directly from the Shopify dashboard and integrate TikTok's Business Ads Manager.
Even though the merchant functions are similar on all three platforms, TikTok pulls a rabbit out of its hat regarding marketing and sales. Its powerful organic reach allows brands to showcase their product to a broader audience for less money than with competitors. The potential for a content piece going viral—reaching millions of users in a matter of hours—has drawn immense attention among social media marketers. Startups like Gymshark, HiSmile Teeth, and Chipotle Bowls all broke through the roof with influencer marketing, and they are only a few examples. 
TikTok's new features help brands promote their products with the help of content creators. By leveraging the influencers' popularity, creativity, and social proof, creators ultimately get the products to the people. And if this wasn't enough. Organic reach works even for paid advertisements on TikTok.
TikTok Spark Ads to magnify ad impact
When it comes to paid advertisement, users can smell a hard sell a mile away. Describing people's tendency to ignore page elements perceived as an ad, Banner Blindness is a typical problem of promotional ads.
That's why TikTok has paved a road allowing brands to use paid advertising without risking banner blindness. Spark Ads, at its core, is an influencer listing. The tool enables brands to identify influencers relevant to their brand, products, or target audience and run an ad with them. Spark Ads allow companies to specify the audience and to track content performance. They can also choose a creator they want their brand to be identified with and use an advertising budget to boost the contents' range.
The gambit of TikTok's paid collaboration with content creators is that it amplifies, rather than destroys, the momentum of organic reach. Why is that? Because TikTok users embrace creative content instead of spammy ads and highly promotional posts. Meaning content creators will engage even more and try to enchant their viewers with novel creativity if they want to capitalize on their content. 
Is TikTok's organic power at risk?
The new shoppable content on TikTok will transform the way influencer marketing has been done so far. First of all, brands can track their ROIs much better. Previously, influencers offered affiliated links or coupon codes for what they were promoting. With shoppable content, brands can precisely analyze who is selling what and how much.
Secondly, content creation will be catalyzed. Some fear that TikTok will become an ad swamp, but in reality, collaborators will honor creative promotions more than ever. We can safely assume that TikTok will not give away its greatest strength, the fine-tuned, organic-first algorithm.
To make a prediction, promotional content will become less about the brand or product itself and more about how the advertisement is done. This will recolor our stale image of advertising, opening entertaining, engaging, and creative promotions.
Remember who you are selling to
Before deciding to rush into marketing on TikTok, brands need to ask themselves: Who are my target customers? To get an idea, let's do a direct comparison of age groups on the three platforms:
Facebook's largest user group is between 25 and 34 years (26.3%) and it's also the most popular platform among 54 to 70-year-olds.
On Instagram, the largest age group is 25 to 34, and 33.1% of users fall into this category. This means the target age group for Instagram is already in their late 20s.
On TikTok, users are mostly between 18 and 24 years old with 52% of all users being from the legendary Gen Z. If this is who you want to sell to, don't forget the fast-paced nature of TikTok. Branded content must be catered to a young, trend-oriented audience. Otherwise, it's pointless to try.
In the end, each social media platform offers brands unique treasures in the maze of e-commerce. Facebook allows seamless purchasing experiences with Facebook Pay, and Instagram has the advantage of solid influencer relationships and a strong foothold in the beauty and fashion industry. Adding some revolutionary spirit, TikTok is trying to leverage the power of organic in paid advertising. Now it is up to brands to choose a path and reach the desired treasure.
Are you ready to leverage social commerce? Explore Collabstr, an influencer marketplace, and find the right creator for your business within seconds.