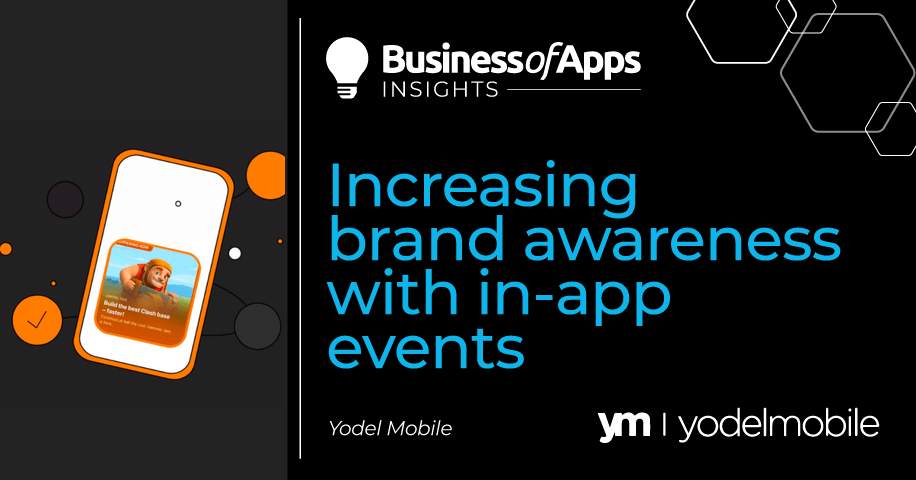 In-app events are a great way to take your App Store Optimisation to the next level. Not only can you take up more real estate in the App Store search results, but its a great way to increase brand awareness. Read more to find out how… Let's talk about in-app events. They're a relatively under-used feature of Apple's App Store and come with a lot of potential to increase brand awareness for your app.
Brand awareness measures how familiar users are with your brand or app, and the ultimate goal is for your brand to be the first thing that comes to their mind within a category. It sits at the top of the marketing funnel, meaning you have to maximise this measurement in order to push towards converting as many users as possible.
This post was first published on yodelmobile.com.
The good news is that brand awareness can be bought for cold, hard cash – PPC campaigns, social media advertising and influencer marketing are all good ways to move the needle. But these can all be expensive, particularly if you sit within a competitive vertical.
So the fact that in-app events can be used to increase your brand awareness without necessarily coming with a hefty price tag, that's got to be something worth investigating.
What are in-app events?
Let's start with the basics. In-app events are simply time-dependent events that are directly linked to your app and highlighted on your iOS store listing and in the App Store search results. But contrary to what their title might imply, they don't have to be live, real-time event-like events. Take a fitness app as an example: a live workout special event can be an in-app event, but so too is a monthly plank challenge or even the launch of a new heart rate monitoring app feature.
Specifically, Apple suggests the following categories work as in-app events (each of these comes with its own badge, used to categorise the events for users):
Challenge: Activities encouraging the user to achieve a goal before the event ends (popular among language learning apps)
Competition: Activities in which users compete against one another for the highest ranking or to win rewards (often used by gaming apps)
Live event: Activities that occur in real-time that all users can experience simultaneously (widely used by fitness apps)
Major update: Introducing significant new features, content, or experiences (going beyond minor enhancements like UI adjustments or bug fixes).
New season: Introducing new content, storylines, or media libraries to build on established content (typical for media or eCommerce apps)
Premiere: Introducing new content or media for the first time (popular among entertainment apps)
Special event: Limited-time events that are not captured by another event badge, possibly spanning multiple activities or experiences. These events should provide users with new content, features, or goods.
You can promote a maximum of five events on the App Store at any time and can start in-App Store promotion 14 days before the event starts, running for a maximum of 30 days.
In-app event examples on the App Store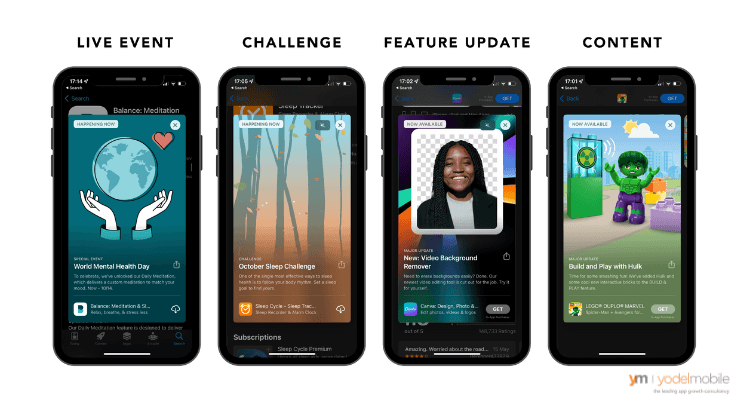 Source: Yodel Mobile
Why should you do in-app events?
There are two big reasons for using in-app events:
To provide extra engaging content for your users
To increase the visibility of your brand over your competitors
Creating engaging content is crucial to maintaining app engagement over the long term. It not only gives a reason for users to continue using your app, but it can also re-engage those users who haven't used your app for a long period of time. How? You can use notifications to inform your users about any in-app events you set up whether that's a new, exciting app feature or a challenge they can take part in.  In-app events are also great collateral for promotion using your other marketing methods, like email campaigns, social media posts or even paid advertising.

And then there's the advantage the feature gives you over your competitors. It gains you significantly more real estate in the App Store, and since users have a limited capacity to scroll down – normally viewing only the top five positions – it's important you take up as much space as possible to push your competitors beyond the fold.  If you use Apple Search Ads so you appear first in search results, followed by your organic listing which would appear straight under (as you'd normally appear on top for your brand keywords), followed by your in-app event, you've taken up the multiple positions, seriously increasing your download odds.
The Sweat app is optimising for Apple Search Ads and in-app events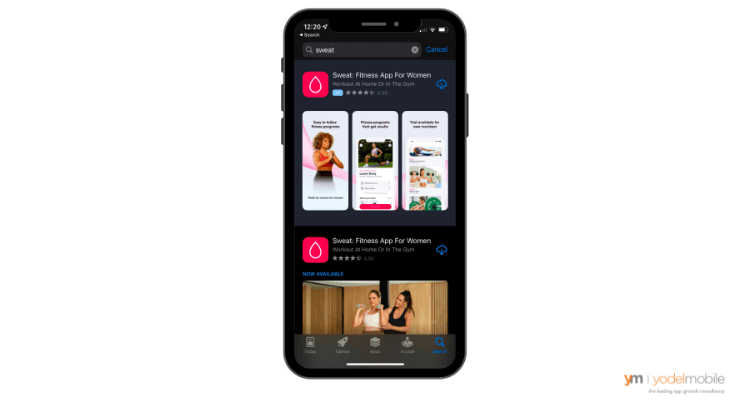 Source: Yodel Mobile
There's also a secret third reason to get on board with in-app events: wooing Apple's editorial staff. As a new-ish feature, Apple is keen to promote these types of events, and there are several positions in the App Store dedicated to highlighting them, including on the Today, Games, and Apps tabs.
Toca Life World's in-app event is featured in the Today tab of the App Store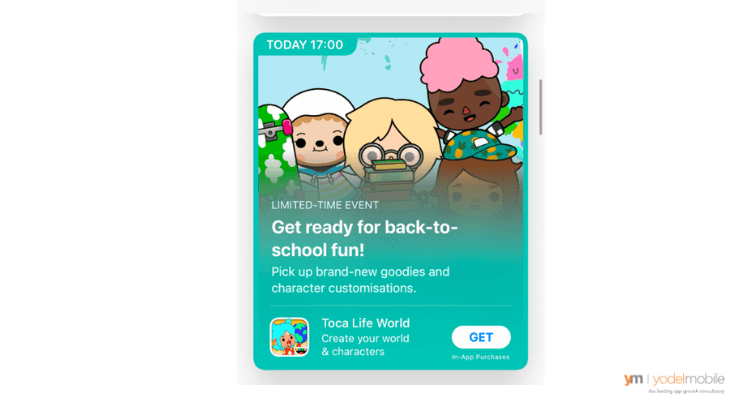 Source: Yodel Mobile
How do users find in-app events in the App Store?
On iOS 15 and iPad OS 15 and later, in-app events appear in the App Store as event cards that include images or a video, the event name, and a short description. These cards are displayed first to users who have already downloaded your app, and on your product page for both existing and potential users.  They are also a big feature of those editorialised sections and personalised recommendations. Finally, events can also be searched for, which is why your metadata is so important – more on this shortly.
How can app owners create in-app events for their store listings?
In-app events are easy to set up within App Store Connect. Simply choose an event name (not viewable to the public), add your event metadata, choose a badge from those event types above and select any relevant regionality.
Your metadata should be specific to your event, rather than more generally about your app. Your event name (30 characters) and short description (50 characters) are both indexed, so it's important to include keywords you want to target. Your longer description (120 characters) isn't indexed. Make sure to align this with your wider keyword strategy.
When it comes to your creative, your in-app event card should be both eye-catching and clear as to what you're offering. You can use either an image or a video – if it's the latter, be aware that it will play on a loop so the transition from end to start should be smooth.
You can see in the example below that the graphic clearly shows a range of templates, while the event title contains the keywords that users are likely to be searching for. The short description is also used to maximum effect, letting users know that these new templates are easy to use and plentiful.
Logo Maker's in-app event is highly optimised and utilises a great creative image card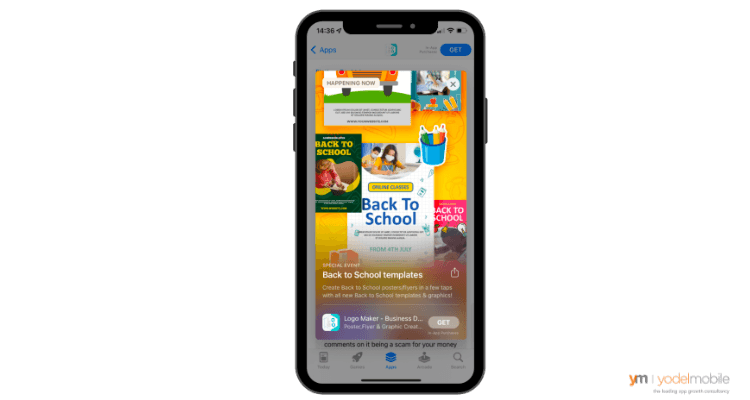 Source: Yodel Mobile
Measuring the success of your in-app event
Using App Store Connect, you can see how successful your in-app event has been, as well as where your traffic has come from. Impressions are key here, because it literally shows you how many people were exposed to your brand, and therefore how your brand awareness has improved.
App Store Connect will give you key insights into the performance of your in-app events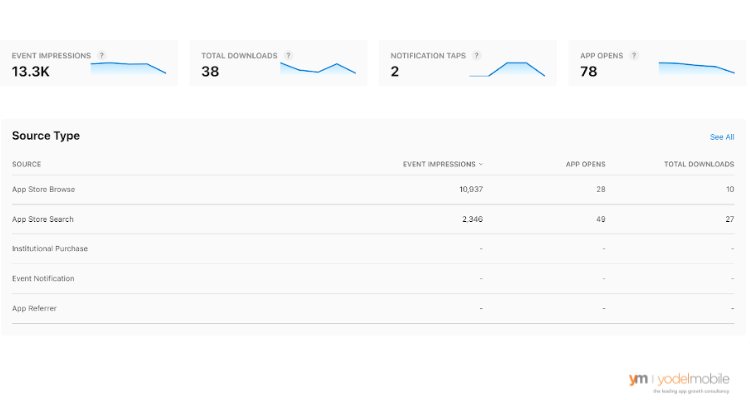 Source: Yodel Mobile
Metrics include impressions, where users saw your event, new downloads and redownloads, and retention as a result of your event. The measurement of your success will depend on the reason you created your event. If you wanted to attract new users you'll be looking out for things like new downloads and impressions, whereas if you wanted to re-engage old users, you'll be more interested in numbers like re-downloads and re-engagement.
Use App Store Connect to analyse Event Interactions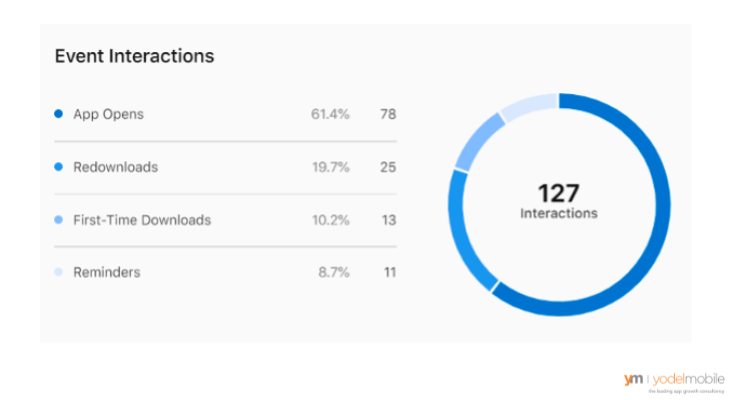 Source: Yodel Mobile
You should also monitor any uptick in organic traffic for your app overall. While people may not have interacted with your app necessarily, an in-app event can have a positive halo effect on organic traffic and overall brand awareness.
Conclusion
In-app events were first announced by Apple on June '21s WWDC and launched properly in October 2021, but they've yet to be adopted by all app developers. This means that there is still the potential to get more marketing bang for your buck than you will in, say, 18 months' time, when they'll be more commonplace.  And this is even more true if your competitors haven't yet taken the plunge with in-app events. (If that's the case, what are you doing reading this – get on that immediately!)
Whether it's re-engaging existing users or securing as much App Store real estate as possible, in-app events provide an extremely cost-effective way of reaching your end goal – increasing the number of users, who use your app more.