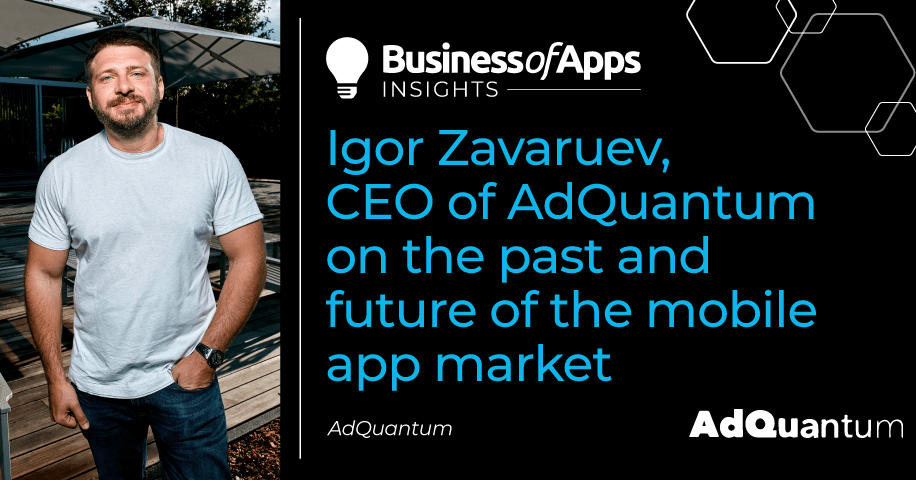 How did you end up working in mobile marketing?
At my first mobile project, an affiliate network, I was invited as an investor. By that time, I had just finished working at a gambling company in Africa. Clearly, after you've been working hard for a gambling company, your next stage should be opening a mobile marketing company. Joking! So I decided, why not?
At some point, I sold the affiliate network and built a mobile marketing agency. It was something groundbreaking back then, as we used a new model of cooperation. It was founded as a mobile-only company, whereas the market was flooded with affiliate networks working with web traffic for games solely. Only a few companies could drive high-quality traffic to mobile non-gaming applications, and we were among them.
Step by step, I started figuring out how the mobile industry works and dived deeper into the specifics. I have always stayed ahead of the trends and, you know, there are moments when you realize that if you don't make a breakthrough now, someone will leave you behind. Just then I realized that if there is no trend, I need to create it.
One of our first clients was a well-known mobile app. We worked for that app as an in-house user acquisition department. Thanks to that collaboration, we accumulated a tremendous amount of expertise. There wasn't that much profit though. But for us, expertise was more important than money. We managed to build solid relationships with the traffic sources and explore how product metrics affect our user acquisition. That allowed us to provide the best services to our future clients. We were standing at the crossroads of the old and new mobile. It seemed to me that we were changing the world.
Tell us more about your story at AdQuantum, how everything started, and how did it get to where you are now?
After working with our first client, we realized we should expand our internal user acquisition expertise. Just like that, we started getting new clients one by one. The first ones came to our agency through my own connections. We focused mainly on large mobile apps in the fintech and lifestyle categories and it definitely paid off. But I only have two arms and one head, so I hired people who were more experienced than me in their areas of expertise. Supervising such professionals, I was learning new things, while the company was earning and growing.
The model of collaboration we used to work with has evolved several times as the agency has grown bigger.
Gradually, AdQuantum found itself where it is now. We work with a huge number of clients of completely different business sizes, and our staff has grown from a few people to 100+ employees worldwide. If we take into account all our remote employees, we now have more than 200 people working at our agency.
What makes AdQuantum different from other agencies?
Firstly, AdQuantum has its own products that allow us to both gain expertise and test new marketing strategies. Secondly, we have built a creative factory with over 300 freelance designers involved. The idea of creating this factory came from the need for a large number of designers. It would take a whole football field if we hired all those designers to work in the office.
So, we built our own platform for designers based on JIRA. It allowed us to adjust the process of ad creative production.
Another hallmark of our agency is that we pay great attention to intellectual property and ad platform policies. Ad creatives that we produce are always checked by our compliance department against the guidelines and policies of both the client and ad platforms.
I believe we have managed to create such a unique freelance platform because we have always cared about working conditions. We have weekly payouts for designers, our project managers actively work with the design community, and we regularly give gifts to project and creative managers for the best creatives and their number of accomplished tasks. We also provide training for designers.
All this led to the foundation of a new project which we named AdQuantum Design. Some of our clients like the ad creatives we produce so much that they order them in packs, separately from other services we provide.
AdQuantum is flexible when it comes to models of cooperation with clients. We can smoothly switch from one to another without problems and risks for the partner. For example, we started with a commission-based model, switched to a CPA, and then to a revenue-share. We offer our clients this sort of transition in a timely manner unless they ask for it earlier.
As I said before, AdQuantum is an agency focused on mobile apps. We are not scattered like many other agencies, which allowed us to obtain rich niche expertise. We make decisions based on the results of dozens of our clients. Fintech, fitness, gaming apps — it's hard to find a faster and more experienced company than us in these app verticals.
Judging by the feedback from our partners, other large agencies are not as scrupulous about numbers and figures as we are. We report every dime spent on marketing and every dime earned. With great power comes great responsibility!
What are the apps/software/tools you can and can't live without?
Basically, these are all my working apps. I bought a Telegram Premium subscription because I have trusted this service for many years. After all, I'm the CEO and I can afford a star symbol in my profile 🙂
Apart from LinkedIn, I have no other social networks. So Telegram, Slack, and Gmail are my main means of communication.
In addition, I love outdoor activities such as buggy racing. My friends and I regularly use applications for navigation which help us to build a route for a cool trip.
Tell us more about yourself: who is Igor Zavaruev in his spare time, and what does he like?
I'm a huge fan of extreme auto sports. I have two types of buggy, one for travel and another for racing. I recently took second place in an amateur race. I'm also planning on assembling a customized buggy for participation in the rally stage. I want to go through several of these stages to understand what it's like. I'm obsessed with getting new experiences that you remember for a lifetime! A few years ago, I visited the Nürburgring, the legendary Formula 1 circuit. As you can see, racing cars are my passion. I try not to miss a single race and root for Max Verstappen.
If we talk about relaxing, I am unpretentious. The conditions aren't as important for me as the beautiful landscapes and a car I pick for traveling. Speaking about conditions, I once spent the night in a mountain village where I slept on the table with my clothes on. On one side of me, slept a younger lady, she was only (!) 100 years old. And on the other side, another lady was sleeping, she was a little older. Rats were scratching somewhere nearby, but I didn't care because, in the morning, I saw an unforgettable mountain landscape and then drove on. These are the moments I live for.
I have even made my son keen on car racing. Since the age of 6, he has been a fan of Ferrari. Now he's 7 years old and recently he took part in his first karting championship!
Is there something that has made a difference for your agency in the past year? And what are you planning to change in your agency this year?
AdQuantum has steadfastly survived the COVID-19 era. I also faced Covid-19 and beat this ridiculous virus!
While many companies had to restructure their businesses, we even grew in profits and staff. The app verticals we are used to working with — home fitness, meditation, and fintech — have skyrocketed in revenue as people began to spend more time on their body, mind, and online trading. This is where our advertisements were waiting for them. This has allowed us to scale our ad campaigns and budgets to a whole new level. So now we are already prepared for monkeypox in case of it!
At the end of 2021, we received investments from a large company. These funds were immediately directed to a new company foundation. We have created a truly unique publisher of non-gaming apps — Union Apps. This company publishes all types of subscription-based apps that our specialists have learned to work best with. In addition, Union Apps is engaged in M&A and is ready to consider any non-gaming apps and dev teams for a deal. In short, you have a cool mobile app? We're eager to pay you!
What's the future of mobile marketing?
The present and future of mobile marketing are linked to data protection, the security of users, and their personal information. Anonymity in advertising creates problems for marketers, but only the strongest professionals will adjust to the new conditions. AdQuantum proudly overcame the challenges and we learned how to work with both iOS 14.5+ and SKAd thanks to our internal products. Through trial and error, we got to where we are now.
Mobile ad creatives will continue to play a big role in the upcoming years. However, they will become more complex in production due to the user's banner blindness. Hence, mobile marketers need to constantly improve their skills. We, for instance, regularly expand our inventory of services. We bought the equipment for motion capture and are actively mastering our Unreal Engine and Unity skills.
As for the trends, the income of non-gaming apps is growing strongly. According to recent research, mobile non-games will soon catch up with mobile games in terms of revenue. 60% of AdQuantum's income comes from non-gaming apps. Still, in games, we are no less strong. But the historically accumulated expertise allows us to deal with non-gaming apps extremely well.
Good luck with your apps!