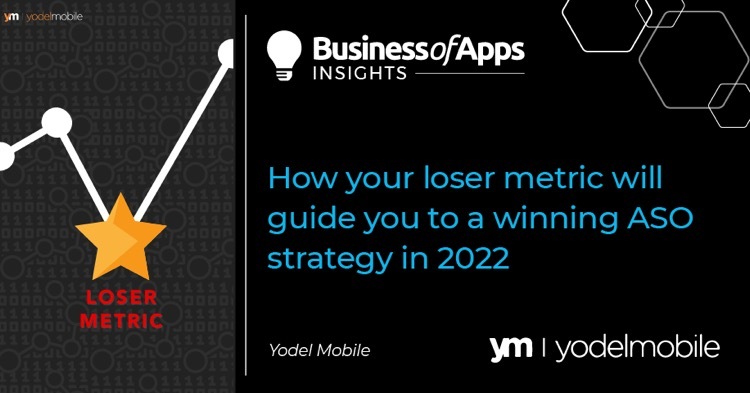 Yodel Mobile has been awarded ASO Agency of the Year 2021 at the App Promotion Summit in Berlin. Their holistic approach to app growth and award-winning app growth solutions have positioned them as the leading, global mobile app marketing agency.
It goes without saying that a successful ASO strategy is key in increasing the visibility of your app and boosting its listing's conversion rate. With over $170 billion spent in app stores and over 230 billion new app downloads in 2021 (App Annie), App Store Optimisation has become a big focus for mobile app entrepreneurs and remains an essential part of any app growth strategy for 2022.
Before we jump right into our tips on building a high impact ASO strategy for 2022, let's briefly recap the two main goals of App Store Optimisation:
Visibility – the main attraction of ASO is making your app as discoverable as possible and ranking highly to capture that essential organic traffic on the app stores. A successful visibility strategy will ensure that your app ranks highly for strategic keywords compared to your competitors. Keyword ranking and category ranking are the main contributing factors to delivering better visibility for your app.
Conversion – this is the rate at which users download your app from the impression to install. Your creative and on-page elements, such as icons, screenshots, preview videos, etc. are the main factors driving the desired results.
A well-thought-out ASO strategy should be focused on delivering long-term results, however, there are ways you can achieve an immediate impact from your ASO efforts. The key is to focus on your loser metric. It may sound counterproductive, but there is logic to prioritizing your poorest performing KPIs. In the short term, working towards metrics that offer the highest uplift potential will increase your chances of a highly impactful short-term strategy, and set the blueprint for your long-term focus.
Start by identifying your loser metric…
Identifying your app's Loser Metric
Compare your KPIs to your peer's median benchmarks
You need to understand the position of your competition before you can start building your ASO strategy in order to benchmark what 'good' looks like.
To give your app's ASO efforts a fair chance, choose your most direct competitors in size and traction, instead of the ones you aspire to become (that can come later in your long-term strategy)
Start by checking the performance of their KPIs and identifying the median benchmark.
Here's the how-to: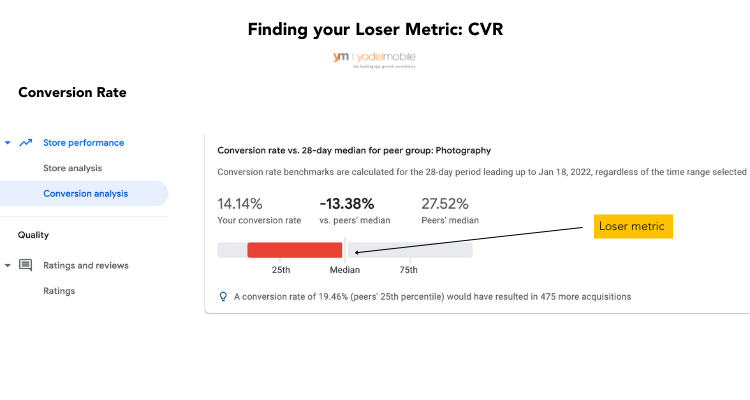 To find the median conversion rate, log in to your Play Store Console and click on Store Analysis. The peer's median conversion rate is calculated by Google based on the category of your app.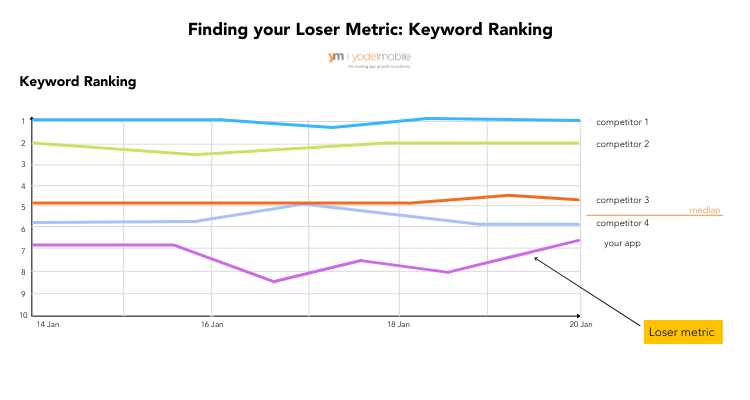 If you're looking for the median benchmark for a particular keyword, use an ASO intelligence tool such as AppTweak, AppRadar, TheTool, etc. to collect the data of your competitors' ranking, and use your findings to estimate the median and review your relative position.
Please note: if all your KPIs are above your peers' median, your strategy will require a different (and likely longer-term and incremental) approach to provide you with a competitive edge.

Choose KPI's that perform the furthest from the median point
Now that you have your data, you can compare the competitor results with your app's historic performance
Reaching the median should be the goal of your strategy as it's relatively easy to accomplish and delivers almost immediate impact (assuming that your app is well designed and provides real value to your users)
Alternatively, pushing your app over the median benchmark requires much more effort and will likely result in marginal gains if successful
Focus your initial efforts on your Loser Metric
Once you have identified the worst performing KPIs, it's time to isolate the Loser Metric and build your ASO strategy around it
Whether it's your keyword ranking or conversion rate performance, you can begin to prioritise the initial activity required to make a big impact on the success of your ASO
So, what could your strategy look like?
If your Loser Metric is keyword related:
Let's say you've analyzed your data and it's glaringly obvious that your keyword ranking for a priority generic keyword is well below your peer's median.
Once you've chosen 5-10 of your closest competitors, utilize ASO tools to analyze their ranking for your strategic keywords (a list of 5-10 keywords you know you'd like to be ranked for) and compare it to your performance. If your app is ranking below the average, focus on optimizing your metadata with these keywords in mind.
Identifying your Keyword Priorities: High volume vs High Relevance
So far, high-volume keywords have always been the primary focus of ASO experts, however – the direction of your keyword strategy should be more flexible, particularly if you want to create immediate impact.
Improving ranking for high-volume keywords is not an easy task as you're competing against apps with greater market share, brand awareness and presence in the app stores. Even if you increase your ranking to position 30 for a high-volume keyword, your conversion rate will unlikely improve, as most users will rarely scroll that far to find the app they're looking for. Instead, think about choosing less competitive but highly relevant keywords that can position you in the top 5. Improving your ranking for these efficient keywords will not only lift your conversion rate but also your overall ranking for high-volume keywords. It's a win-win situation!
Pro tip: Focus on long-tail keywords that are highly relevant as they are less competitive. This way you will increase your competitiveness, improve app store ranking, and boost your conversion rate all at once!
If your Loser Metric is your conversion rate:
The same principle can be applied to conversion rates; however, it might be a little bit trickier to understand what works and what doesn't for your audience, straight away. If your conversion rate is below the benchmark, experiment with the visual store listing elements, such as screenshots (different background colors, CTA, positioning), icons and videos. If your app receives a good amount of traffic, to provide immediate impact, try to test as many variants of your creative as possible within one experiment (however, remember to test only one element of your creative at a time – here we discuss how). You will be able to collect valuable data at a much faster pace and immediately apply your learnings to effectively convert your users and increase the number of organic downloads.
Pro tip: If your creatives are not receiving enough impressions, then focus on optimizing the discoverability of your app – and you can always boost your traffic with an effective Apple Search Ads strategy.
Remember that your app must be well designed, provide your users with real value, and meet their demands. Understanding what drives your users to install your app and leveraging that knowledge will help you create better-converting app store assets. Less than 30% of users ever go past the first impression frame of your app store page, therefore app titles, descriptions and visual elements, amongst other things, should be optimized regularly.
To sum it up, a high-impact ASO strategy for the short term can help you reach your KPIs sooner with more insights for future growth. A strategic keyword bank can ensure your app gets indexed for highly relevant yet low-competition search terms, to increase traffic. Similarly, testing at scale can help you identify the road to conversion improvement of your listing. Really, it's all about concentrating on your lowest-performing KPI (Loser Metric) and letting this dictate your short-term strategy.
Watch Yodel Mobile's ASO Lead Igor Blinov talking about best ASO practices for 2022 at the App Promotion Summit in Berlin.
Would you like to learn how a successful ASO strategy can improve your mobile app? Visit Yodel Mobile website or book a free consultation with Yodel Mobile ASO experts.