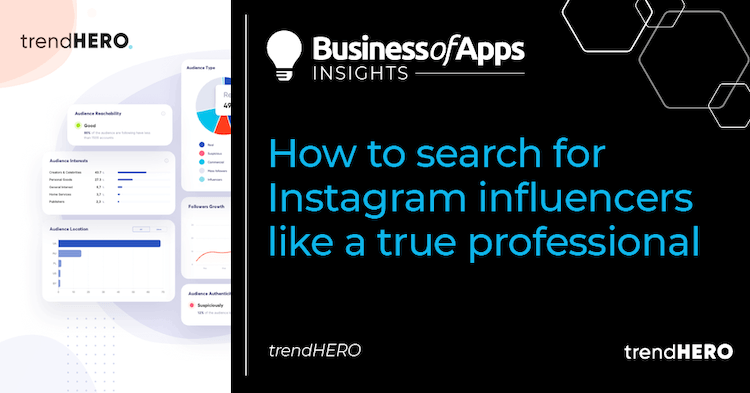 What is an Instagram influencer search?
The definition, the Instagram influencer search means the process of discovering the right influencers for your brand promotion or collaboration.  
Why do we need them?  
Influencers have a huge social media audience, and if you need followers, this is your best source.

 

Opinion leaders have the trust of their audience. When a brand says that their product is the best, that's taken with a grain of salt. When an influencer praises the same product, their words are given much more credence.

 
This article is not just about finding an account with a large number of followers. Our objective is to find a person with our target audience and to make sure that people will trust this person's recommendation. 
How to find Instagram influencers
Search influencers directly on Instagram
Basic tools: 
Search Instagram influencers by hashtags.
Use hashtags that fit your goal and look for the most popular posts. For example, if we had to sell bags, we would start with frequently used hashtags such as handbag, bags, fashion, shopping and gradually move towards more local handbagsnewyork.
This is a so-so method because you need to be well-versed in hashtags and sift through a lot of junk.

 

Follow a relevant influencer.
After subscription, Instagram will use its algorithm to recommend you similar accounts. On a practical level, this method works best for nano- and microinfluencers with a specific niche.

 

Look at your followers.
If you already have followers, there might be some nanoinfluencers among them. If they are your loyal clients, they are the best to approach for promotion.

 
Use influencer marketing tools
Influencer marketing tools are advanced software programs specially designed for influencer search and analysis. They usually have a large set of features so you can find those who suit you the best.   
By criteria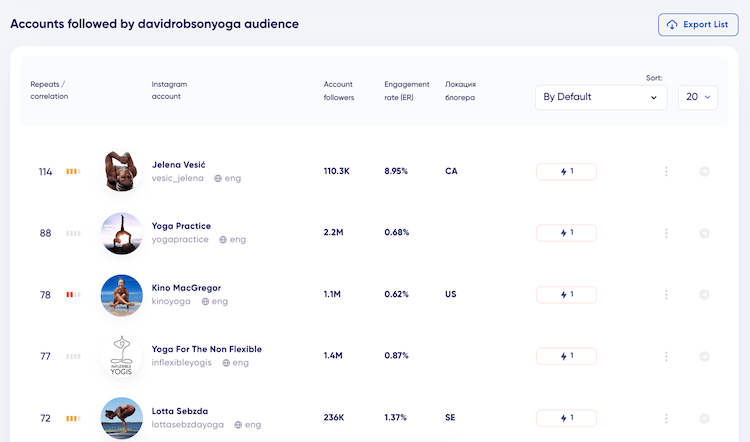 You can choose an influencer using criteria such as the number of followers, location, category, engagement rate, followers growth and more.  
By keywords
In addition to search by criteria, IM tools offer search by keywords for pinpoint discovery. For example, you need to find Instamoms but only those who have daughters. Naturally, there's no category such as "mothers of daughters" – and there won't be. But you can define keywords such as "mom," "daughter," "babygirl," "raising." In this way you can also find vegan photographers, keto diet specialists, UX-designers and others.:)
The advantage of this method is that it enables creation of a very well defined search inquiry. 

The drawback is that you have to learn to work with required and negative keywords. 
On a practical level, the approach works as follows: you select the keywords that you consider necessary and then start to sift through accounts and see what keywords to remove and which ones to add. 
By hashtags
It's the same method that we described earlier for Instagram search, but using tools, you can filter by different criteria. 
Some tools allow you to find similar influencers: 
At Hypeauditor, you receive a list based on the influencer's demographics and audience size. For example, you found a yoga account with 50k followers from Florida. You'll be offered several more accounts with 50k followers from Florida.

 

At trendHERO, you receive 500 similar accounts based on audience followings. In the case mentioned above, you'll receive 500 accounts followed by those who follow our yoga influencer with 50k subscribers from Florida.

 
By similarity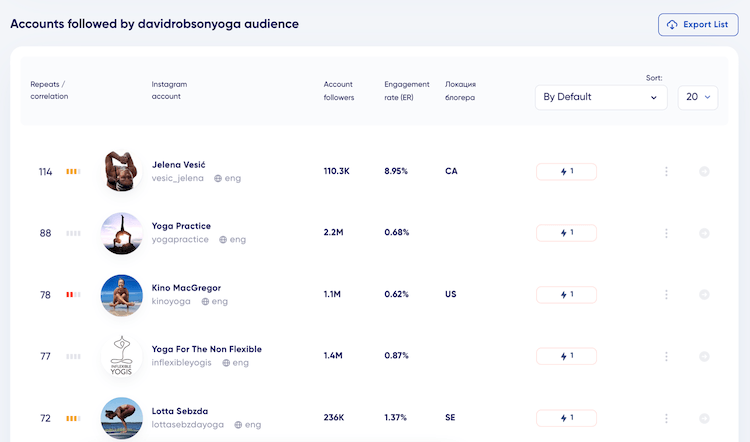 Both methods work well and considerably simplify your task of influencer search.  
Use influencer marketing platforms
A platform is like a marketplace that can be joined by any influencer after a verification procedure, so you can use them to find Instagram influencers.
Platforms offer several advantages:
Opinion leaders wait for offers, which makes it easier to reach an agreement and terms of the transaction are transparent;
Safe transaction – the influencer receives the payment after completing the task;

 

Reviews from advertisers.

 
The drawbacks include the fact that not all influencers are present and not all platforms run quality background checks on the candidates. 
The search form on platforms is very similar to the criteria search form of the influencer marketing tools. 
Use Google
Different media and services regularly publish collections of influencers of a certain type. You need to use advanced search to eliminate outdated information.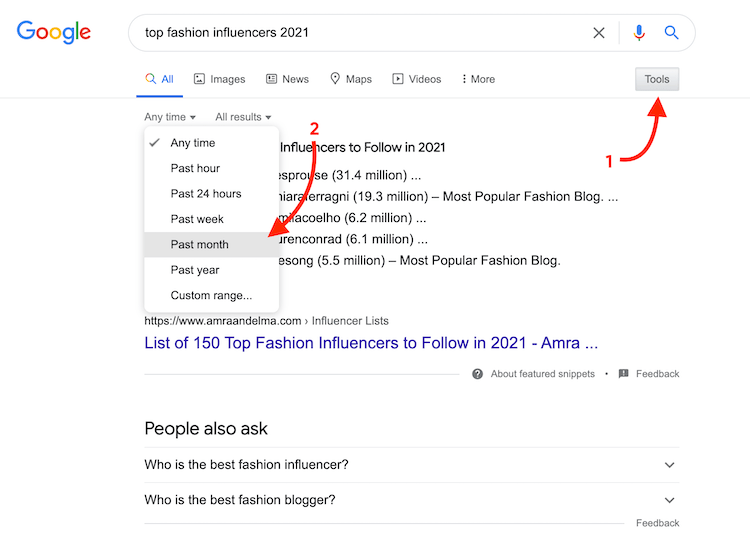 Use competitors and other brands
Sponsored content and collaborations with influencers are very popular. This means that you can find the necessary accounts by searching previous integrations. 
You can do this manually by visiting your competitor's Instagram profile and selecting the "Mentions" tab that will have posts from influencers. The drawback is that it won't include stories, and the posts are usually approved manually. This means that you won't find all the collaborations with influencers. 
You can also use the specialized tools for this. 
For example, trendHERO offers "Ad posts" search. 
Make sure to check who promoted your competitors and other brands that are followed by your target audience. 
If you don't know the full list of your competitors and similar brands you need to collect a list of 500 accounts similar to your own (based on your audience's followings). Then check the "Ad posts" feature to see the list of influencers' collaborations with these brands.  
Use social media
There are Facebook and Instagram communities where you can post that you are looking for opinion leaders and offer your terms. Find them using the "Instagram Influencers" keyword. 
The advantage is that you won't have to do any searching. 
The drawback is that your post will be seen by a rather narrow segment of influencers. 
Use agencies
Submit a request to the agency and they'll select the influencers for you. The advantage is that they usually have a set of tested influencers. The drawback, if one might call it thus, is the commission charged by the agency. 
Use talent agencies
These agencies search for and groom potential influencers to receive an exclusive right to sell their future collaborations. 
The advantage is that you find one influencer and get an offer of another dozen. The drawback is the same as with any agency 🙂 
Tips and hints for Instagram influencer search
Start influencer search by studying your audience.
On the one hand, you'll see whether there are any nanoinfluencers (1k to 10k followers) among your followers. On the other hand, you'll define your target audience. It often happens that the brands have different target audiences online, offline, and on social media.

 

Search for 5 or more influencers for your campaign.
If this is your first foray into influencer marketing, you'll get a hang of all of the processes more quickly.

 


By using this method, experienced advertisers reach more people at once (measuring audience overlaps) as well as test different approaches and offers.

   

Look for twice as many influencers as you need.
An influencer may reject, delay or move your collaboration to a different date. This is true both for the people with millions of followers and for nanoinfluencers.

 

It's a mistake to promote your brand only in the accounts that offer collaborations on their own.
This is an issue of supply and demand. If an influencer's manager offers you a collaboration, it means that they don't have enough incoming requests.

 

Don't buy sponsorship at Giveaways.
That's a way to quickly accumulate followers that will weigh your account down by lowering your engagement rate and unfollowing.

 

Personalize your communications.
It will be much easier to make a pitch if you study the influencer's account and personalize your letter by mentioning their recent posts.

 
The takeaway
If you are just starting out in influencer marketing, try working with nanoinfluencers (1k to 10k followers): 
Determine what are your expectations from integration (in terms of followers, reach, sales).
Think through the offer that will best fit this goal. For example, a sales promotion or a discount are best for sales but not for a large-scale viral reach.

 

Search Instagram influencers with the methods described above.

 

Ask the influencer about the best way to achieve your goal. Every day, they generate content that must be liked by their audience, so they can suggest the best ways to promote your brand.

 
Bonus: Get 14 days of free trial (search tools included) at trendHERO.  
Good luck.