Here are the three most popular reasons why you might want to analyze Instagram influencers: 
Selecting the best influencer for promoting your brand.
Finding influencers for collaboration (if you are an influencer yourself).

 

Researching Instagram growth methods

 
So, let's see how to conduct a detailed analysis by hand and with the help of the Instagram influencer analysis tool, developed by our team at trendHERO.
Data collection to conduct an influencer analysis
Use Google to see whether an influencer was embroiled in any scandals or find their other social media accounts as well as check for pages maintained by the influencer's fans or haters.

 

Review the account on Instagram to get the basic idea of their content, likers, and commenters.

 

Check out the screenshots of statistics sent by influencers on-demand to get an idea of their audience demographics and reach and whether the influencer can be trusted.

 

Use influencer analysis tools that offer detailed analytics of almost any account.

 
You can use the first three items for a basic check. Or, you can use the influencer analysis tools – this option is relevant if you need to check at least a couple of Influencers a day. 
Analysis of the influencer's audience
The major problem that you may encounter are fake followers, likes and comments. Two additional problems are the wrong audience and the low rates of engagement. 
Fake followers, likes, and comments
If an influencer has fake followers, they will have a lot of likes from accounts without a user photo. Or the accounts might have a user photo with human faces but usernames will be something like John234235 and Mary.Peterson452. Another good way of spotting fake followers is to count the number of short and empty comments (such as "nice post" or "thanx👍👍").
Pay attention to the ratio between likes and comments: 
There should be 0.5 – 5 comments per 100 likes.

 

The difference in likes between posts should be 20-50%.

 
If the numbers are greater or smaller, that's a cause for suspicion. 
It's totally normal for an influencer to get 10k likes for one post and only 6k for the next one. Some content is just better welcomed than others. But if there is no dispersion and all the posts get 10k likes, that's a reason to suspect that an influencer practices fake engagement. 
These are the manual methods of analysis. 
The tools automate all these steps – plus they show follower growth and collect lots of data about the audience. So you can get an in-depth report based on hundreds of metrics analyzed by specially-trained AI. For example, this is the first page of an influencer report prepared by trendHERO: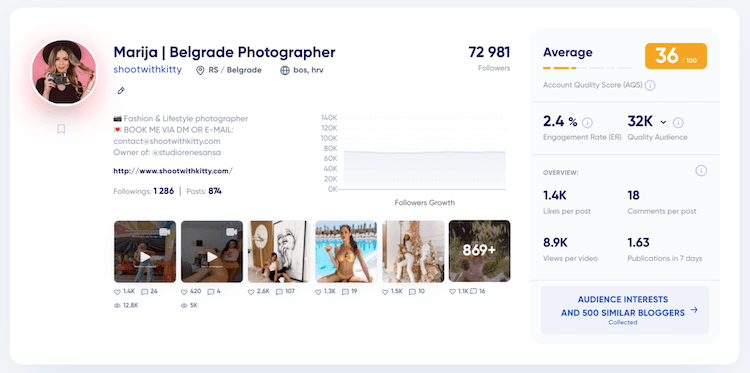 And this is how the report on audience types will look:

Notice that the services may create separate reports for followers and likers.  
The influencer's target audience
An opinion leader might have a very real high-quality audience but they just won't be someone who fits your needs. 
What do we mean when we talk about the target audience on Instagram? 
Demographics – fits your profile in terms of location and gender.

 

Audience interests – what other content the followers consume.

 
It's important for an audience to fit both of these criteria. If you have a barbershop in Boston, you need an influencer with a male audience of 25-40 y.o. that lives in Boston AND is interested in fashion, shopping, expensive sports, and gadgets.  
By conducting manual analysis, we can only try to verify the hypothesis. If an influencer writes about gadgets, their audience must be people who are interested in gadgets, right? Unfortunately, that isn't always so. Therefore: 
Carefully study the demographics screenshots that the influencer must send on demand.

 

Compare the statistics from screenshots and third-party analytics tools.

 

Use an analytical tool to check the followers' interests.

 
For example, trendHERO has a "similar influencers" function. The service assembles a list of accounts that are followed by the influencer's active subscribers and gives you this list plus the followers' interests.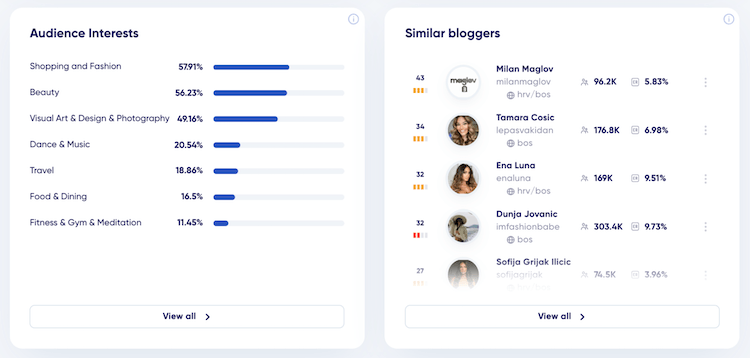 Low engagement rate
Engagement rate is the sum of likes and comments to the recent posts divided by the number of posts and the number of followers. The engagement rate directly depends on the number of influencer's subscribers: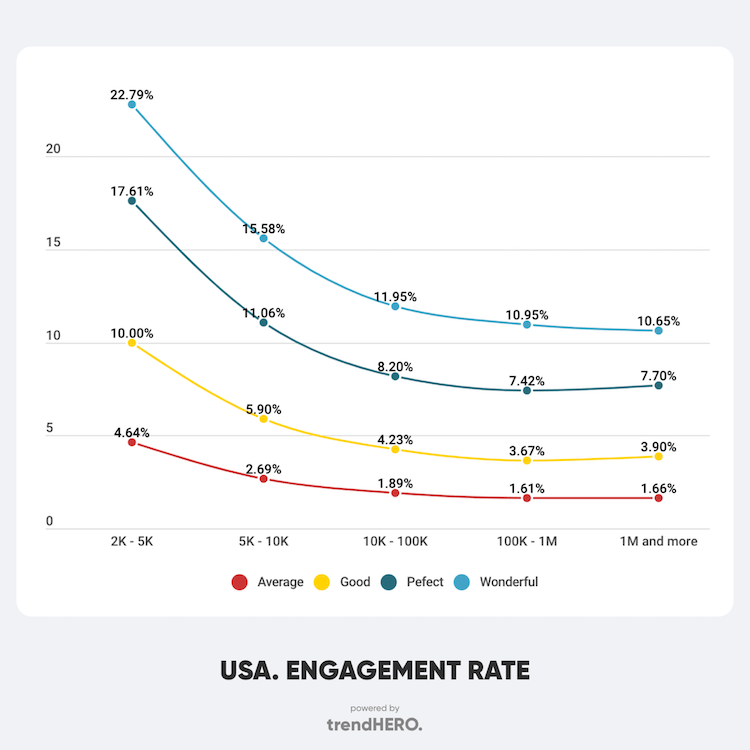 As we said earlier, the principal problem is fake engagement because fake followers, likes, and comments directly impact the ER. 
You can calculate the engagement rate by hand, but why do it if the services provide this information free of charge.  
Bonus: followers growth
Changes in audience numbers are another important factor of influencer analysis. If the audience is gradually growing or decreasing (by 1-5% a month), that's normal. But if we see something like this: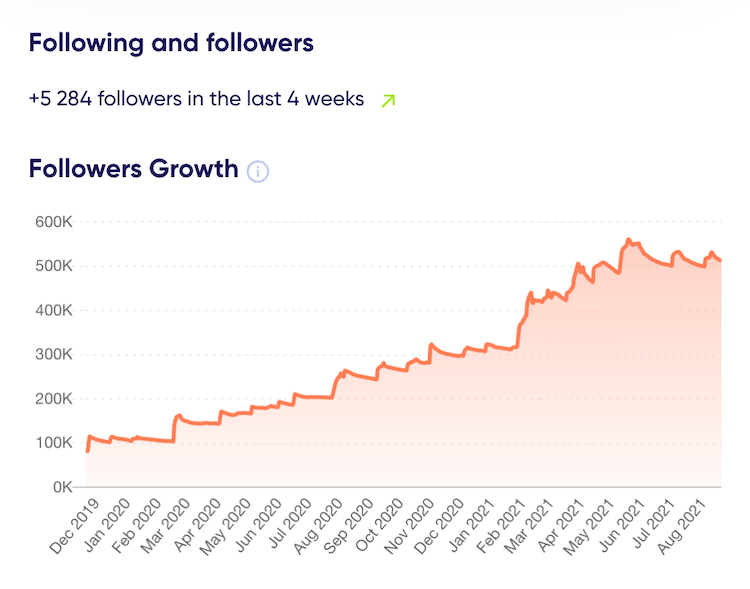 That's a lot of giveaways. 
An audience follows an influencer for a chance to get a prize and then unfollows him or her. The audience will be active, it may even be your target audience… But the problem is the lack of trust. These people didn't come for the content, they came for free iPhones or cars. How likely are they to trust a recommendation of someone they basically don't know?  
Analysis of the influencer's content
Instagram posts
The first thing you do is review the posts on Instagram. 
You don't need to review the account to understand the influencer's niche or topic (the tools can already do this for you, using AI and machine learning). You need to study the content to see what tone of voice they use. One person might wax poetic about yoga, while another will pepper their text with profanities – but their niche is the same. 
Plus, if you know what the influencer writes about, you'll have an easier time making a pitch, starting your letter with "We really liked your post about XXX, and we would like to know if you're interested in a collaboration." 
What specific posts does the audience like?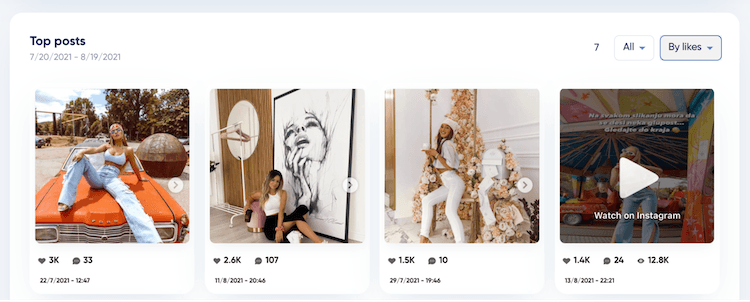 You need to figure this out in order to understand how many comments and likes you should expect for your own sponsored content. Pay attention to sponsored content to see how the numbers for such posts differ from the 'regular' ones.
Likes acquired from followers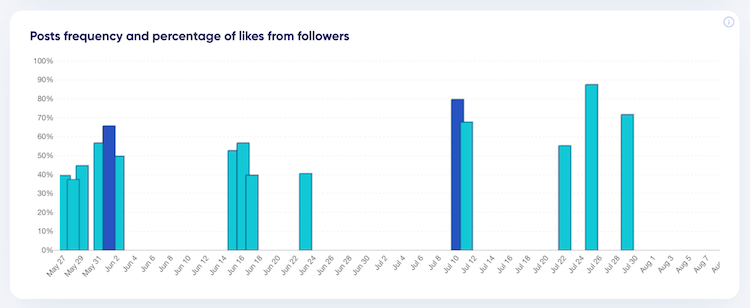 When you engage an influencer to promote your brand, you aim to reach their audience. 
This is why it's important to make sure that 80-90% of the influencer's likes come from followers. This way we verify the followers and know that we are getting the target audience. 
We had a case when an influencer fulfilled the reach KPI, but to do that they used hidden hashtags. The result was that an advertiser got the desired reach. But 64% of this reach didn't come from the followers. So there was no assurance that our promo actually reached the desired target audience.  
The influencer's previous collaborations
Some tools of influencer search and analysis have the function of ad posts that enables you to see who and when sponsored the influencer previously. We use this function to see who the influencer mentioned (brands or other influencers). 
The brands also check the influencers, and the better are the brands in the influencer's history, the greater is their trust. 
Don't forget to check the opinion leader's friends, too. We at trendHERO had a situation once when an advertiser refused to work with an influencer because they already had a negative experience with her close friend and decided to avoid the possible risk.  
And the takeaway
At first, you'll be spending up to an hour of your time checking out a single influencer profile, but over time, as you get some experience, it will only take you 5-10 minutes (or less) to verify yet another opinion leader.  
Get 14 days of free trial and analyze one influencer at no charge at trendHERO.  
Good luck.