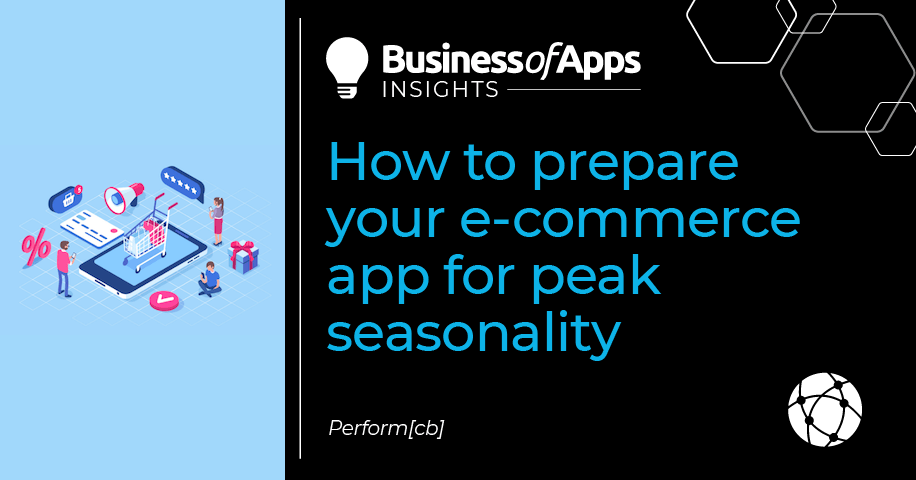 Today, more than half of all online shopping is done from a mobile device. Users prefer quick, user-friendly shopping experiences, whether that be on mobile web or in-app. Shopping apps are the second most popular app category when it comes to driving installs in Q4. If you're an app marketer who experiences high seasonality around the winter holidays, it's crucial to have your promotional strategy in place by Q3 at the latest. Keep reading to learn how you can better equip your app for the large influx of new users that come along with the holiday season and what you can do to take advantage of all that Q4 has to offer.
Optimize app listings and test promotional placements early
You don't want to be caught trying to catch up with demand in the middle of Q4 when mobile e-commerce traffic reaches its peak. Instead, set your app up for success by implementing various app store optimizations and conducting thorough publisher testing well before October. As more apps are constantly being released, reaching qualified iOS and Android users continues to become increasingly difficult. Mobile marketers need to optimize their app store listings to expand their reach to organic traffic, increase installs, and encourage post-install engagement. Don't underestimate the power of app store search – 70% of mobile users use search to find apps. To get your holiday keyword research started, you must understand the search volume of the terms that best fit your app's category and the phrases your competitors often use. It's important to differentiate yourself using keywords specific to your brand, while maintaining relevance within your industry and category. Highlight key app features while using relevant keywords in your app listing's title, subtitle, and description to help your organic discoverability.
Once users have installed your app, you want to make sure they stick around to engage, whether that be making a purchase, linking an account, or signing up for your SMS newsletter. Due to the competitive nature of the e-commerce marketplace in Q4, you'll want to make sure that your app's title, ad copy, and creatives stand out from the crowd to engage users effectively. Implement A/B tests based on the insights you learn from tracking in-app engagement, such as purchases and registrations, to improve your app's post-install activity levels.
Flexible payment options for in-app purchases
Users are becoming accustomed to simplistic check-out processes, and if the payment process is too lengthy or difficult, your users are likely to join the nearly 70% of consumers who abandon their carts. The success of apps such as Amazon and DoorDash have proven that users want a fast and seamless experience when making purchases through an app. New one-click payment options give users the freedom to input their shipping or billing information with a quick tap rather than having to complete the lengthy process each time they place an order. This also takes some of the decision making out of the buying process for users, making it easier for them to say yes to making a purchase in-app. "Buy now, pay later" payment options are another common payment method that users have quickly begun adopting. Popular platforms include Klarna, Afterpay, Affirm, and Sezzle.
During the holiday season, users are typically spending more money than they do throughout the rest of the year. These "buy now, pay later" features can alleviate the financial burden of spending large amounts of money all at once around the holidays. Another key appeal of "buy now, pay later" payments is flexibility – users don't want to feel tied down to a commitment right away, they want to know that there are options available that fit their financial needs. Give users options when it comes to how they make payments and purchases with your app to promote a sense of flexibility and ease to your customers.
Using seasonal promotions to connect with users
Despite an increase in spending across the mobile e-commerce landscape, many users still value in-store shopping. Mobile e-commerce marketers should still engage these users through in-app perks and promotions that can translate to brick-and-mortar shopping. Whether a user prefers to shop exclusively in-app, build a list within an app and shop in-store, or order ahead and pick up in-person – the app they are using should support their experience. 29% of consumers value in-store discounts that they can redeem through an app, and these promotions can keep users who prefer to shop in-store engaged within your app. Other promotional tools, such as loyalty programs, can encourage users to interact in-app as well. Offer exclusive content, items, or deals in-app to continue to drive users to engage for all of their shopping needs.
You'll want to align your engagement strategies with your promotional calendar to make sure you're taking advantage of every opportunity to connect with users. Mobile marketers should make sure they're equipped with a promotional calendar that ebbs and flows with seasonality throughout the year so they don't miss out on chances to connect mobile users with in-store experiences. Don't forget to communicate promotions with publishers as well – their content calendars are often booked months in advance, so proactive promotional planning is key when it comes to seasonal partnerships. Gain access to Perform[cb]'s Ideal Promotional Planning Calendar now to ensure you're accounting for every important shopping holiday this year.
What will you do to capitalize on e-commerce shoppers in Q4?
It's never too early to start planning for Q4, especially now, when mobile shopping is due to eclipse desktop consumerism. Preparation is everything when it comes to seasonal marketing, whether that means optimizing your app for new installs, implementing new payment options for quick conversions, or engaging users with seasonal promotions. Wondering how you can capitalize on peak e-commerce seasonality and set your app for massive holiday ROI? Download Perform[cb]'s Guide to Seasonal Planning & Profitability now to get started.