There is a common misconception that App Store Optimization is all about keywords and graphics. In reality, there is a bunch of things that ASO specialist can work on to increase their organic traffic: keywords, description, screenshots, ratings, and reviews. Text optimization helps users find your app among thousands of competitors, while graphic optimization and higher conversion rates make sure that the user will install your app.
However, users won't just buy pretty images , they need something more convincing: the assurance that existing users like the app. So, how ratings and reviews affect the search visibility and conversion rate of your app? 
How app rating affects the app conversion to install
According to the Apptentive report, 79% of users check an app's rating before downloading. This number is even higher when it comes to paid apps. In both app stores, ratings are placed in search results and on app pages, so users notice them all the time: whether they found your app in through Search, Browse, ads, a website, or another app.
An app with a 3-star rating loses around half the downloads, whereas apps rated 1–2 stars lose almost every download. All your optimization efforts become useless if your app has less than 4 stars. What's more, a rating of 3 to 1 stars is a real pain in the neck for your marketing and ASO teams.
The minimum acceptable rating of apps, research by Apptentive.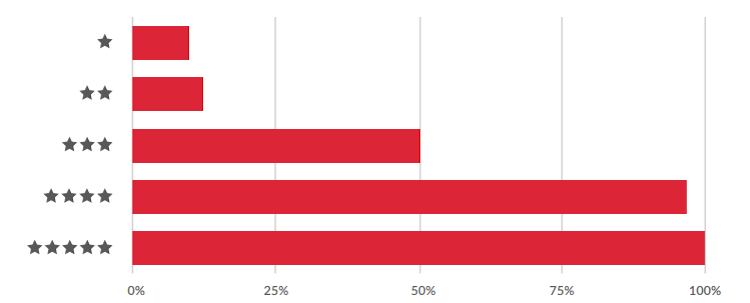 Source: Apptentive 
App rating and revenue
Regular work with reviews benefits not only ASO, it directly affects your revenue. Playtika shared their data, saying that after the start of responding to reviews of Bingo Blitz their conversion to install increased by 30%, which led to 1,500 new installs/day and brought them additional $135k/month.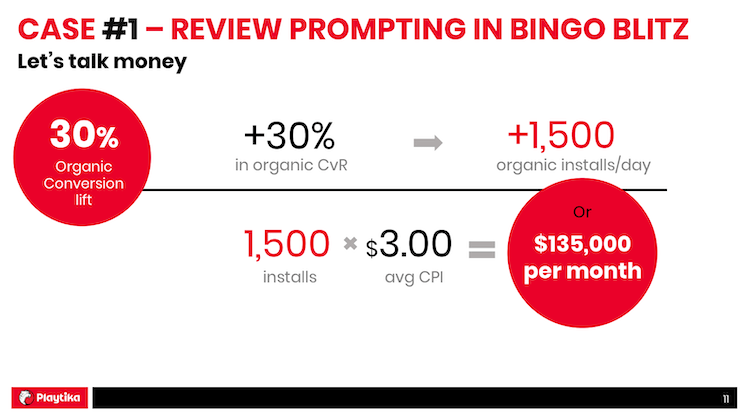 Source: Playtika
What app reviews to pay attention to the first
Google's data shows that when developers respond to more than 100,000 reviews in the Play Console, they see that users update their rating by +0.7 stars on average. But how to respond to them? What to start with? 
When you have a ton of reviews coming to your app or mobile game every day, you need to be selective and react only to the most crucial ones. Reviews that may affect your app rating the most. AppFollow's analysis of reviews content and its correlation with their rating showed that the reviews you need to reply to the first are:
Featured or Helpful reviews. They are noticed the most and if they are not addressed by the developer, especially if they are negative, users will just walk away.

 

Reviews with changed rating, for example from 4 to 1 start. These show that users who left them didn't get their issues solved and likely going to stop using or simply delete your app.

 

Long reviews. These are the reviews that users spent time on, leaving a very detailed feedback on your app, that may consist of bugs, issues or feature requests. Statistically, the longest reviews are the 2-start ones, these are the longest reviews in which users generally express their frustrations. If 2-star reviews have a lot of likes, this may be another sign of the issues that review is talking about.
The average number of words in reviews by rating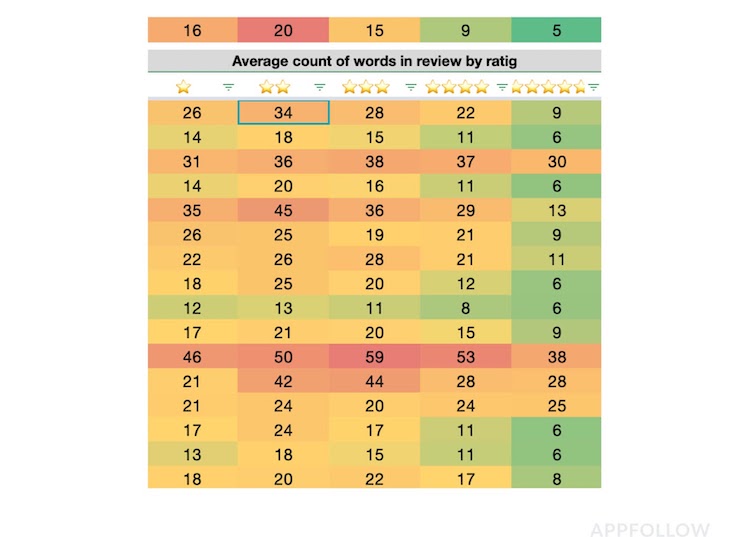 Source: AppFollow
In addition to looking at the rating, you need to analyze the content of reviews. This may help you find hidden gems such as:
Bugs and glitches
Intrusive advertising complains and overpriced items and features
Hard levels and navigation problems
Local problems

 

Feature requests
Semantic analysis of a mobile game's reviews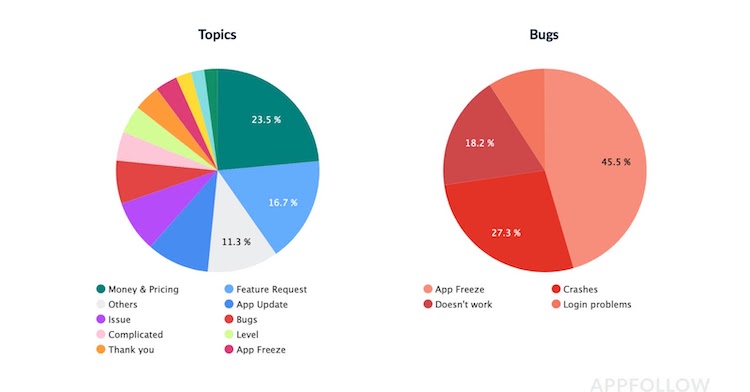 Source: AppFollow.io
How to simplify catching these reviews and replying to them? Set up an integration with Slack or a help desk (Zendesk, Salesforce or any other) and be alerted the moment those reviews are left. You can reply to them directly in those services, too, without any redirection to app stores. 
As the final recommendation, talk to your users, satisfy their needs and keep your app rating not lower 4.5 stars. Why? This is the lowest rating of apps that were featured by Apple the most or got to the first positions of top charts. We recommend you to aim at this bar and higher to be noticed by users, Apple and Google.