Mobile apps are becoming an inherent part of our daily life. According to a survey by eMarketer, mobile phone users spend around 4 hours every day on mobile internet, out of which 88% of the time is spent on mobile apps.
With the ever-increasing use of mobile apps for consumerism, every brand could develop a mobile app to promote its products and services and boost sales. As a business owner, if you believe that a dedicated mobile app can benefit your brand or resolve a problem, you must start today. 
Here is a simple step-by-step guide to help you build your mobile app. But you must remember that developing an app does not follow a one-size-fits-all approach, and you might have to tweak the steps a little to identify what suits your business model best. Now, let's get started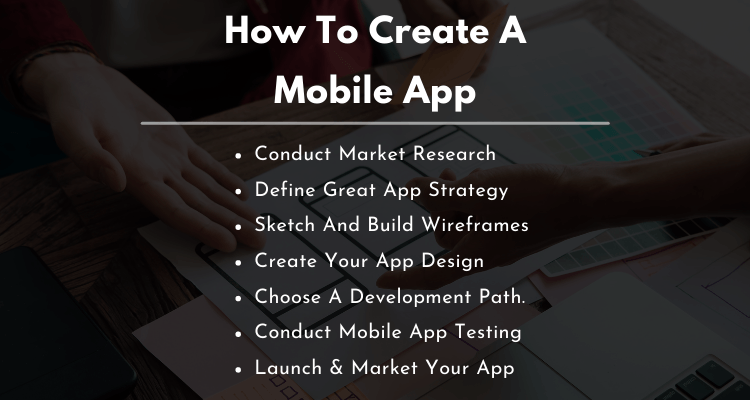 Conduct market research
You may have a few mobile app ideas for your business. And this is a great place to start. But before you delve into the development part, it is essential to conduct thorough market research and validate your idea. Analyzing the market will also help you study the demand for your app product and define your target audience. 
While conducting market research, make sure to answer the following questions:
What do you want to achieve through your mobile app?
What will be your app's core appeal?
Who are your target customers? What mobile app platform are they on?
How do you want your customers to use the mobile app?
Who are your competitors? What features do they offer?
What are your app development timeline and budget?
How will you promote and market your app?
Once you have figured the answers to the questions above, assemble a team with members from different departments (design, development, sales, and marketing). Discuss the information you collected during the research stage and get their feedback on everything. A detailed discussion at this stage will pave the way for a smoother process ahead. 
Define great app strategy
After completing market research and analysis, you would be equipped with a good and viable mobile app idea. Now, the next step involves defining a proper strategy for your app. And for that, you must consider the following aspects:
Define SMART goals and formulate strong plans for your app's future.
Understand the technology that will power your app's backend.
Plan a budget and outline resources that are required for the project.

 

Define a viable app marketing strategy and assess the rewards.
Figure out the app's monetization model and ensure it is relevant to the end-users.
Having a systematic app strategy has several advantages. For instance, it helps to cut down the time to market, reduce unnecessary expenses, ensure superior product functionality, and adequately respond to market changes. 
Sketch and build wireframes
At this stage, you will have a decent idea about the app that you wish to build and the features you want to include. So now it's time to start developing a wireframe and storyboard.  
Many online tools help to create an app's wireframe. Essentially, a wireframe is like a blueprint that defines where each app element will appear on the screen. It also helps map out user flows and see how screens connect and interact with one another. It is essential to keep the user's goals in mind during this process. 

After you have built the wireframe, you must also test it. Testing will help you gain insight into the app's usability right in the pre-development stage. You can look into the app's functionality, user-friendliness, and design and make changes as required. 
Create your app design
This is a crucial step in the entire app development journey. Here, you need to gather all your research and skillfully translate the tested wireframe into a wholesome app design. The app icon, background, and splash screen should stand out and immediately grab the user's attention. 
While finalizing the app's design, paying equal attention to user experience is imperative. Focus on marrying the app's user interface (UI) with the overall user experience (UX) to offer enhanced value to the end customers. The app's layout should be such that everything is easily accessible and organized. 
Choose a development path
It's time to determine how you wish to develop your mobile app. If you hire a reputed mobile app development company, they will do the heavy lifting and set up your app's backend. But make sure to get a signed NDA and establish a timeline for deliverables, and this will help avoid any troubles later on. 
Alternatively, you can take a DIY approach if your app is relatively simple to build. Many drag and drop app builders allow non-developers to create mobile apps easily. 
Conduct mobile app testing
Once the development phase is over, you need to rigorously test your app in various real-world scenarios to identify bugs and correct all technical flaws. It is advisable to go over all your planning stage documents to ensure everything is working. Don't assume that everything in the final product is working only because it worked during the development phase. 
You can use several online UX testing tools to obtain real-time feedback on your app test for cross-platform compatibility of graphics, images, and user experience. Once you are sure that all parts of the app are working appropriately in all scenarios, you can proceed to the next step of launching the app. 
Launch & market your app
The last and final step involves launching your app. For this, you must sit down with your marketing team to figure out a robust marketing strategy. Be sure to advertise your app on your brand's website and social media profiles. If you have a company blog, publishing regular updates throughout the development phases can help to spark curiosity. Additionally, launching an email campaign is also an excellent idea to grab the attention of potential users. 
The official app release should represent the culmination of all marketing efforts. Mark the app's launch by making announcements on social media and blogs. The idea is to generate maximum downloads and ratings and build up momentum. 
Conclusion
This is a quick roundup of the various steps involved in developing an excellent mobile app. Remember, mobile app development is not a one-time task. Even after you have launched your app, you must stay up-to-date on the app's performance. Keep an eye on app metrics such as customer satisfaction, user engagement, customer acquisition, etc., to gauge your app's success. 
Collect regular feedback from the users and, based on that, work on improving your app. Introduce new features from time to time to retain your app users and attract new ones. 
You can hire an excellent mobile app development company like Emizentech to ensure you get your hands on a fully-functional and feature-packed app that meets the demands of your users. 
At Emizentech we are proficient at creating unique mobile apps. You can reach the company at the following mail.