Traditionally, while shifting to a new state, city, or location for an arbitrary reason, we were bound to face various challenges, and still left empty hands. The following points would make you recall those days when we used to give up on many issues while looking for a property on rent/sale:
Tough to find accommodation instantly when relocating.
Requesting brokers for instant and affordable accommodation.

 

Check every "to let" property physically.
Rent properties without being sure about any uncertainty.
Paying a lot of money to the middle-man.
So, to get rid of such issues while looking for a rented or on-sale property, an idea emerged one day that got widely-spread all over this digital world, namely the Online Real Estate business. So, the birth of such a business has ended-up those days, when people were required to hire agents to get their dream property. 
Why does a real estate business need a mobile app?
As always real estate business is notably an ever prospering industry. With the growing population and so the families, the need for additional accommodation is also increasing. So, the increasing need for real estate services has instilled competition. So, not only the increasing demand but also the technological advancement has highlighted the real estate business. Well, this business is not new for us, but to thrive in this growing competition, you should emerge with an easy way out to help the users with easy search to rent/sell the property. For that, a handy, digital tool, holding a portable and user-friendly nature, a real estate mobile app would make you stand uniquely ahead of the curve in this competitive world.
Furthermore, let's check out more reasons why we should develop a Real Estate mobile app.  
24*7 In-app communication & better decision-making process
Traditionally, when an approach to buy a property was quite hectic, the development of a real estate mobile app brought for us various easy options to ease with a property search. 
The real estate mobile apps allow people to get in touch with the realtors at any time easily. Moreover, the apps offer real-time data and analytics to ease the tracking process of their campaigns for fast decision-making. 
High customer engagement & rapid sales process
By using a customized real estate app, the agents can attain a rapid sales process. For instance – an agent may use his business app to send notifications including special offers they are running. In-return, those clients who are using their mobile app would be excited to reap the advantage, and will instantly grab an opportunity despite reaching the relevant property-spot to take the advantage. 
For any business, it's important to build its identity making it well-recognized. So, for the same, your app should be engaging enough to attract more buyers. A personalized real estate mobile app would help you in catching-up with your business's identity. 
Well, be it a real estate company or any other, there would be perhaps no one who would not be interested in their business expansion. When talking about the former communication modes, they were not enough. With the best mobile app for finding the best property options, you can ensure reaching enhanced clients anywhere and anytime, and this would lead to your business expansion rapidly. 
A mobile app serves as a convenient marketing channel for a real estate business. The users look for the best options always, so an app with various informative content, like links to social media accounts, best deals for new homes, notifications, and more would pull the users towards your app, this way the app becomes a new marketing way for your business. 
Automatic routine tasks for agents
A mobile app of whichever industry or business assists in time-saving by automating the process for its users. 
Market trends of real estate mobile app
In 2020, 938,714 Real Estate Sales & Brokerage Businesses were recorded in the US and today also growing at a faster pace.

 

In UK., 130.4 K Real Estate Businesses were also found in the records.

 

And by 2025, the global real estate market is expected to attain a revenue of $4,263.7 billion.

 

As per research, real estate apps are likely to retain two times more users than those who consider using their mobile browsers.

 

Approximately, 70% of active users of real estate mobile apps use it a minimum of 3 times a week.
In US., among 80% of the interested property buyers, approximately 70% prefer using real estate mobile apps to search for good agents.

 
This states that increasing numbers of users are preferring real estate mobile apps for searching properties to buy or rent progressively.
Types of real estate mobile app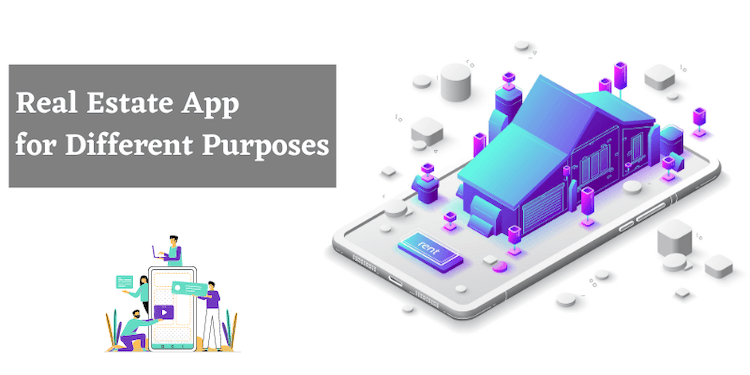 Well, most of us usually think that there exists only one sort of real estate app that we can create. But, here a lesser-known fact is that a custom real estate app is much helpful in serving various purposes. Therefore, below we will check out the types of Real Estate mobile apps that are available in the market. 
The house renting or hunting app
Well, to get the list of renting or buying the properties specifically as per your requirements, such apps need an input of various fields, like the address, state, city, etc. Also, you are allowed to set your search depending on your budget, location, requirements, and more. 
The real estate marketing app
Such a real estate mobile app is best for the one who is trying to sell his property and searching for an unusual and creative way for doing it. In this app, he will get various amazing ways that would help him in exhibiting his property to engage more buyers and finalize his deal faster. 
The real estate agents app
When it comes to the real estate app, this software helps in meeting distinct purposes, like communication with clients or other agents, documents management, or increasing properties management. Let's take an example – the agents who need to design an app holding all their for-sale or rent properties, and are looking for easing their listing and sale/rent process, this type of solution lowers down the legwork for such agents and makes their tasks easier. 
The indoor navigation real estate app
Such apps use mobile integrated features and sensors to let the users experience a virtual tour inside their chosen house through their app. This enhances the user experience even being at home, or anywhere but not physically at the picked property. 
The real estateinvestment app
This app is akin to the house-purchase mobile app which is developed for an entity that needs to invest in real estate. An ideal app among such would be highly-customizable, which would show up the match-specific criteria that may magnetize the user's interest. 
The property management apps
Such apps are designed for property managers to facilitate them with the entire scenario that's going on at a given time with their properties. Moreover, this app will reveal the rent for every property when they want.
Revenue models for real estate business
Well now, you might be wondering how real estate apps generate revenue? No need to worry as below we are going to check out some ways to make money through real estate apps.
Real Estate can divide the cost of posts on real estate apps as per the size of the property the seller wants to display. Such featured listing permits the sellers to post their listings that would attain maximum visibility by charging an amount. 
Placing advertisements for 3rd-parties is the best way of making money through real estate apps. Top three ways to do so:
Charge an amount for the advertisements from the property management firms.
Paid advertisements.
Paid membership plans.
This is the most interesting and common way to earn revenue from real estate apps. An amount that is charged after the finalization of a deal between a buyer and a seller is known as commission.
A monthly, quarterly, and annual subscription is offered to the users. The user pays according to his needs and gets a premium subscription. It assists in generating a considerable amount of revenue from the real estate app. 
Business models for real estate business
An outline that states how a company plans to make money with its customer base and product in a specific market is a business model. Well, let's know about the business models of real estate business that go around connecting the property buyers with the property sellers. This saves the time and effort of both the parties and links a gap between them. 
This business model permits the buyers and sellers of the properties to register on it. The sellers list their properties on it along with the pictures and details, while buyers look for the properties as per their needs from that list. 
Specifically, this real estate business model is designed for realtors. Through this model, they are facilitated to list their properties for sale separated under distinct parameters, like location, size, price, and more. 
Top technology trends in real estate for 2021
For the real estate industry, digital transformation has become increasingly significant for about a decade and more. Lately, the technology trends in the real estate business have gained much-recognition. Despite the pandemic, it's constantly boosting in 2021 also. So, let's check out some top technological trends for the real estate industry 2021:
It is an important part that drives business decisions. In the past, a company database usually consisted of sales, operations, surveys, marketing, and more. But today, businesses don't generate such details. Interaction, conversations, social media, internal and external processes, and mobile apps bring a huge amount of unstructured data. And here, predictive analytics, Big Data, and CRM come into play. Such technologies assist in revealing predictions, new patterns, values, and enhance business decisions. 
In 2021, it's predicted that an increasing number of companies will launch AI-based services that can ease real estate transactions. For example – a new service utilizes optional character recognition technology to complete the financial audits and reviews, and scan documents before any real estate transactions. AI is also used to predict market trends and craft forecasts accurately. 
In the real estate industry, blockchain is used for various reasons. Blockchain lowers down the risk of fraud when it comes to real estate property agreements. It uses 'smart' contracts in which the digital property ownership is linked with the blockchain that defeats the alteration once encrypted. Moreover, people use blockchain to smoothen the job of allowing property information to stay fresh by storing the entire essential information on the parties and property involved. This is how such information is stored securely and also the users are allowed to update them anytime without seeking constant approval.  
Augmented and Virtual Reality
One of the most-modern tech trends, AR and VR are used to offer the buyers a visual notion of the property they are interested in. This offers an immersive experience to the potential buyers, and also saves the valuable time and money of both the seller and buyer. 
Must-have features for real estate apps for agents and buyers
Property Listing
Interactive Maps(List View & Map View)
Cost Calculator
Virtual Tour
Databases management
Detailed Information for Property Listings
Admin Panel or Profile Functionality
CRM Solution and Push Notifications
Customer Support Panel and Lead Management Panel
Reviews and ratings
Top players of real estate mobile apps
Real estate mobile apps assist realtors from lead generation to streamlining closing, managing listing, open house management, expense tracking, and much more.
So, now we will have a look at top real estate mobile apps that are generating enhanced revenue in the market by offering the best real estate services. 
Zillow
By taking care of every aspect of real estate perfectly, Zillow is easing the home owing journey of its users. The best real estate app, Zillow offers perfect home value estimates and tells its users the past sales prices and everything in the US. 
Redfin
It's an up and perfectly running brokerage company that provides real estate services online and through apps also. The best part of this app is a free home tour that allows its users on prior booking.
Realtor.com
It provides the user access to a wider range of the listed properties and also the list of most recent real estate properties. This app facilitates individuals with complete data rapidly than other websites. 
Trulia
It provides the individuals the opportunity to find neighborhoods on a feature-packed map, by the use of an app or web. The deep insights that this app offers are about real estate, its surroundings, to increase the chance of purchase. 
BiggerPockets
This real estate app provides a wide range of free resources to let its users learn about real estate, including podcasts, blog posts, guides, ebooks, and forums. 
Team structure required for real estate mobile app development
Business Analyst
Project Manager
Front-End Developer
Back-End Developer
Graphic Designers
Android App Developers
iOS App Developers
QA Professionals

 
Wrapping up
Well, we all know the online real estate business is not new to us, it's been for a while. But, what's important here is to make your real estate app user-friendly to ease their job of searching the properties as per their needs. With time, today, the real estate industry is flooded with lots of real estate apps in the market, so, if you want to stand uniquely in this crowd, you should roll out an easy-to-use, fully-featured, secure, and user-friendly app. If you own a real estate business and want to develop an app then hiring a technically adept app development company like Emizentech is a good start.
At Emizentech we have lots of experience of developing robust mobile apps. You can reach the company at the following mail.