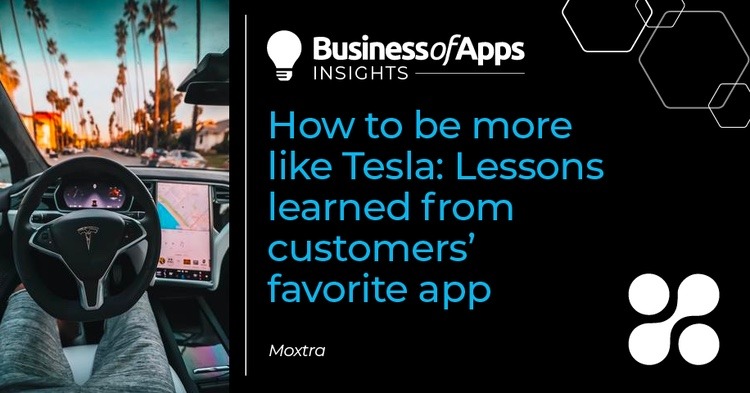 Every automaker should emulate Tesla — and I'm not talking about its leadership in the electric vehicle space. The key lesson for automakers involves Tesla's ability to provide connected customer experiences (CX).
Tesla equips its customers with an app that provides all the tools a car owner needs. The app's high-touch, frictionless, one-stop digital experience makes it easy for the customer to use their vehicles — and along the way, makes it easy to do business with Tesla.
As customer expectations for connected experiences continue to rise across industries, auto brands need to develop apps with CX top of mind. By following Tesla's lead, automakers can create a new revenue stream, retain and attract more customers, and gain a competitive edge into the future.
Apps are on the rise — and so are customer standards
COVID-19 accelerated mobile trends and sent customer expectations into overdrive. Consumers grew accustomed to the personalization, convenience, speed and instant satisfaction of ordering goods or scheduling an appointment with just a few taps of a finger.
Today's consumers are relying on apps to work, shop, exercise, entertain — and in Tesla's case, even operate their cars. In 2020, in-app spending increased by 30% and first-time app downloads by 24%. And over the next five years, spending on premium apps, in-app purchases, and subscriptions is expected to reach $270 billion, more than double current spending. Essentially, an app strategy is evolving from a nice-to-have to a need-to-have for nearly every brand.
But consumers won't accept just any digital experience — apps need to add value to their daily lives. Consider this: Half of all apps are uninstalled within 30 days after download, up 70% compared to 2019. If an app doesn't perform as users expect they'll delete it and find one that does. Even though the pandemic significantly increased app engagement, the retention rate of the average app decreased due to increased competition.
 In today's digital age, customers expect connected digital experiences from the brands they interact with. An app must act as an extension of the business — making the consumer's life easier through superb functionality. If the app doesn't deliver added value, customers will have no trouble finding a competitive one that does.   
Apps fail when they ignore the customer journey
 Apps often fail when they are created without the customer journey in mind. Remember, consumers want convenient, easy-to-use products, regardless of where they are or the device they're using. Unnecessarily complicated onboarding or difficulty accessing functions disincentivizes users.
 Apps must also be cohesive and provide a controlled experience. Making customers download and use multiple apps, or switch between an app and internet browser, adds complexity, causes frustration, and is difficult to manage internally.
On the flip side, many apps just don't do enough and function too similarly to a web browser. Car owners can find information on a website, but apps need to be dynamic and serve a purpose. From finding service records to locating a charging station, your app should empower users to do something. These capabilities can be difficult to build from scratch.
While it's possible to build your app, this route can be time-consuming and cost-prohibitive.
No-code app development platforms lower the cost of production and offer all-in-one business collaboration solutions in a single platform — including secure messaging, social connectors, Cloud storage, integrations and more. These platforms are also built to scale with regular updates in response to evolving technology and best practices. 
Best practices for apps: 4 ways your brand can be more like Tesla
Tesla is now considered the most valuable automaker in the world — even though its production volume is only a fraction of industry leaders like Toyota. Its growth over the past decade has been astronomical, and industry experts say it's because Tesla behaves more like a technology company than a car company.
 Although Tesla's cars have a powerful interior electronic platform that is six years ahead of rivals, the way the technology is shared with customers is even more impressive. The Tesla app puts owners in direct communication with their vehicles and energy products, anytime and anywhere. The app also incorporates aspects of the in-store experience so customers can do everything they would at a physical branch on their mobile device.
As you level up your app, consider several takeaways from Tesla's app strategy to wow customers, improve revenue and get a leg up on your competition:
Create a one-stop experience.
 A one-stop experience is essential for any digital channel, but especially for apps. It is more difficult to toggle between windows and tools on a mobile device than on a desktop. Brands with all-inclusive portals are successful because it's convenient to use and easy to make additional purchases from the company.
Tesla's app makes it easy for car owners to own and operate their vehicles. Whether the user wants to heat their car before leaving the house or purchase vehicle upgrades, customers can easily find and act on what they're looking for. The in-app experience is intuitive and easy to navigate.
Make it branded and secure.
An app is a digital extension of your business — it reflects on your company as a whole. Consider how you can translate the in-person experience to the digital experience. Make sure the app maintains your brand identity so customers feel secure within the branded space.
In the branded space, consumers should feel the brand assurances of private and secure digital activity. By owning the end-to-end, in-app experience (without third-party integrations, intermediaries or redirects) you build another trusted touchpoint for the customer to do business with you and exchange confidential data safely.
Tesla excels in both aspects. The app's colors, simplistic style and prominent logo parallel their physical storefronts and website, creating immediate familiarity. The payment system is integrated into the app, so customers can be confident their financial information is secure.
The majority (91%) of customers are more likely to shop with brands that recognize, remember and personalize their experiences. Whether a customer is using an app, web browser or shopping in-person, you need to provide meaningful help at every point in the customer journey. That requires collecting data to create individual consumer profiles that cross platforms and devices.
Studies have shown that customers are more willing to share data if it will improve their experience — which benefits your business as well. Having data-backed insights helps you make more informed decisions, and improves your bottom line.
Not coincidentally, the main draw of Tesla's app is its personalization. In the app, users have a 3D image of their car and can even name it. Additionally, Tesla ensures the user has seamless handoffs and contextualized engagement — both within and beyond the app. Their in-app information and activity are tracked in a consolidated user profile to ensure continuity across the entire customer journey.
Build a premium, high-touch tool.
At the end of the day, customers want to feel like they matter to your business. Providing a premium, high-touch app experience makes customers feel important and fosters loyalty. Your app is more than a product, it's a tool to communicate with customers and add value to their lives.
Many customers see the app as their go-to touchpoint with Tesla, rather than just a substitute for a desktop browser or a physical store. The app is a customer's personal portal to Tesla — enabling them to open their vehicle's trunk or schedule a maintenance appointment. The convenient, frictionless experience builds reliance and makes it more difficult for customers to switch to other auto brands.
The high-touch, connected digital experience provided by Tesla's app has set the company apart in a year when we've seen how important digital engagement is for consumers. Post-pandemic, consumers will continue to expect digital solutions that enable them to do things once believed exclusive to the in-person experience.
And as new technologies continue to emerge, customer expectations for service experiences will increase. Automotive brands — and companies across industries — can benefit from following Tesla's lead. By owning your customers' journey in a single, high-performing app, you can digitally extend your business, capture data-powered insights and build consumer loyalty.