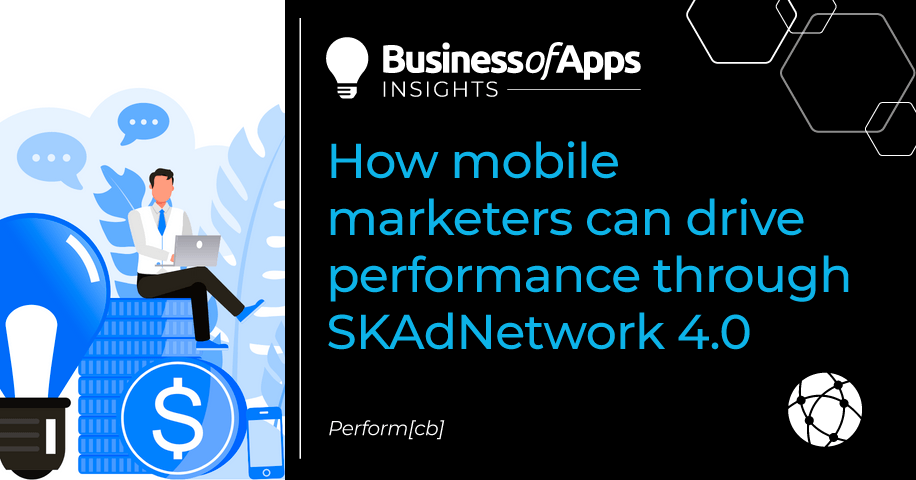 Supporting measurement while preserving user privacy has been a rocky road for advertisers since Apple unveiled the App Tracking Transparency (ATT) framework as part of iOS 14.5 in 2021. Although SKAdNetwork (SKAN) was introduced as a way for mobile marketers to measure direct app install attribution compliant with ATT, it comes with its fair share of tracking limitations – but don't shy away too fast.
Mobile marketers across the world are preparing for a new update to Apple's SKAdNetwork – SKAN 4.0. With this update, Apple has hinted at a handful of new features and solutions aimed to increase usability, data, and optimization opportunities for mobile marketers. Let's walk through how you can optimize your mobile app campaigns on SKAN 4.0 and avoid missing out on untapped inventory.
What does SKAdNetwork (SKAN) 4.0 mean for mobile marketers?
Since its inception, many mobile marketers have described SKAN as lacking support, difficult to use, and built without the advertiser in mind. While this may be true, those who wanted to continue driving iOS traffic outside SKAN had to ensure their user attribution would preserve privacy guidelines post-ATT.
With SKAN 4.0 on the horizon, many are eager for its release, as Apple announced four new additions and updates to the framework.
Web-to-app
SKAN 4.0 will allow mobile marketers to attribute web-based ads that direct to the advertised app's product page on the App Store.
Multiple conversion windows
With this feature, multiple attribution windows can be set for different conversion values, making it easier to evaluate in-app engagement and calculate ROAS.
Mobile marketers can now receive up to three postbacks per install, each of which is anchored to a specific attribution window (0-2 days, 3-7 days, and 8-35 days), and can include multiple engagements.
Hierarchical source identifiers
The hierarchical source ID grants mobile marketers increased flexibility in their app campaigns, providing additional attribution insights while preserving user privacy across apps.
Hierarchical conversion values
Hierarchical conversion values will provide advertisers with additional insights into conversions from smaller campaigns.

So with these new features to SKAdNetwork coming any day now, what can you do to prepare your user acquisition strategy?
Preparing for SKAN 4.0
Are you rethinking your measurement windows? Unsure of the best way to optimize your iOS app campaigns ahead of SKAN 4.0? Still holding out on adding SKAN to your media mix?
Many mobile marketers are on the edge of their seats awaiting the enhancements coming in SKAN 4.0, with rumors of reduced complexity and increased actionable insights buzzing across the app industry. Not to mention the global audience of high-value iOS users is too big to ignore. In order to remain compliant with Apple's ATT while driving iOS traffic to your mobile app, mobile marketers should consider working with a trusted media partner.
Perform[cb]'s internal media team followed Apple's move to ATT closely, and was in the first wave of approved SKAN partners prior to its release. With over a 43% increase in incremental growth with SKAN distribution, many of our mobile marketers continue to dedicate ad spend to SKAN installs – learn how Perform[cb] optimized its proprietary technology to deliver additional tracking capabilities to its mobile clients amid increased SKAN traffic.
Proven user acquisition success with Perform[cb]
Whether you're looking to acquire qualified installs or are interested in driving increased post-install engagement, partnering with the right outcome-based marketing partner is paramount to campaign success. With more than 20 years of experience in user acquisition, Perform[cb] is prepared to help our marketers and affiliate partners navigate this new terrain as quickly and efficiently as possible.
Ready to scale your app with a team of user acquisition experts? Let's get started.