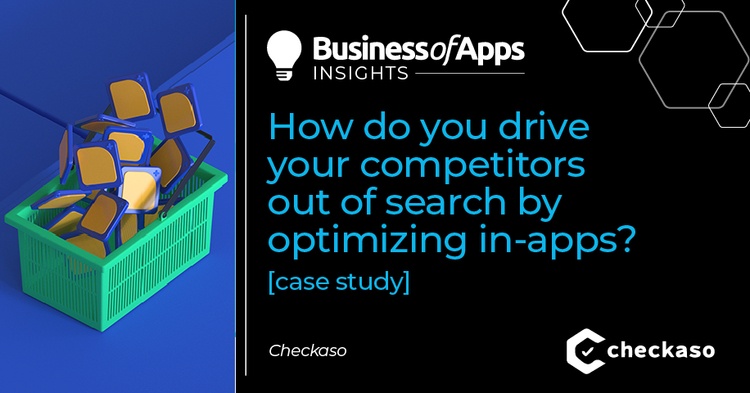 Many developers ignore in-app optimization.This way they miss the opportunity to outrank their competitors in app search results. We will tell you how in-app indexing works and how to 'push' your competitors aside and if it's possible to increase revenue by in-app promotion? We will show all this using the example of 'Little Stories: Bedtime Books' app from Diveo Media.
How to promote in-apps?
Each promoted in-app can have a name up to 30 characters and a description up to 45 characters. The best way for search optimization is using relevant keywords in the name, because it's only the name that is indexed. Plus, the name should accurately convey the essence of the purchase.
Promoted in-apps may appear on the page of your app, Today, Games and Apps tabs (in-app can be featured) and in search results. An in-app may appear there after or apart from the app or even by itself. The goal of each developer and ASO specialist is to outrank competitors and to take the entire page of search results.
Source: In-Apps tool / Checkaso
How to outrank competitors and to take the entire page of search results?
With in-app optimization, it's very hard to predict any accurate results. First of all, the algorithms have not been sufficiently studied yet. Second of all, not many developers are engaged in promotion, so there is not enough expertise. That's why it's difficult to deduce clear patterns like 'do like this and your in-app will come out on top'. Experimenting is vital. Let's take a look at an example of 'Little Stories: Bedtime Books' app from Diveo Media, which is localised in many countries.
The results of in-app promotion in 10 countries: position and conversion changes
The app has two promoted in-apps — monthly and annual subscriptions. In some locales one in-app was promoted, in others — both. For each, relevant keywords were selected (one or several at once) and added into the name. The optimization effect was evaluated over several weeks. The goal was to squeeze competitors out and take positions one after another in the search results. So that the in-app is to follow the app.
The goal was achieved with almost all in-apps in all 10 locales. Moreover, in most locales, in-apps were promoted from scratch, without any starting positions. Not without insights in the process of work and data interpretation. More on this below.
The results of  in-app purchases promotion in 10 countries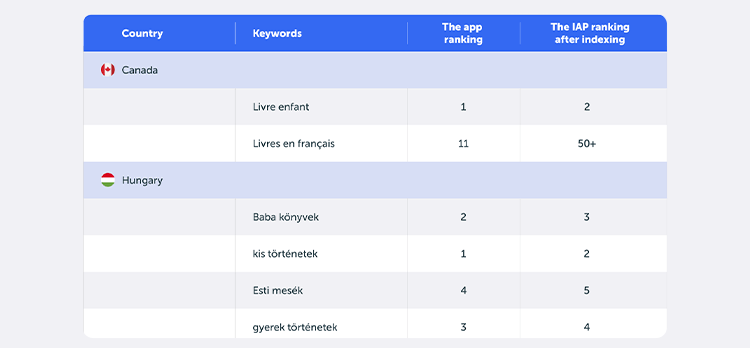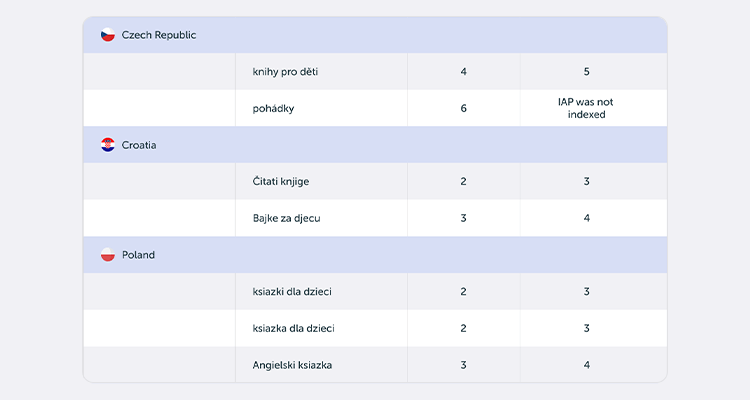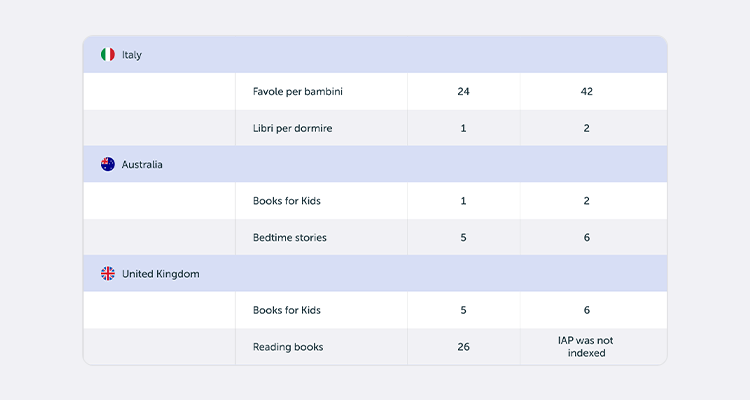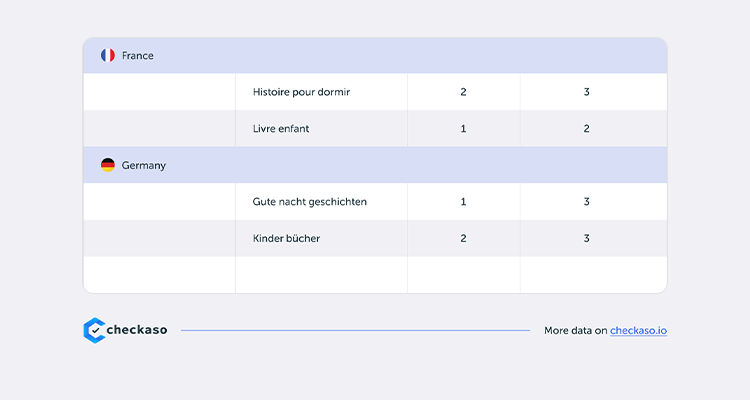 Insight No1. If the names of subscriptions consist of keywords that are not initially in the app's metadata, then indexed in-apps will probably be found in the search at low positions or apart from the app. On rare occasions indexing may not start at all (Czech Republic and UK).
Insight No2. If your in-app is not indexed by some keyword, you should try different keywords.
Does in-app optimization affect conversion of the app?
In-app promotion in search results can really impact revenue — not directly, but indirectly. Don't expect a huge boost in the number of purchases. When a user searches for an app in the App Store, he's not ready to buy anything yet. By driving competitors out of the search results by using in-apps, the number of installs and purchases can increase. But it's always a lottery.
The results of the described experiments have confirmed it too. Let's say that after in-app optimization the number of app downloads has increased by 15% in Czech Republic and by 85% in Italy. These are mere good results. At the same time, there were no significant changes in other locales. Still, the main goal of in-app optimization is driving competitors out of search results. It does this job perfectly. It's essential to experiment and evaluate the results in the long term.
Position dynamics of monthly subscription in-app for 'Livre enfant' keyword in Canada. The app came out on the 1st place, the in-app — on the 2nd / In-Apps tool
How to analyze the success of in-app optimization?
Checkaso has a tool that makes in-app promotion data available. It allows:
To analyze any promoted in-apps in any app.
To track by which keywords and how high an in-app is ranking.
To study the history of competitors' price changes and do marketing analysis to set your own
prices.
To monitor the search results for all in-apps by all keywords.
Try out Checkaso tools — get our free 7-day trial.