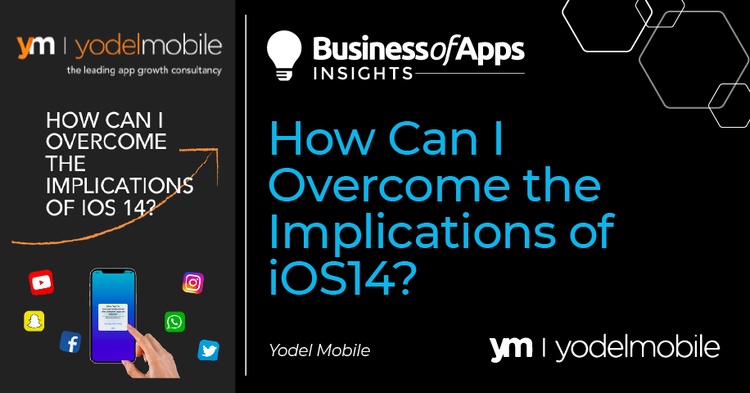 We all know the implications of iOS 14. We've all waited with apprehension for it to arrive. And now it's here, whether we're ready or not. The changes put in place by Apple have shaken up the app advertising industry, restricting visibility on acquisition data to improve user privacy.
Although there is an abundance of videos and articles aimed at explaining the technical limitations, few businesses feel fully prepared for the changes. It feels reminiscent of the guidance provided by the UK government when GDPR came into play – with so many use cases, it's difficult to really know what is required.
SKAdNetwork is Apple's proposed workaround – the privacy-friendly way to attribute impressions & clicks to installs on iOS apps. Unfortunately, the downsides of this are clear – with delayed attribution metrics, campaigns are more vulnerable to fraud, and in-app conversion data is only triggered within 24 hours. We would expect to see an evolution of this framework over time – perhaps towards a more advertiser-friendly privacy method similar to the one being explored by Google in regards to cookies.
So… how can we adapt and thrive in a post-deterministic attribution world?
OPT IN
Some apps are choosing to implement the App Tracking Transparency (ATT) prompt, asking users to share their IDFA with the app to enable increased tracking capabilities. Estimates for the ATT opt-in rate vary from 3% all the way to 60%, however AppsFlyеr have determined that the global average is approximately 39%. To maximise opt in rates, apps will need to adopt transparency and priming strategies to effectively communicate the need for the permissions. If the industry is more transparent about the value of data, users will become more used to this value exchange and be more willing to opt in.
ANALYTICS
The restrictions put in place with iOS 14 make analysis and optimisation of campaigns more difficult, as deterministic attribution is reduced. We expect that more manual methods of estimating impact will become more widely adopted – for example, an increased reliance on incrementality and cohort analysis, requiring channel planning to follow the principles of growth marketers who are experienced with fast experimentation and isolating impact. We also expect that user acquisition teams will have to rely more on wider tool knowledge, such as in-app analytics, from which they can piece the puzzle together.
USER ACQUISITION
As marketers prepare for reduced data on in-app conversions, it's likely we'll see an increased reliance on creative concepting and interactivity – something generally adopted by ATL channels (such as TV and newspaper advertising) with fewer accurate targeting options than digital and mobile have historically had. We may even see a return to classic strategies like promo code attribution to garner accurate insight.
WHERE DO WE STAND?
While the limitations imposed by iOS 14 feel drastic right now, teams will be forced to get creative and establish new ways of working. At Yodel Mobile, we've spoken extensively about the intertwining of user acquisition and growth principles, bringing resources together cross-departmentally for a common goal. App teams should look for solutions which address the full funnel, with a focus on user experience to build a truly optimised user journey with effective and accurate results.
If you have any questions or need support regarding the implications of iOS 14, please get in touch with the Yodel Mobile growth team here. If you want to know more about iOS 14 and the deprecation of IDFA you can read our blog post here.