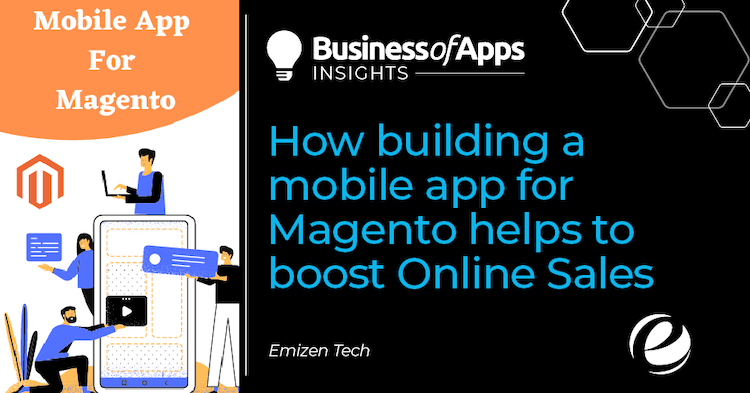 Mostly, the main target of many eCommerce businesses is to enhance their productivity along with revenue all across the platforms. That's why the primary measures that are considered for an online business to make it successful are traffic, sources, ROI, conversion rates, and eCommerce platform. 
With the assistance of a mobile app, businesses attain vast opportunities that mobile commerce brings. With the right Magento development strategy and an eCommerce mobile app, your business is more likely to achieve success. 
Today, we are here to discuss the reasons behind developing a mobile app to increase online sales. So, let's get started.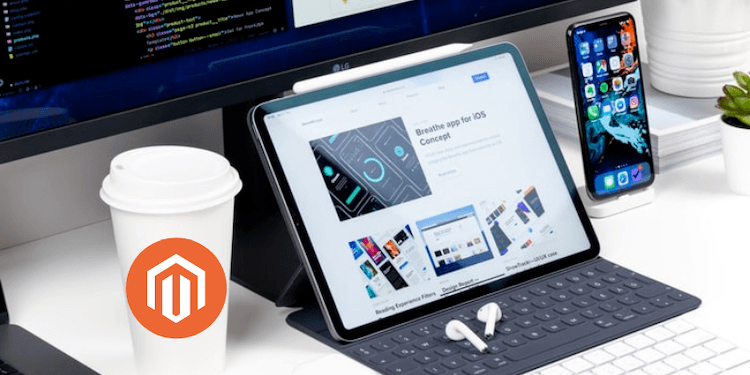 As compared to a Magento website, a Magento mobile app is better at delivering the required result of an eCommerce business. Well, a responsive site may serve the needs for internal visibility, and the app wins higher conversations, and therefore it is proved to be a powerful business-centric tool. 
Be it a clothing business or a departmental store, a mobile app can not only build awareness but also assists in improving your business among the rest. 
Mobile eCommerce trends And statistics
Around 100+ million US consumers own smartphones.

 

About 79% of smartphone users purchase online using their mobile devices.

 

Moreover, approximately 10% of all retail sales are completed through eCommerce.

 

About 80% of the shoppers check product reviews or compare the prices on mobile phones even being available at the physical store.

 

It is expected that until the end of 2021, mobile eCommerce will cover 54% of entire eCommerce sales.

 
Why you need a Magento mobile app for your business?
Well, a Magento mobile app is much essential for a business. Obviously, you would be in a wait to get deeper to elaborate on this. So, let's begin then.
Affordability
Well, we can easily download Magento Community Edition that's an open-source platform. It includes updates and support from the community. Ahead, Magento comes with viable options that you may pick for your hosting service. Cloud hosting lowers down the cost of ownership, as you are not required to pay the cost of monitoring and maintenance solutions. 
Flexibility
Today, Magento is available in three editions, namely Magento 2 Enterprise Edition (EE), Magento 2 Community Edition (EC), and Magento 2. Be it, a single product, a cluster, or customization, it is easy for customers to put on their fingers all through Magento mobile apps. 
Automatic synchronization
With Magento Application Development, no manual synchronization or code is involved. The complete eCommerce store follows a few steps to get synchronized with the app, regardless of the product type. Ahead, the automation of the process doesn't affect the quality of the display. 
Catalog management
The Magento CMS facilitates the unified management of product catalogs all across the categories. It offers powerful support for inventory management for many product types. That's why, if you are planning to sell a wide range of thousands of products, you need to turn to Magento. 
Security
Magento offers various security extensions along with patches with regular updates. You can also add an SSL certificate and run a two-step authentication process to safeguard the back end of your website. All the sites of Magento comply with the PCI standard. 
Difference between Magento mobile app and Magento website
As compared to the Magento website, Magento mobile app comes with various features, such as push notifications, tracking capabilities, and more.

 

Moreover, the Magento app offers enough data for business forecasting. On the opposite edge, a web portal is functional but is limited to only user-friendly and dynamic functionalities.

 

Also, a website is good for user-friendly information and content, whereas an app is best for accessing and converting a user into a customer.

 
Well, if we target some cases, having a website and a mobile app is ideal for an eCommerce business. Although, to meet the expectations of enhanced sales and revenue, a mobile app would be a better option. 
How to optimize your eCommerce store for mobile
Now, we will know about the best practices for optimizing an eCommerce mobile app that you should consider from the starting only.
Responsive, Eye-Catching Website Design
While visiting your site on your tablet or cell phone, if you find a part of your store design cut off, or doesn't load perfectly, or makes it tough to click on the elements, you should pick a more mobile-friendly design. 
Magento arrives with this built-in feature. 
Fast website load times
Just imagine, a user lands on your website and your site takes much to load, then obviously they will just switch onto another site. Well, you can imagine that lost sales. So, your website is required to take just three seconds or within to load. This doesn't look much, but even a second can make a difference. 
What you can do to correct this is, optimize your site images, lesser the website content, and all this can be done by using a caching plugin along with AMP protocols implementation. 
Intuitive checkout process
The target of every business person is to move their users from the sales funnel and make them purchase your products. But, you may fail with a checkout process that's not optimized for mobile as it may slow down things. 
As you know the screens of mobile devices are much smaller as compared to desktops one. So, your mobile app will demand concise content with bold and clear buttons, and easy-to-fill forms. 
Eliminate invasive pop-ups and ads
Don't you think, a website that bombards you with opt-ins, pop-ups, and special offers, just annoys you. Your customers too feel the same. 
Because of this, Google cracks down on such websites and if such features lay a bad impression on users, it is expected not to exhibit your eCommerce website in its search results.  
So, it's best to grow your email list and showcase your customers your latest deals on mobile-only, as less is more. 
User-friendly navigation
Remember one thing, your website may not look great in appearance, but make sure that it should perform perfectly. At least, your chief elements should perform as expected, like Main Menu, posts, pages, and links. 
Also, be sure that the important pages on your website are easy to search, clickable, and accessible as this will make your users stay a little longer on your site. 
Reduce heavy content
For SEO and for staying regular with your brand messaging, the content should be of high quality. Moreover, it's important to motivate users to know more about your business and products. 
If your users find it hard to view it on their mobile, this may actually make your website go down. So, it's better to open your site on your mobile device and check whether the content is clearly visible or not. Also, keep in mind about your reading experience, as it will affect your users also. 
Optimized images and videos
Incorporating images and videos in your store will make your store more alluring and engaging and will assist the users to know better about your products. 
Be sure, your images are clear and are of an apt size. You may work with an artistic designer to optimize the size of your image for mobile. 
When it comes to eCommerce video, it should be in the right size and can be viewed perfectly on mobile, and should not autoplay. 
Conclusion
The major benefit of Magento app development is the flexibility and affordability that eCommerce business owners get. You can develop an amazing eCommerce platform with no investment. 
The Magento mobile app development framework provides a stack of capabilities that are important for your eCommerce success. If you require technical assistance then hiring a Magento development company like Emizentech will bring you closer to your goal.
At Emizentech we have vast experience in developing astonishing mobile apps. You can reach the company at the following mail.