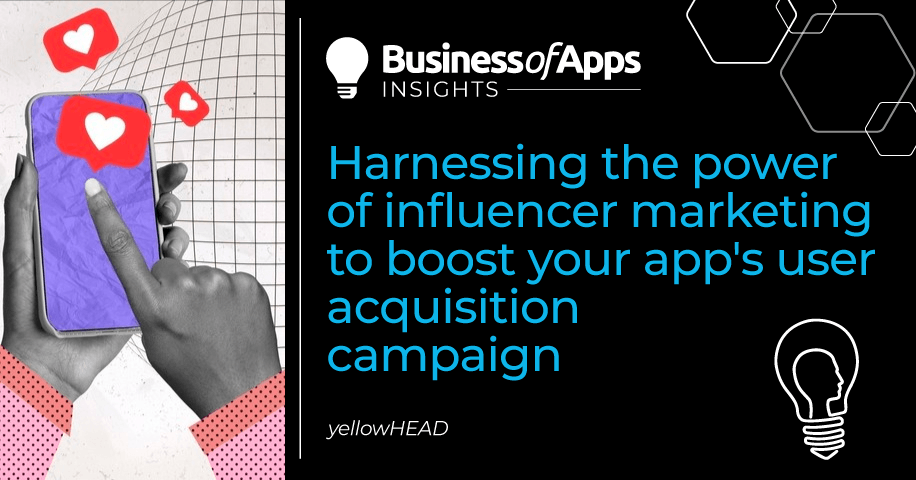 Influencer marketing – the Holy Grail to transform mobile app marketing campaigns
Influencer marketing is a practical way to attain and retain a specific target audience. If you want to expand your app user acquisition campaign, you can tap into influencer marketing. Remember, influencer marketing can more than just help you increase user acquisition – it improves your market reputation and raises brand awareness.
A report notes that influencer marketing spending hit over $4 billion in 2022, a 20% increase from 2021. Most marketers now understand that influencer-produced content works wonders for brands and allows them to increase engagement and garner the attention of more users.
Let's touch on what makes influencer marketing so powerful and how brands can use it to boost their app's user acquisition campaign:
Why tap into influencer marketing?
Influencer marketing has become a dedicated practice of working with online influencers to spread your core marketing campaign message and bring more authenticity across campaigns. A social media influencer has a solid online presence, and you can leverage this influence to fulfil your marketing goals, including expanding and retaining the app user base.
Whether it's Instagram, TikTok, or YouTube, influencers are available and accessible in different styles. Most companies collaborate with influencers to achieve their app campaign goals and accurately cater to their target audience.
With the rise of social media and mobile apps, it has become more difficult to stand out. Influencer marketing has become one of the most powerful tools to reach out to a bigger audience and take user acquisition to new heights.
Who should you hire an influencer?
Opt for the most credible, authentic, transparent, and trustworthy influencers to develop and roll out effective campaigns that resonate with potential users and the target audience. It is an effective way to increase downloads and achieve your user acquisition goals.
With the right influencers, it has become possible to position your app as an authoritative content source. If you want to see your new app become the best and get on top of the list by capturing the needs of a diverse audience – the last thing you want to do is dependent on a standard campaign.

Create and execute value-driven campaigns
The fact is that there is an increased volume and noise in the app stores, which makes it even more important to leverage influencer marketing to create and execute high-value and effective campaigns to boost the app user base.
Part of the process is to understand the fundamentals and mechanics of social media influencer marketing. It'll help you understand how to ensure the success of your campaigns. One of the highlights of influencer marketing is that it allows you to promote different types and sizes of apps.
If a company develops multiple apps in different verticals, you can get a famous influencer with a massive following in your target market and successfully execute the campaign. You'd be surprised how fast you can reach out to new users through an already-built trust and authenticity by the hired influencer.
Here are some essential tips that can help you leverage influencer marketing to drive more downloads and increase user conversions:
Consider budget elements
You don't have to get the most expensive influencer to develop marketing campaigns before, during, or after the app launch. So, review your budget and see what type of influencer would fit in your budget. If you're low on a marketing budget, there is no need to hire international influencers or celebs.
Instead, opt for the local influencers who have built trust with local communities and can help you get the word out about your app. If a marketing influencer has massive followers and can cater to your niche, then it warrants your consideration.
Determine the stage at which you want to collaborate
It is crucial to figure out the stage you want to collaborate with a famous influencer. The best stage to work with the influencer is pre-launch app promotion. It is the best time to involve an influencer marketer to create and execute effective app promotion campaigns.
In this stage, the influencer works to get more pre-signs or registrations for your app before the final launch. The goal of the influencer here is to build a huge hype around an app game. You can develop and execute your influencer marketing campaign in three different stages:
Pre-launch app promotion
App roll-out
Post-launch app promotion
Research and review mobile app influencers
Once you have enough information about the influencer, research how they perform on TikTok, Twitter, or Instagram. Make your research and review process as strategic as possible. For instance, you can focus on app influencers who have a fundamental grasp of SEO and app development.
You can use paid sites to find a wide range of app influencers. Also, choose a suitable influencer platform to reach out to more people. For instance, if you collaborate with a macro influencer, there is a good chance that the influencer has a high volume of followers on multiple platforms. But practically, most influencers use one platform to build their dominance.
Give influencers creative control
You want the influencer to feel free to innovate and come up with new ideas. Also, ensure the influencer is consistent with your current marketing strategy and values. So, when choosing a solid influencer, look for more than just their follower count and see whether the influencer aligns with your unique values. Finally – make sure to measure and track the success of your campaigns.
Ensure optimized results
If you want to get optimized campaign results, communicate a core message to the influencer and raise your expectations. For instance, talk about the basics of the game or general app, its history, and why you're excited about it. You should also communicate the attributes of your target audience and talk to the influencer about whether you may need to change your core campaign message.
If you get the "right" influencer, you can count on them to find the most trending app marketing tactics. Promote co-creation, run cross-channel marketing campaigns, and ensure long-term influencer partnerships to stay consistent and authentic.
Keep a close eye on the engagement rates of influencers
When hiring an app influencer, check your influencer's engagement rates. For starters, check how many comments and likes your influencer can get based on their following. But make sure to communicate your app advertising tactics and goals to the selected influencer.
Final thoughts
It's simple – when potential users see someone that they trust using a particular app, it influences their action to check out that app, which ordinarily wouldn't have been possible. Google states that 70% of the young generation views YouTube influencers as trustworthy, which is highly effective for gaming apps. So, when an influencer engages with the app – it is bound to increase conversions since people can see that the influencer is enjoying the app.
If you're running influencer marketing campaigns as part of your user acquisition strategy for apps, understand it is more than just about the influencer – it is about the strategy you create around your campaign. Through a performance marketing agency, you can count on flawless and practical strategy and build a funnel based on the results of every stage of your campaign.