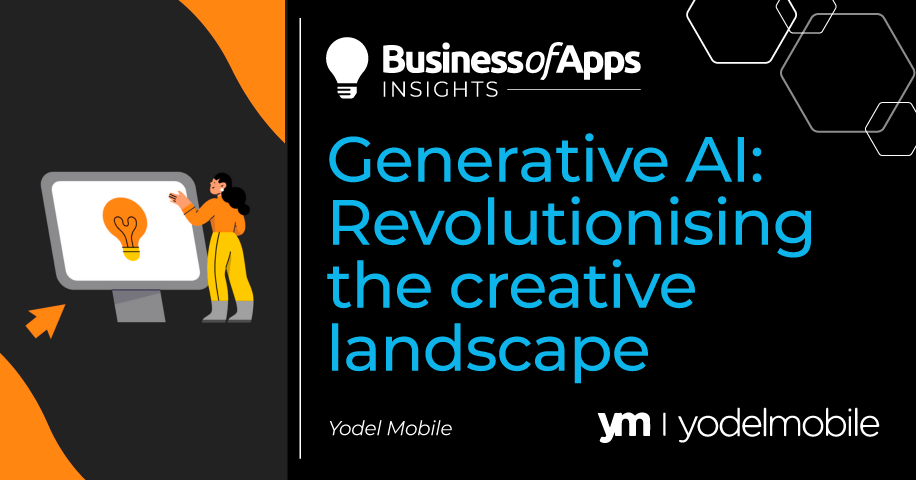 The creative design industry is beginning a new chapter, and it's artificial intelligence that's turning the page.
Many industries are embracing the advantages and efficiencies of AI tools, which are developing at a dizzying pace. Given the technical proficiencies of the app industry, it is likely that AI has been experimented with by various teams within the average app business. Creative designers also have an exciting opportunity to be a part of this new chapter, embracing AI to go beyond human productivity and imagination.
Yet, this evolution is not without its challenges. How can we use AI in today's marketing landscape without undermining the intrinsic value and skills of human designers? Not only that, but the development of creative AI is still in its infancy, so how can it be used best with its current technical limitations to produce effective outputs?
Whilst this is still a new and developing field, here's how we think creative AI will impact the app marketing landscape.
What is Generative AI?
Generative AI is a form of machine learning algorithm that analyses past content to generate written, visual, animated, or audio assets. For example, Generative AI systems like Midjourney and DALL-E mine vast volumes of art created by humans and can then be prompted to create striking new images nearly indistinguishable from professional imagery, concept art or photography. Who can forget the picture of Pope Francis in a white puffer jacket – an event that never actually happened but looked convincing enough to fool most of the internet?
Pope Francis in a puffer jacket AI image
Source: Yodel Mobile
What benefits can Generative AI generate for an app business?
With Generative AI tools at your fingertips, anyone can be a creative designer. You only need to think of what you want, and AI creates it for you. If you want to update and iterate your design, AI gives you more options in the blink of an eye.
But even for experienced creative designers, AI can be very useful. Here are just some of the ways Generative AI is revolutionising design and creatives within the app industry:
Automating repetitive tasks e.g., resizing thumbnails for different platforms
Enhancing and expanding creative concepting, slashing the time from initial idea to final image
Speeding up the variant design production process, to iterate more effective and efficient designs
Optimising designs for different criteria, such as usability, accessibility or sustainability
Personalising designs for individual cohorts, where personal tastes and preferences vary significantly
Creative designers who take on AI as a collaborator can gain more time and space for human imagination devoted to inspiration, strategic thinking, and decision-making. And let's not forget the time and resource efficiencies that can save teams a chunk of their marketing budgets to invest elsewhere.
Generative AI tools to support app marketers
Text-based AI systems like ChatGPT and Copy.AI can generate readable text and marketing copy instantly, which for app developers means streamlining the process of producing copy for app stores, advertising campaigns, CRM campaigns and website content. We looked at this in more depth on our blog all about ChatGPT and app marketing possibilities here.
For those tasked with producing creative assets for an app, we know the job involves more than dreaming up cool-looking stuff. Visual assets have to be translated into different forms to appear in different places and achieve different objectives. When showcasing your app, you need artwork that fits a specific size, layout, aspect ratio and file type for each app store or device. Artwork for the Apple App Store and Apple Watch, for example, requires complex layered image files that are not only a specific size and shape but also leave certain areas blank for text to be placed on top.
Artwork for the Apple App Store and Apple Watch
Source: Apple
For creative designers, these different requirements for different places currently mean a lot of tedious cropping and resizing. But with AI, you can simply program this time-consuming and complex task just once and then repeat it whenever needed with a single click. Canva, for example, automatically resizes designs for an assortment of social networks (and that's just the beginning, they have some of the most accessible AI tools available currently).
AI can also perform complex tasks that would previously take a long time even for those creative designers who have the required know-how and ability. Adobe Sensei, for example, adds features like one-click Sky Replacement and Content-Aware Fill to Photoshop and Illustrator. These features use machine learning to quickly remove people or items from images, magically dropping in a different image or extending the background to fill the space.
Adobe's Content-Aware Fill
Source: Adobe
This could be particularly useful in creating a larger asset from something like a thumbnail or versions suiting the aesthetics of different platforms from one source image.
Generative AI has been used in projects as diverse as the New York Times' Olympic coverage and the title sequence for Marvel TV show Secret Invasion on Disney Plus.
A still from Secret Invasion's opening credits sequence
Source: Marvel Studios via The Verge
What are the limitations and ethics of Generative AI?
The benefits of Generative AI are obvious and enticing. However, the available technology does face some limitations, and there are ethical considerations about using the tools in their current form which are hotly debated by users and creative designers.
Some of these include the following:
Because Generative AI is trained using content created by humans, the algorithm may replicate human biases that show up in that past work. Creative designers must be careful to ensure their AI-assisted creative process doesn't output wrong information or text and designs that are discriminatory or offensive.
It's also important to consider the copyright and intellectual property implications of using past work to train the algorithm, and AI builders should be transparent about the sources their systems have absorbed.
The ease with which users can use Generative AI also raises questions about the potential impact on human creativity. If untrained users can generate professional-level artwork, AI could be seen as a shortcut that devalues human experience, training, and skill. However, it's important to note that visuals generated by AI often require editing. While AI technology offers many benefits to creative designers, it should not be embraced as a replacement for human ingenuity and imagination.
Shutterstock holds an interesting position on monetarily rewarding these artists that the AI takes 'inspiration' from. Used widely throughout the creative industry, they promise to financially reward those artists whose material they use, as well as be mindful of promoting inclusive imagery. However, as you can see from the prompt vs. the output seen below, the tool itself is in a relatively early stage of development.
AI image generator by Shutterstock
Source: Shutterstock
Generative AI is changing the design industry, automating processes and creating efficiencies throughout the creative pipeline. Designers may have concerns about this disruption to traditional workflows, but those who embrace new technology and new practices will shape new models and methods for the industry. Ultimately, designers must rise to the challenge of Generative AI by showing how high-level human creativity adds value to the design process.
Embrace the future of design with Generative AI
As AI explodes in popularity and efficiency, it's important to stay up to date with what's going on in this burgeoning and much-discussed area. Generative AI offers a unique combination of efficiency and creativity which app businesses can utilise in many ways. However, it is still important to take into consideration the ethical concerns that can come from using AI.
In parallel, designers can develop their skills in areas that are less likely to be automated and will always benefit from the human touch. All the way from a big app rebrand to concept strategies for a paid acquisition campaign and creative problem-solving for an app store A/B test, these are just some of the areas where human imagination, experience and instinct will add value and resonate most authentically with a human audience.
Successful designers will use AI to augment the design process and enhance their creative output beyond what human imagination can achieve. However, maybe wait a few more years until programmers have aligned on the ethical and moral issues still plaguing the system.