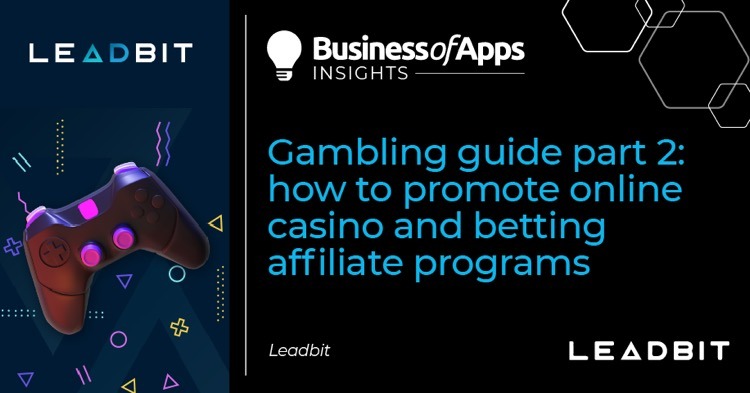 We hope you read the first part of the guide, in which we explained how to choose gambling and casino offers, how to promote them, and who to target. You should read it if you haven't already.
This part will discuss creatives, pre-landers, landers, and traffic sources ideal for gaming and casino offers.
Let's not waste time and get right to the topic.
Creatives for gambling
It's the basis of affiliate marketing. Quality isn't as important in this vertical as in others. It's more important to follow the requirements of advertising platforms to avoid being banned. Almost everywhere, the promise of quick money is prohibited. 
As creatives, you can use:
gif, html5, png banners of different sizes

 

slots demos – you can request them from an affiliate program or parse them from competitors using spy services.
pop-unders, click-unders – pop-up banners that overlap the content of the site (use carefully, they have a low conversion rate);
landing and pre-landing pages are single-page layout sites that are designed to inspire the client to take action;
video ads, if you plan to run ads via YouTube or in-app.
In gambling, there are different approaches: a demonstration of money or luxuries like villas, cars, a video with the emotion after winning, a demo with a winning combination.
You can't do without enticing slogans. Here are some examples:
5OOO Australia users win every day! –
the new best app in … (Australia, USA, Germany);
bonus 100% for players from …;
What are you waiting for? Pick up bonuses!;
Try Your Luck! 125 free spins – worth $100;
This game has conquered the Runet – one hundred lucky winners have already taken prizes worth $100,000.
How to find creatives
The easiest way is to use the promo materials provided by the affiliate program. Although ready-made banners and landing pages are updated on a regular basis, there's a 146% chance that other marketers will use them. Therefore, it's better to use your own. So try this approach:
Examine the provided creatives, then use a spy service to check the competitors' ones, and then edit a little and make your own banners.
Landing pages for gambling
Landing pages are easier to work with than regular banners:

users less often see them, and banner blindness does not affect them. You can copy competitors' designs (easy to find using spy services);
you can take ready-made landing pages from the affiliate network;
Landers contain information about the promotion and a call to action. You can create it using templates samples provided by the affiliate network.
You can make a landing page in 5-10 minutes using online design-builders if you want to reach a different audience with distinct creatives. GetResponse, Tilda, Wix, WordPress.com, HubSpot, LeadPages, Lander, Bloxy, and Kameleon are the most popular.
It's better to choose the version with the A/B testing option (you can run several landing page options at the same time) and subscribe to the paid plan. It is inexpensive but has advanced features.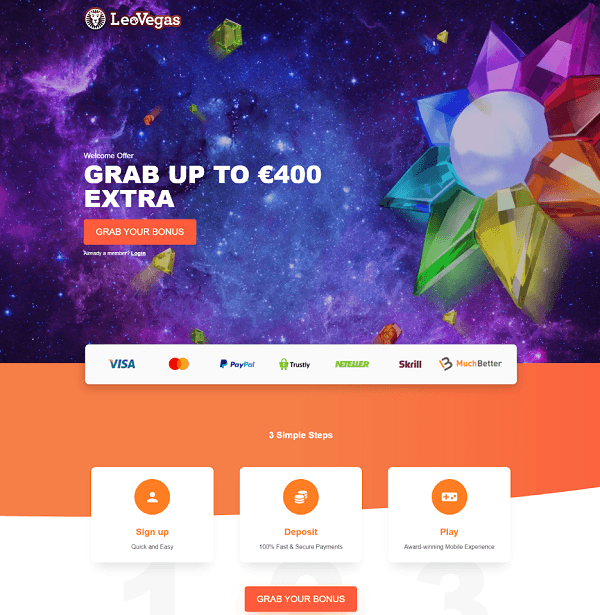 If you're familiar with setting up a web server, you can buy VDS hosting and install Joomla or WordPress on it. So you can run an unlimited number of landing pages, paying only a monthly rent.
Pre-landing pages
Pre-landers are popular in the gambling niche. You can boost the conversion rate by 2-3 times if you use pre-landers correctly.
Pre-landers are typically used in combination with landing pages and have several purposes:
tell people more about the promo, give the information that does not fit on the landing page, close all questions so that the user doesn't go to the Internet to search;
to warm up interest –

 

to pique the desire to click on the link rather than continue searching;
to cut off non-targeted users and improve the quality of traffic.
Pre-landers come in a variety of styles. In gambling, this can be a page asking about the age to get rid of underage traffic or a mini-game with the wheel of fortune where various bonuses fall out.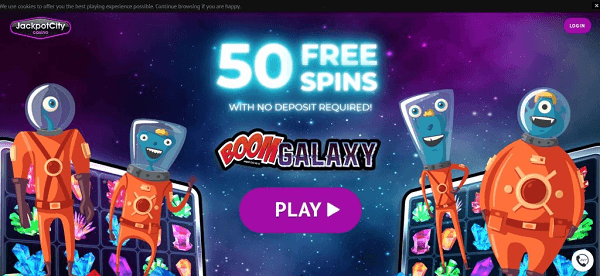 Pre-landers containing success stories are still effective. The page can be disguised as a trustworthy website, like the BBC or Forbes. For example, you can create a story about a jackpot winner and include an interview with the lucky one and screenshots of the cheque. It will increase credibility and make others believe it's possible to win and get the money.
Another popular option is to describe casino gambling schemes or methods of profiting from bets. The second option is more relevant; hardly any sane person believes they can outplay the casino. However, it still works in some poorly processed GEOs.

To make a pre-lander work, use the proper structure and triggers that involve basic emotions (fear, greed, bewilderment, anger). But you must persuade readers to believe your story.  And don't use CTAs like "buy now" because it can turn off hesitant users.
Sample structure of text pre-landing pages:
Introduction tells the news about the sensation. As if some unhappy man squandering his life at work wins the lottery. A reader should identify with an unhappy man;
then a fantastic solution to the problem: he discovered a secret scheme or a bug in the casino software, hacked it himself, or his friend told him about a loophole;
description of the scheme (there are many examples on the Internet). Some people actually earn money on bets;
and the reviews below.
Traffic sources for casino offers and bookmakers
We all know that traffic equals the number of attracted users, and they all behave differently. So our target is high-quality traffic which are users who will play and deposit accounts.  
All affiliate programs have specific requirements for the quality of traffic. You need to rely on them when choosing advertising sources. White methods like advertising in blogs, entertainment portals, and social networks are accepted everywhere. Online casinos don't disdain traffic from pirate online cinemas, porn sites, dating sites.
Any fraud traffic is prohibited in gambling.
Free sources of traffic
Making your own website is the first thing that springs to mind. This can be a blog about sports betting and gambling, or an entertainment portal. You can review various services or place banners on pages dedicated to online games, movies, and actors.
Other methods for promoting affiliate programs:
video blogs on YouTube, Tik Tok;
group in Instagram, Facebook;
promo codes with affiliate links on thematic forums.
In theory, everything looks simple. We promote our community or video blog. We start exciting discussions, share promo codes or referral links. On the forums, we select popular branches about bonuses or where to get them. We join the discussion, and after a few posts, leave the partner's promo code.
In reality, promoting a blog or even a group takes a long time, ranging from a few months to 1-2 years. The most challenging aspect is ensuring that your resource contains usable and helpful information. Therefore, most affiliates prefer to work through paid advertising (affiliate marketing).
If you already have a well-promoted blog or group with a relevant topic, every thousand followers can bring in $200-300 per month.
Paid sources of traffic
Paid advertising is a quick way to work out your audience. The scale is not limited;  you can get 100 or 100,000 leads in a matter of days, depending on your budget and how well the creatives and targeting are set up. The balance between price (the one that would satisfy the affiliate marketer) and traffic quality (as required by the affiliate network) is critical here.
Paid traffic, which makes the best conversion:
Contextual, search advertising
The most expensive one. On average, the cost per click for Tier 2 is 30-50 cents,  while Tier 1 costs about $2-4 and can reach up to $20. The price is astronomical, so it's not used frequently. But here, you can find high rollers (gamblers who play big), which significantly improve the KPI and turn into a constant income source when working on RevShare.
Teasers
Ad blocks with shocking yellow press-style headlines. A lot of low-cost traffic, primarily from online cinemas and adult sites. The cost per click is a few cents for a western market, and it can be as low as 0.1-0.2 cents. Popular exchange platforms include:
Kadam – a lot of traffic from porn sites and sites for BDSM fans;
etarg.network – traffic from online cinemas;
MarketGid – traffic under any GEO, sites with different content: news, entertainment, film portals.
Social networks
First and foremost, Facebook and Instagram. In terms of quality, the traffic here is the best. There's a lot of it, and getting leads is simple. However, Facebook Ads aren't good for gambling advertising. It's outlawed in many GEOs; where it's permitted, there's tight moderation, and practically everything is prohibited. 
So you should cloak, farm, or buy accounts and be prepared for moderators to block your accounts regularly. However, if you work hard, your efforts will be rewarded.
In-app ads
Advertising in mobile apps can bring high-rollers. However, the working approaches are constantly changing. It's difficult for a beginner to work due to the high cost of advertising and difficulties with approaches. Traffic from two similar apps can differ dramatically – one will have a conversion rate of 10-15%,  while the other will have none. Popular ad networks include MG, PropellerAds, CLICKADILLA, Google Ads.
When purchasing traffic through ad networks, it's important to track the indicators on the first day and after 3-5 days. Examine the CR from the click to the registration and from the registration to the deposit, the number and amount of the initial deposits, and the number of confirmed e-mails. 
Next, look at the worldwide indicators of the advertising campaign if the early projections for traffic quality are correct after 4-5 days, two weeks, and a month. Indicators include the rate of players, the percentage of rejected conversions, the ratio of first and second deposits, estimated payback (ROI).
Hybrid traffic attraction schemes
Hybrid doesn't mean illegal. Quite the opposite. You work through your website or public social network. But instead of manual SEO promotion, you attract a potential target audience through advertising.
You can use the following models:
Launch a channel dedicated to a specific casino or gambling in general. Post multiple conversion posts with a referral link. Promote your ads to the public. Add your subscribers' contacts to the database. For those who do not convert immediately, you can try to influence through new promotions;
Create a website, fill it with content, attract an audience through advertising – work in white: get acquainted with the target audience, collect contacts by subscribing to news or through promotions (for example, when subscribing to the newsletter of promo codes).
How much you can earn – gambling case study
In affiliate marketing, the amount of earnings is vague. Therefore, instead of meaningless calculations, we're giving an example of an advertising campaign of one marketer.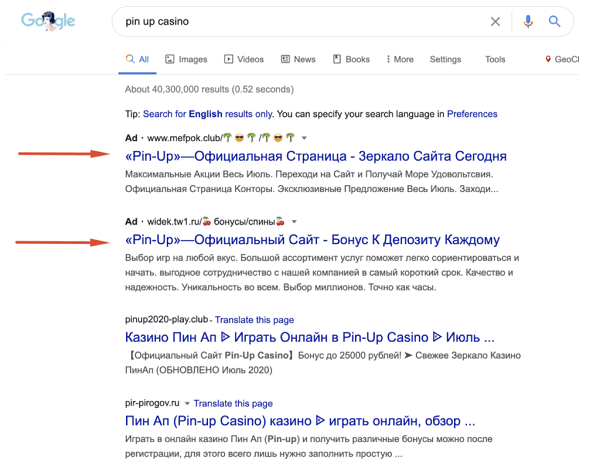 49+ thousand dollars on contextual ads
Contextual and search advertising are expensive in gambling, but with the right setup, they give a huge profit. Scheme features:
white domains were created (for example, mefpoc.club), which were used to run ads on Google as official casino mirrors;
to pass moderation, cloaking was used, so it was necesary to create hundreds of accounts that lived from 15-20 minutes to several days;
GEOs – Ukraine, Azerbaijan, Kazakhstan, Russia;
total advertising expenses – $53,650;
earnings – $ 102,880.
Net profit for six months: 49,230$.
Conclusions
Despite the hype around Casino affiliate programs, gambling remains a profitable niche. There're still a lot of GEOs that are developing.  New affiliate programs appear with amazing regularity. Many players in Europe, the US, and Canada are transitioning from offline to online platforms.
In general, gambling is good for both newbies and pros.
If, however, something does not work out for you and you're unsure which offer to choose, you can always contact LeadBit managers, who will be happy to assist you.