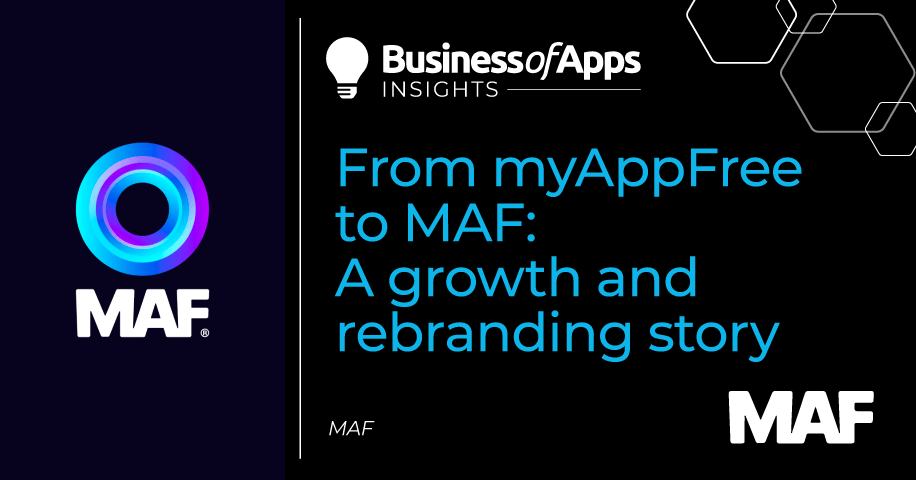 In this interview, we talked to Riccardo Fuzzi, Massimo Caroli, and Alessandro Del Grano – founders of MAF, a mobile marketing company based in Italy.
First things first, could you give our readers a quick introduction to your company?
Riccardo: MAF is an all-in-one solution to grow and monetize apps. We offer monetization and user acquisition solutions for advertisers and publishers. Everything we do is based on a clear vision: transforming advertising into discovery.
How old is MAF and how did you get started?
Alessandro: MAF's story began in 2013 when we created our first app, myAppFree. We created this app because we noticed a gap in the industry. While Android and iOS phones had solutions for app discovery, on Windows phones (which were still popular at the time), there was no such thing. Therefore, we developed an app that allowed users to discover new apps and games. The app quickly gained a lot of popularity, especially in our country, Italy.
The MAF founders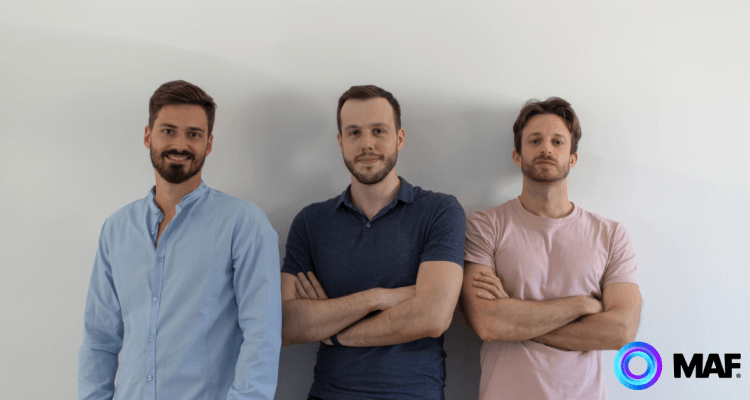 Source: MAF
This was only the start of our journey, and the success of our first product encouraged us to transform it into something bigger. To adapt to users' wants and needs, we shifted to iOS and Android and developed from there.
Although the app quickly gained popularity and an impressive number of downloads, monetizing it proved challenging. After struggling to find a network suitable for smaller publishers, we decided to take matters into our own hands. In 2016, MAF started its journey as a network, offering a new monetization solution for all publishers worldwide.
During all this time, we remained product-focused and evolved from a single app to an entire network of apps, games, and user acquisition solutions.
You've recently changed your company's name and logo, right?
Massimo: Yes, we've decided to rebrand from myAppFree to MAF. It's not that we didn't like our old logo and name, but it was too connected to our initial products and not to the whole vision that we are bringing out today. Over the years, myAppFree has evolved and grown, and the new branding reflects this evolution. Today, our new branding aligns with MAF's commitment to assisting developers in turning their apps into profitable businesses.
Alessandro: Also, as you may notice, we didn't want to go with a massive name change. That's why we decided on a shortened version of our previous name, which was already familiar to a lot of people in the industry.
myAppFree to MAF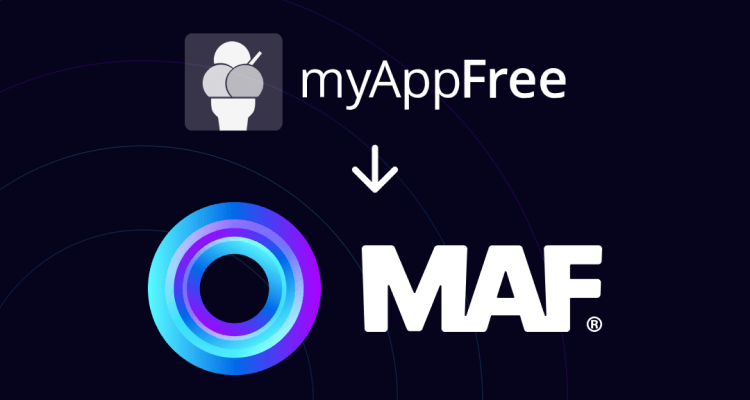 Source: MAF
What did the rebranding process look like?
Riccardo: The rebranding process took quite some time because we wanted everything to be perfect. Generally, one of the key challenges of rebranding is staying true to yourself while introducing something new. In this process, you need to strike the right balance between the innovation you bring and the heart of what you are.
What are the primary services that MAF offers today, and how do they help app developers to grow their apps?
Alessandro: Our services are split into two categories – for advertisers and publishers.
For advertisers, we offer solutions to acquire new high-quality users at scale. To be exact, we are focused on rewarded formats that encourage users to engage with content. This way, we allow users to discover games and apps and receive something in return. We're especially focused on targeting, ensuring we match the right app to the right users.
As for publishers, we help them monetize their traffic with our unique ad solutions and technologies. For example, myChips offerwall is a monetization format that allows publishers to monetize traffic both on apps and websites.
All this aligns with our long-term vision to transform advertising into discovery. We started our journey with ad discovery and are now expanding this vision to the entire mobile ecosystem.
Can you share with us any notable achievements or milestones that MAF has accomplished since its launch?
Massimo: I would mention three accomplishments we're especially proud of.
The first is our products. We started with a single product and now we have not just a network, but a full product portfolio – apps, games, ad formats, and monetization solutions.
The second and most important one is the team. Our awesome team just keeps on growing and we're constantly expanding our global presence. We're also proud to be expanding our team in different lines of work. For example, we have recently started our own branch of game publishing.
The third is business expansion. We absolutely exploded as a business in terms of numbers over the last year, and we even received some recognition for it. For example, the Financial Times ranked us among the top 100 fastest-growing companies in Europe.
Overall, everything is moving in the right direction; we're just putting in more effort to help our business grow even further.
The mobile industry has gone through some big changes lately. Can you describe how MAF managed to adapt and continue to thrive?
Alessandro: Being in the mobile industry for more than a decade, we have a lot of experience with changing and adapting. It's not a choice – it's something you have to do to stay alive and profitable.
To keep pace with the demand side, we always listen to what our users are telling us, pay attention to market trends, and try to anticipate future ones.
Moreover, new rules and regulations have had a strong effect on mobile advertising. The latest example is iOS privacy changes. Luckily, for us, this was not a huge change because we work with owned and operated properties, which are based on first-party data that is left unaffected by these changes.
Finally, the industry is constantly changing inventory – every now and then, there is hype about a certain vertical. For example, in recent years, there has been an explosion of fintech, which prompted us to develop our own play-to-earn solutions.
The secret to overcoming all of these challenges is to continuously change, add new products before your competitors, plan ahead, and try to understand what the market needs and what you can offer to fill the voids.
How did you communicate the rebranding to your clients and users, and what steps did you take to ensure a smooth transition to the new brand?
Riccardo: For our clients, we ensured a seamless transition to the new brand. We have simply communicated that we are not changing at the core, but we're just changing our appearance.
Nothing else is changing – the quality remains at the same high level, and there's nothing new in terms of ownership of the company or the team. We just wanted an image of ourselves that is better aligned with what we do today.
What advice would you give to app developers and publishers looking to grow and monetize their apps, and how can they benefit from working with MAF?
Alessandro: The #1 thing app developers and publishers need to always keep in mind is their product KPIs. Achieving these KPIs is not just about using the right advertising strategy, but also about adapting products accordingly. For example, if you're planning to advertise your apps and games with a rewarded approach, you should also build your product in a way that works better with this format.
We have a lot of experience with this, so we help our clients adapt their products, resulting in better ROI as well as retention rates and engagement.
On the monetization side, it's super important to find profitable ad formats. But not only that, it's equally important to make sure your strategy is not intrusive to users.
Since our vision is to transform advertising into discovery, we keep developing formats that enhance the user experience. Thanks to this, developers are not just acquiring users to turn a profit but also to strengthen their existing user base. It is critical to shift away from the belief that you must drain your user base and, instead, focus on turning it into a community.
Interested in learning more about how MAF transforms advertising into discovery? Visit maf.ad or get in touch at info@myappfree.com.