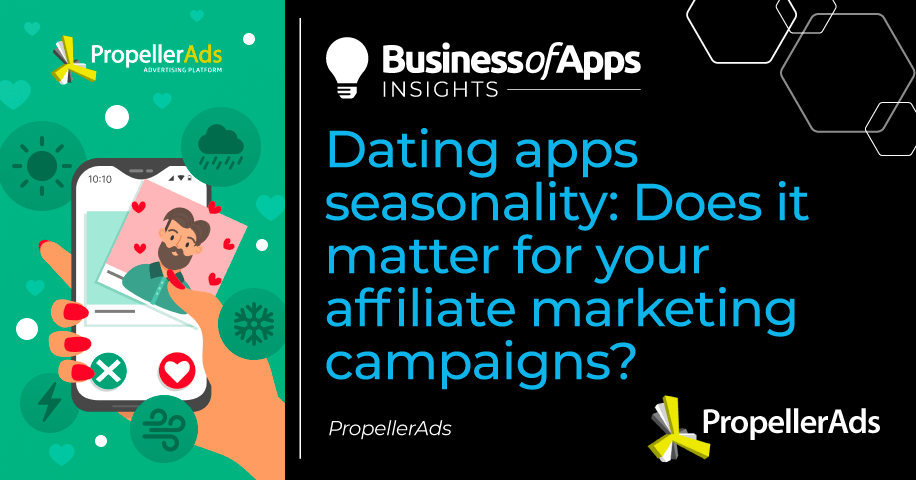 Many media buyers consider dating an evergreen vertical. In fact, this makes sense as dating websites and apps are not like Christmas giveaways or quick trends that disappear faster than they become popular.
However, the Dating vertical does have its own kind of seasonality. It might not be as strongly pronounced as, for example, in the Travel niche — but our research shows there are some tendencies and changes depending on the season.
So what is the best time to run affiliate marketing Dating sites and apps, and does Saint Valentine's or Christmas Eve matter for a dating app campaign's profitability?
Dating apps statistics by season
First, we compared statistics of popular dating apps. We took Tinder, Badoo, Bumble (statistics from open sources), and SweetMeet (PropellerAds statistics) and tracked their monthly downloads worldwide — without taking GEO into account at this point.
Here is what we got: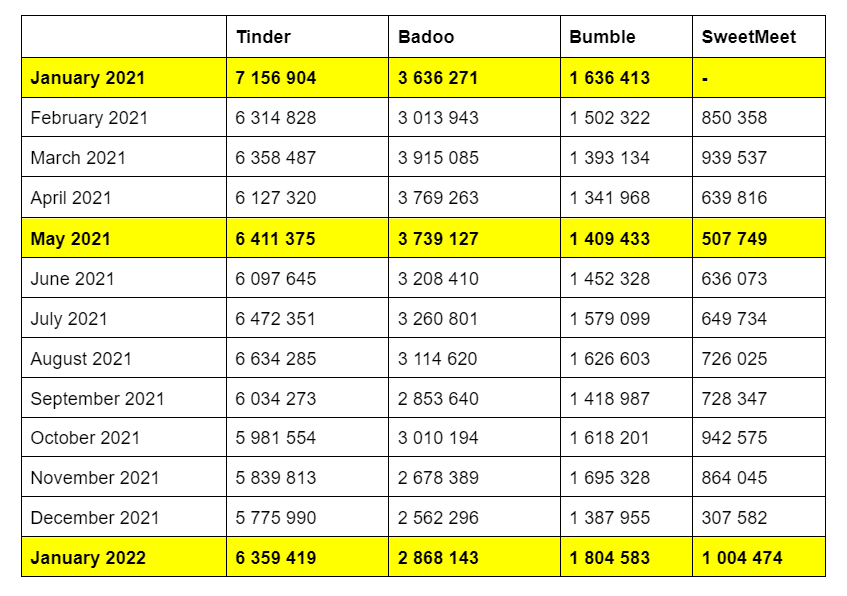 Source: PropellerAds
4 Essential takeaways from the statistics
After comparing the peaking months for every app, we could make several important conclusions.
Consistent performance throughout the year
Dating apps are relatively stable throughout the whole year. There are activity bursts during particular months, but they don't appear like sudden major traffic spikes.
This conclusion is also supported by our experienced media buyers. For example, Ettore Spinelli, our partner, and active PropellerAds Telegram Chat member, believes that 'dating works all year long, with some sort of increase as winter/summer come closer. There is no completely dead season — you can promote Dating all year long.'
January and May are ahead of the game
The most active months for Dating apps are January and May — and it leads us to believe winter and summer can be unhesitatingly called the most 'romantic' seasons. While summer allows a bigger opportunity for outside dating activities, January is the after-party period implying the end of Christmas family reunions and a time when Saint Valentine's Day is inevitably approaching.
The end of the year is not the most profitable
The fourth quarter shows a slight drop in installs. This is also explainable: the end of the year is a family holiday period, which people prefer spending with close ones instead of establishing new bonds.

We also checked this theory by comparing the latest PropellerAds campaign statistics for the SweetMeet app. It turned out that the conversion rate increased 1.16 times in January compared to December:
Source: PropellerAds
Saint Valentine's Day is not the key to success
Although Dating products for affiliate marketing are supposed to be extremely converting in February thanks to Saint Valentine's Day, in fact, they don't demonstrate a big traffic spike. There are still more impressions, clicks, and actions from users a month before. Besides, here are the daily statistics for SweetMeet that prove 14 February is not the most profitable day when we are speaking about Dating apps: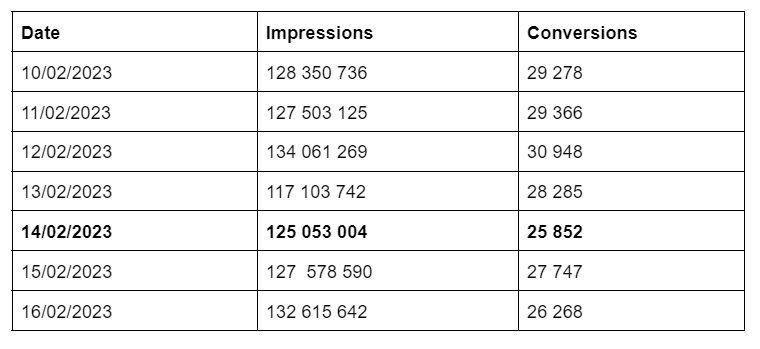 Source: PropellerAds
Seasonality trends for different GEOs
What is also interesting is that the statistics in the affiliate marketing Dating niche do not change dramatically from GEO to GEO. For example, Australian and, say, users from Germany have similar behavior during the Christmas holidays and summer vacation periods.
To support this conclusion with numbers, we gathered the most profitable GEOs for the SweetMeet app. Although the conversion rates differ in summer and winter, the rankings by GEO still don't change depending on the season:

Source: PropellerAds
Pro tip: Consider cultural differences between GEOs in your creatives and mind what is acceptable and appealing for the particular country you target. For example, images of people in revealing outfits will not be appropriate for most MENA region users. Besides, there is a range of widespread ideas about beauty standards in different GEOs, and you can test them in your creatives, too.
Dating formats and creatives: Does seasonality matter?
This part of our research also brought us a couple of insights. There are evergreen formats and creatives proven to show outstanding performance with Dating apps throughout the whole year — but some nuances exist, too.
Creatives
It doesn't always seem reasonable to reinvent the wheel — after all, it is not Christmas decorations or autumn landscapes that attract users to Dating affiliate marketing creatives.
Here is an example of a highly-converting Push Notification creative that brings a considerable number of clicks irrespective of the season: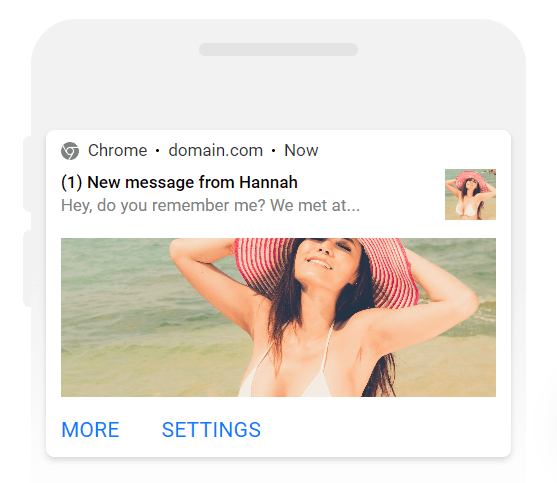 Source: PropellerAds
Pro tip: Such a standard but efficient creative may receive an even bigger potential with PropellerAds badges — small icons for Android Push Notifications. They are proven to bring higher CTRs compared to creatives without badges and at least 5 of 30+ available icons perfectly suit the Dating vertical. Besides, a Push Notification can also be improved with custom button texts.
Here is what the enhanced creative might look like (Notification Badge and custom button text added):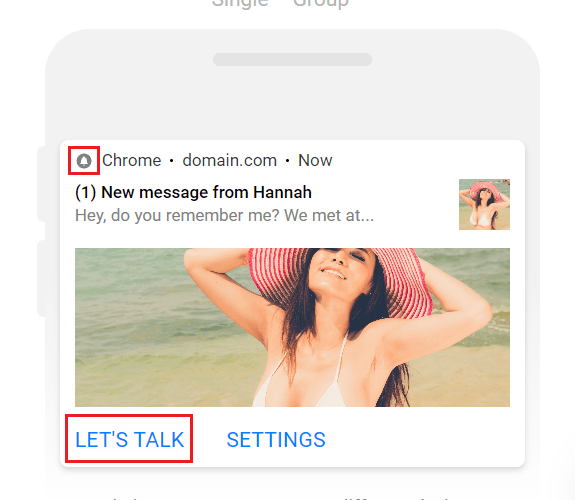 Source: PropellerAds
However, some media buyers are sure that creatives must match the season for the best performance. According to Ettore Spinelli, it is also important to understand what season it is in the country you are currently targeting — and prepare the images accordingly.
Pro tip: Also, make sure that your creatives are relevant for a particular GEO. For example, some GEOs generate a much bigger number of clicks with creatives containing blondes— and this often matters more than seasonal decorations.
Formats
According to Alexandra Dremina, a media buyer working with PropellerAds, affiliate marketing dating sites and apps work perfectly with Push Notifications and display formats like OnClick. Her experience shows it doesn't depend on seasonality.
Final Words
According to our research, a Dating app offer is able to generate stable conversions throughout the year — with a higher chance of becoming a big deal in January and the beginning of summer. The usual flow for offers in this vertical is cost-per-install, and you might also consider finding less common but still existing cost-per-lead flow Dating offers.
With high-quality traffic from PropellerAds, you can make both options work. Try it out!