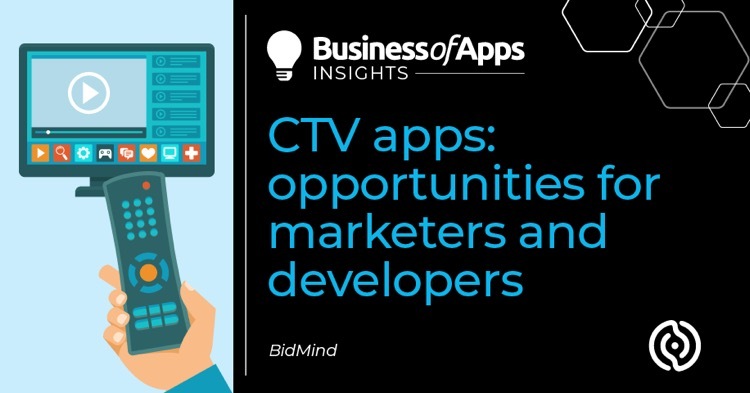 The next time you sit down in your living room with your family or friends, take a moment and ask them to show you the apps on their smartphone. Odds are there's plenty of connected television (CTV) apps like Netflix or Hulu on their devices, and you're probably all sitting in front of a smart television as well. CTV is everywhere these days, and according to Pixalate, over-the-top (OTT) and CTV apps that support programmatic advertising have grown by 232%.
Such explosive growth opens up obvious opportunities for savvy advertisers and developers, and they are flocking to CTV as an industry. The COVID-19 pandemic changed consumer behavior as well, and even though many questions have emerged from lockdowns, consumers are now more likely to remain home and watch their preferred content from there. This applies to both younger media demographics, who are typically associated with faster technology uptakes, as well as to older generations.
According to eMarketer, CTV's audiences totals 45.7 million for Gen Z; 56.5 million for millennials; 48.5 million for Gen X; and 32.8 million for baby boomers. Additionally, US CTV ad spending is predicted to increase 27.1% to $8.11 billion in 2020, a remarkable rise that highlights the explosive growth of CTV, and in 2021 this figure could rise further still. The revolution truly has arrived, and the media landscape will never be the same again.
The state of the market
Think back to your friends and their smartphones, and you can then picture just how many CTV apps are currently on the market. Consumers are increasingly avoiding older methods of media consumption such as conventional TVs in a movement called 'cord-cutting. Indeed, by the end of 2021, it is predicted that over 30 million households in the U.S. will have cut their cords. Consumers are now increasingly relying on smart devices where they can view and consume content at their leisure. This has led to exponential growth in not just streaming services, but also in gaming, news, and other areas.
Let's take a look at the apps on three of the CTV industry's biggest platforms, namely, Roku TV, Apple TV, and Amazon Fire TV. There are nearly 21,000 on Roku's platform, which is a staggering figure given it was a relatively minor player only a few years ago, followed by 13,000 on Apple TV and 10,500 on Amazon's offering, and these figures are increasing almost daily. By looking at the largest of the platforms, Roku TV, we can appreciate the full range of the industry's offerings.
The most popular category on Roku TV is currently not film or media, but actually faith-based CTV apps, totaling nearly 5,000. Media comes in at second, but other surprises include food and home apps which come in at number four, as well as kids and family content at number six, and sports at number seven. Combine these figures with apps that are offered on their own, away from platforms like Roku TV (along with other subjects), and you can imagine the potential that exists for advertisers.
The greatest potential likely exists in gaming, however, as the industry is poised to experience an 'Angry Birds' moment – where the wildly successful game spurred development for mobile games. Flashy, addictive, yet simple games that players can quickly play are well facilitated by CTV and innovative companies are already making waves on the market. 
Opportunity abounds
To take advantage of this opportunity, advertisers will need to adapt their working practices to meet the specific requirements of CTV and OTT platforms. Leading CTV app platforms are constantly developing and simplifying the process of launching a CTV channel, so the opportunity for advertisers is remarkable, but how can they get involved?
One key way is by running highly targeted advertising on the most popular applications, via direct collaboration with ad networks to create large new audiences, similar to the process on the mobile market. While doing this, advertisers will need to take several factors in mind – after all, every new revolution has its own rules.
As CTV inventory is somewhat fragmented, as is the wider industry due to its remarkable growth over the last three years, advertisers should compensate by securing sole access agreements with streaming services, supply-side platforms, etc. Audience targeting is fairly broad on CTV, so advertisers need to be focusing on building their audience base with first-party data. They also should be taking a customer-focused approach to their targeting, as it presents a greater opportunity for qualitative content.

The takeaway
Of course, there are obstacles:no revolution has ever succeeded without challenges, and CTV is no exception. Advertisers sometimes fail to use decent metrics for in-app advertising, which can make it difficult for them to properly run their ad campaigns, and finding the right audience can also prove difficult for the same reason. Meanwhile, developers are improving their offerings by leaps and bounds, which generates a daily increase in the need for in-app advertisements. The aforementioned issue of industry fragmentation is a problem as well, however it is one that is expected to improve as many industry players do want to resolve this issue.
All in all, these growing pains should not distract from the fact that there remains a huge opportunity for advertisers in CTV. Dozens of new CTV apps are being developed, almost on a daily basis, so we should expect continued growth in this sector. This is especially true as multiple audiences and age groups (even aging Boomers) are becoming active CTV/OTT consumers. The revolution has begun and it will be televised, but only on a smart TV.
If you want to expand your marketing strategy to CTV applications and start making data-driven decisions in this exciting new field, explore BidMind DSP