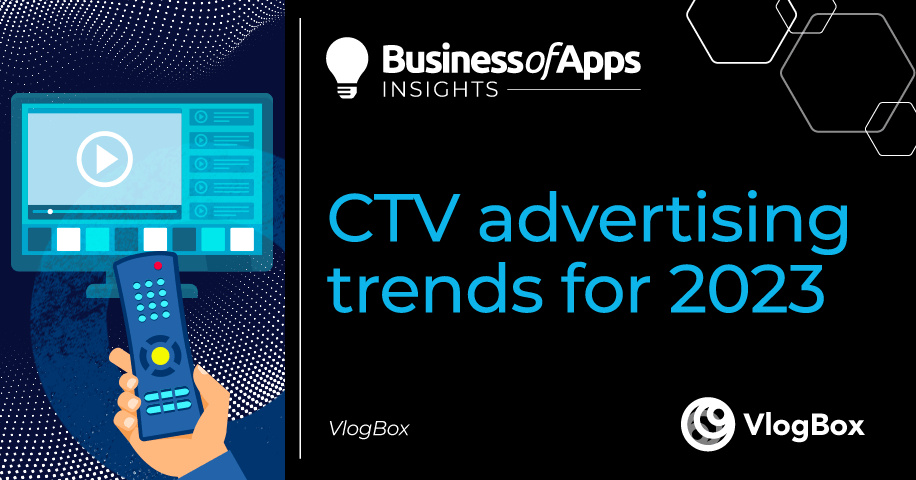 While a sense of uncertainty hangs over much of cultural and economic life going into 2023, one thing we can state with certainty is that connected television (CTV) will continue to thrive. It remains popular worldwide and is continuing to pick up new audiences across generations, social classes, and interest groups, and is reflected in ever-increasing interest by advertisers. According to Insider Intelligence, this year advertising spend in the CTV market will reach a record $26.92 billion, continuing its double-digit growth since records began in 2017.
It's important to remember that five years ago, total CTV ad spend totaled $2.80 billion and that growth has consistently increased by over 50% each year since then. You can therefore appreciate just how formidable CTV's rise has been. In fact, not only will total CTV ad spending increase this year, but by the end of 2024, it looks set to edge out linear TV.
There's still room for improvement
As the CTV is still lagging behind more mature mobile and web industries, it does face some challenges that it needs to overcome like ad fraud, attribution, and measurement.
Due to the market's relative infancy, there are few if any industry-wide standards on factors like fraud. CTV ads have one of the highest CPM rates in the digital advertising market which make them highly attractive to fraudsters. Unsophisticated algorithms in acquisition lead to the impossibility to implement performance advertising. Therefore, it's hard to create anti-fraud tools that will identify invalid traffic (IVT) beyond basic algorithms. This underscores the need for not only widely accepted standards but also more sophisticated and specialized measurement tools that are tailored to the unique characteristics of this rapidly-evolving medium.
However, the good news is that all the processes in the CTV industry are highly interconnected and interoperable, meaning improvements can be rapidly adopted. Data transfer is able to be enhanced through the implementation of solutions such as data clean rooms. In the coming year, we can expect a shift towards increased compatibility and standardization in the market, which is likely to lead to positive outcomes this year and beyond.
SVOD dominance will be challenged
In 2023, the traditionally dominant position of the subscription video-on-demand (SVOD) platform is sure to be challenged by two channel formats: advertising video-on-demand (AVOD) and free, ad-supported services (FASTs). The SVOD market has become saturated with multiple offerings and many consumers are also experiencing a cost-of-living crisis due to increased inflation. As such, they have tended to cut back on subscription-based services and select free at the point of use alternatives instead, which are bound to propel the development of AVOD.
According to a report by Deloitte, by the end of 2023, approximately two-thirds of consumers in developed countries will be using at least one AVOD service every month. This represents a 5% increase from the previous year and highlights the growing trend toward ad-supported streaming. By 2024, it's predicted that half of the remaining SVOD providers will launch a FAST service as well.
These developments could pave the way for exciting growth in the CTV industry where AVOD and FAST platforms could either reach the level of their SVOD counterparts or even go on to eclipse them entirely. This will provide a great opportunity for advertisers as the huge increase in the popularity and availability of ad-based content will naturally increase the demand for ads as well.
CTV goes beyond video
While video content will most likely continue to be the most popular format among consumers, other offerings in the CTV industry will also experience increased uptake. Smart TV technology will come into its own during 2023, and while consumers are sure to continue to watch their favorite video content on smart TVs, they'll also be able to experience new interactive digital activities like Web3 and the metaverse.
Another promising area to consider is CTV gaming. Even though this area is still in its early stages, accounting for less than 2% of the total CTV market, smart TV games have great potential to attract a very distinct audience. As the demand for high-quality games exceeds supply, there are a lot of opportunities for developers to occupy a promising niche and some companies like Playcent Games and Play. Works are already actively developing in this sphere. Gaming is a good example of how an existing concept can be readily adapted to CTV, especially as its popularity is well-established.
But what about something that may be less mainstream but has the same potential as video games? We can look to non-fungible tokens (NFTs) as an example.
The NFT market reached $5.4 billion in 2021 and is steadily expanding into popular consciousness. NFTs offer content creators significantly increased monetization options, with NFT-based platforms like Audius providing a token-based peer-to-peer reward system that pays up to 90% to artists for streaming.
While NFTs were primarily designed for mobile devices, they are now being readily adapted for smart TVs, providing consumers with more choices. For example, Samsung has developed a Smart TV NFT platform that will include some of the most popular NFT marketplaces, and the company's main competitor LG is following suit. Where the giants lead, the market will follow, and NFTs look increasingly likely to move to CTV.
Good times will roll for retailers
The retail industry is another area of CTV that is likely to perform well in 2023. There's a lot of potential for brands looking to advertise on CTV platforms in 2023, and frankly, the figures speak for themselves. According to the Interactive Advertising Bureau (IAB), nearly one-third to one-half of ad buyers are planning to shift their investments towards shoppable and retail media network ads, reflecting a growing trend towards more interactive and engaging advertising strategies.
As a result, major CTV platforms are beginning to integrate more shopping and e-commerce options into their programming. For example, Roku, one of the most popular CTV platforms, now has a partnership with the American supermarket behemoth Walmart to integrate clickable ads across its content on behalf of the latter. While this initiative is in its initial stages, if it's successful for both companies, it could serve as a lodestar for the rest of the industry.
The takeaway
Looking ahead to the rest of the year and beyond, the CTV industry is poised for exciting growth opportunities. With the rise of AVOD options this year, advertisers can tap into a whole new segment of viewership and boost revenue. To achieve this, advertisers should focus on creating high-quality, tailored content campaigns that resonate with viewers.
Furthermore, to fully leverage the potential of CTV, advertisers should explore niche and developing areas. The potential is already significant, and as the CTV industry is working to resolve issues pertaining to fraud and data gathering among others, and with solutions like data clean rooms, the possibilities are seemingly endless. All in all, 2023 is shaping up to be a promising year for the CTV industry.