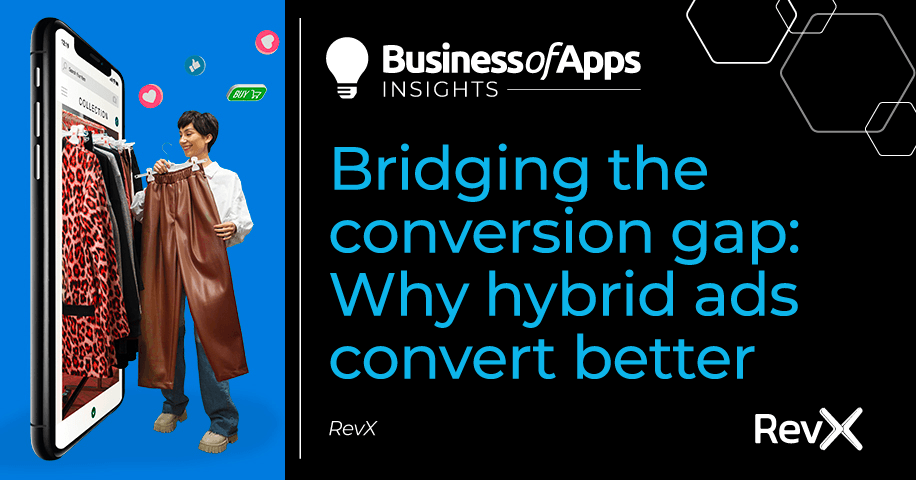 In the era of personalization, the limitations of static ads are clear: they fail to meet the immediate needs of users.
Modern users value relevance over all else. They value ads that get them, ads that speak their language. And they value brands that are in sync with their ever-evolving expectations.
Unfortunately, static ads simply can't keep up.
There's a dire need to think outside the boxes and banners and to create campaigns that are not just seen but truly noticed. This calls for ad formats that are designed for authentic interactions and conversions.
Hybrid ads: Built for conversion
These ad formats seamlessly merge multiple file types (static, video, audio, and animation elements), creating dynamic ads that stand out from the rest. Our team leverages HTML 5, CSS, and JS to drive dynamicity while also using machine learning to drive personalized product recommendations.
By design, it's crafted for enhanced engagement and conversion, allowing brands to tell impactful stories that resonate.
What does this mean for your app?
Increased recall and memorability: With Hybrid ads, you have a captivating canvas showcasing your brand message with the depth it deserves.
 Enhanced engagement and conversion: The prominently placed CTA segment guides users to take desired actions, leading to higher click-through rates and improved campaign performance.
Video production made easy: Hybrid ads deliver equivalent or superior conversion rates compared to video ads, all while eliminating the need for costly production expenses.
Personalization at scale: Combined with dynamic elements, hybrid ads are driven by machine learning to show each user segment the most relevant ad based on behavioral data.
Hybrid ads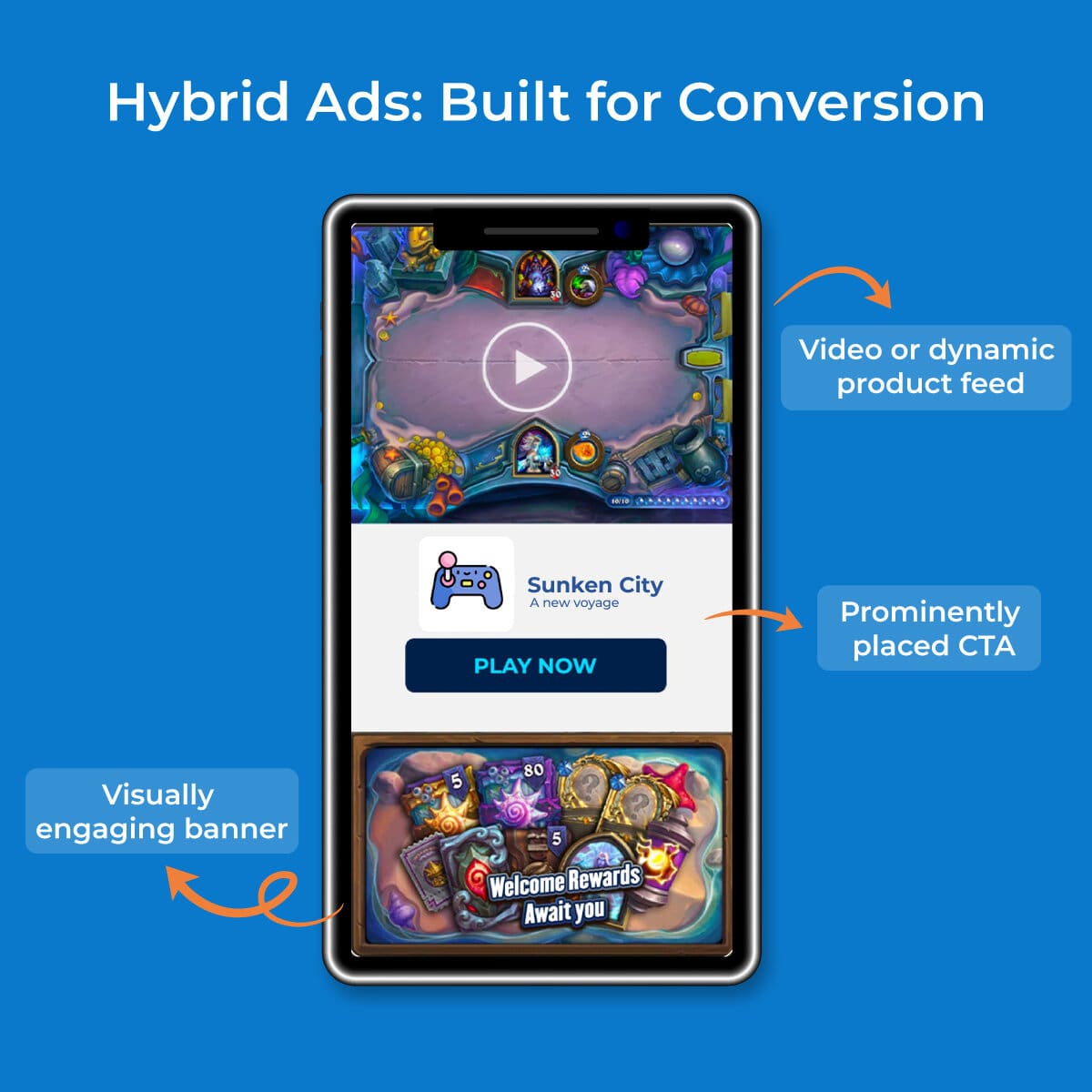 Source: RevX
For gaming apps, picture this: a captivating video showcases your game in action, igniting players' imagination. Simultaneously, a banner complements the experience by offering personalized rewards to each user.
A potentially churning user is suddenly treated to an immersive game view, along with a banner highlighting welcome rewards.
This experience stands out from the rest and compels action!
The benefits of video and the ease of banner ads
Video ads are an indispensable tool in every app marketer's arsenal.
Yet, the process of creating and optimizing them is a resource-intensive endeavor.
Hybrid ads provide the optimal way to spark curiosity, engagement, and conversions with just a fraction of the effort. These ads harness the power of video without the need for extensive production efforts.
Through smart automation, it generates numerous iterations from a single template.
This means you can repurpose your existing assets, infuse them with dynamic elements, and effortlessly create video-like experiences that captivate your audience without the hassle.
Unlocking massive inventory scale
Hybrid ads are a gateway to a wider range of inventory sources. They combine videos and banners in one ad, allowing seamless placement across different ad sizes. At RevX, our design research has reached new heights with the innovation of optimal ratio layouts. These combine videos and banners in a single ad, complete with dedicated CTA buttons.
This innovation enables videos to work on nearly all available inventory sizes, allowing repurposing of creatives across sizes. The ability to fit multiple formats translates to significant time and resource savings. No more designing multiple versions for each platform.
In essence, it amplifies your reach while streamlining your creative process. This convergence of scalability and optimization ensures that your message resonates far and wide, driving higher CTRS, conversion rates, and ultimately app growth.
In Conclusion
In the era of personalized experiences, hybrid ads act as a bridge between the traditional and the dynamic, addressing the unique preferences of today's users.
Embrace this innovation, and witness your brand making connections that go beyond the screen. You'll see brand recall soar, conversions rise, and your message leave a lasting impact that truly resonates.
The Ad Creative Innovation Guide covers this in-depth! Claim your copy here.