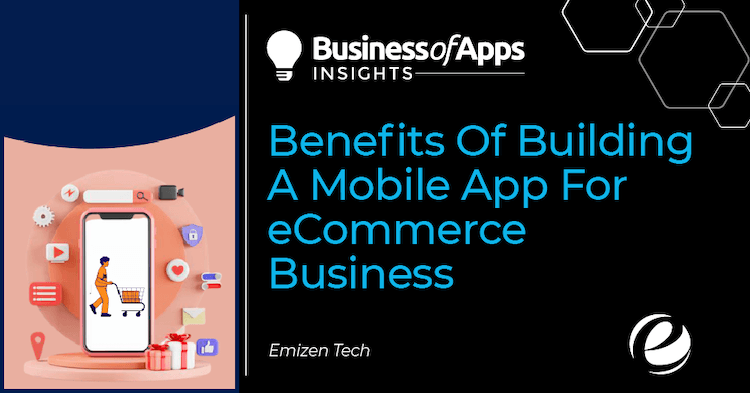 Well, if you are running with the pace of this digital world, you would be aware of the fact that simply having a website for businesses is not enough. Those days are gone when businesses used to prefer website banners, roadside banners, email marketing, Facebook/newspaper ads, etc, to attract customers. 
Today, mobile apps are noticed playing an important role in building relationships between businesses and customers. In fact, mobile eCommerce apps are well-recognized for knowing their customers better, just by being a "tap" away. With an eCommerce mobile app, business owners can target customers anytime and anywhere.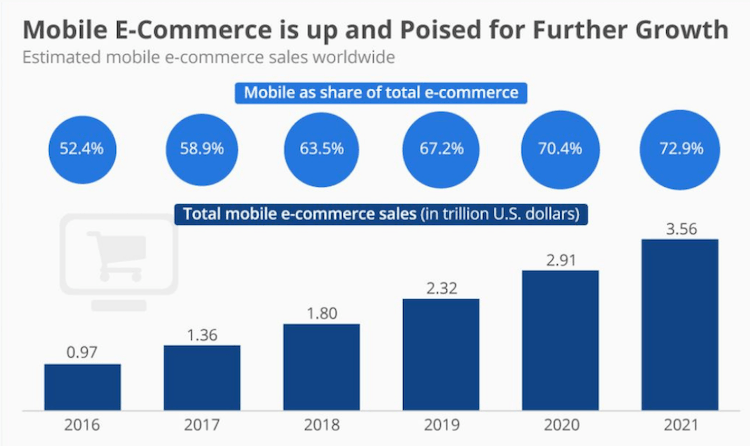 Source: Statista
Let's check out the stats that will reveal the importance of mobile in this eCommerce world.
About 35% of US customers use their mobile devices to purchase items online.
In fact, while shopping in-store, US consumers compare prices using their mobile phones.

 

In 2021, about 72.9% of eCommerce sales are likely to be generated via mobile
Moreover, 78% of users prefer accessing a store through mobile apps despite mobile sites.
About 50% of the revenue of an eCommerce store is generated by 10% of its customers.

 
What are the benefits of an eCommerce mobile app?
All the aforementioned statistics might have left you wondering, why do customers prefer mobile applications when shopping online? How is the experience of mobile shopping different from that of a mobile browser or desktop site?
Well, don't stress much. Today, we are here to discuss with you what makes users shop through eCommerce apps and why you should opt for developing one for your online store. Let's start then. 
Increased brand recognition
One of the chief reasons to choose mobile eCommerce app development is increased brand visibility. Also, it's the best advantage of mobile commerce.
Using a mobile eCommerce platform, the brands find an easy way to connect with their customers as most of the consumers spend lots of hours on their mobile. Small screens usually make users irritated faster, in fact, as per a record, 32% of app users usually uninstall an app if they don't find it easy to use. This leads to a bad user experience. That's why brands should offer the best quality and easy mobile app experience to the users. 
Improved marketing communication
With mobile gadgets, today, customers stay connected with the brands, 24/7. Such mobile devices have improved the way the users interact with brands, get information, and shop. More and more customers prefer using mobile to shop online. So, it's important for businesses to include such devices in their marketing approaches. This will assist in enhancing the way of interaction between the brand and customers.
To use the power of connected customers, brands need to provide a constant and steady involvement through mobile eCommerce. Apart from helping customers in staying connected with the brand, mobile commerce may also be used to offer deals, discounts, and coupons to customers more effectively. 
Enhanced customer experience
Trendy customers want a consistent and personalized experience all through their journey with brands. And using just websites as a medium to deal with your consumers would not make this happen. If you want your customers to be repetitive, opt for mobile apps to make this possible easily.
Combining the strength of emerging technologies, such as Machine Learning, Artificial Intelligence, AR & VR, etc with a mobile eCommerce application, you will become able to collect valuable insights related to your users, like:
What do your customers like?

 

What time do they usually prefer buying online?

 

How much time do they take to make the buying decision?
Well, once you will get the answers to all such questions, you would become capable of offering your customers an optimized shopping experience to increase your sales. 
Improved visitors engagement
Let you know that you can take advantage of your customers' devices also. You can integrate the features of users' phones with your application to simplify navigation and increase customer engagement.
GPS
It permits an application to get the users' current location. To eliminate the requirement of feeding shipping details manually, you can append a feature that geotags the address of the customer.

 

Camera
Today, many websites are allowing customers to capture images of purchased items and upload them on the social media accounts of the stores via apps. This permits you to exhibit the products in real life that may enhance the possibility of a successful sale.

 

Microphone
Also, with this, you can facilitate your users to verbalize what they are looking for to ease their search process.

 
Higher conversion rate as compared to web
Undoubtedly, mobile eCommerce applications assist in higher conversion rates. And, obviously, in the end, this is the only thing that matters as it contributes to revenue.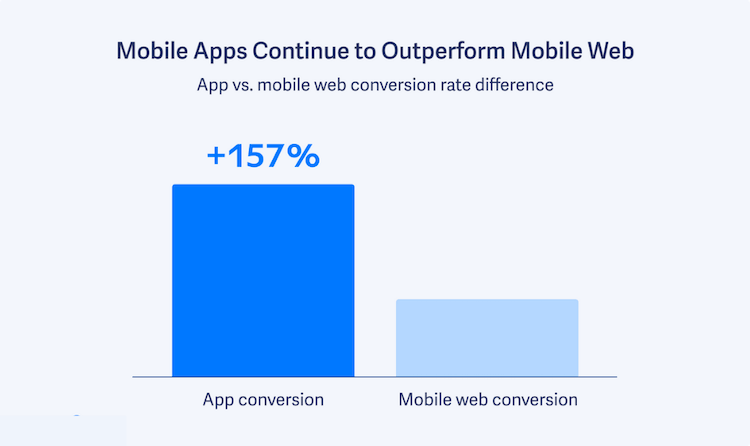 Source: BUTTON
So, being an eCommerce business owner, you would be thinking why do you need a mobile app? Here, your answer is "better conversion rates". When customers plan to shop online, they look for a smooth purchasing process. And you know what, you can fulfill their desire by using a mobile app. Let's check out more reasons why your business needs a mobile app:
Some mobile features, like push notifications, assists in conversions.

 

It saves all the information of customers, like payment and shipping details for easy checkouts.

 

Moreover, mobile apps use features of devices, such as cameras for placing orders.

 

Also, with a mCommerce app, one can integrate mobile wallet applications to make the process of checkout, a one-step process.

 
Increase average order value
Well, it's not that easy to point out what motivates customers to spend more while shopping from your eStore, but, here we will sum up a few factors.
Push notifications
As discussed above, it notifies users about special discounts, sales, deals, or when the item comes back in stock.

 

Easy Payment
You may give varied options of payment methods. Allow them to add a card they want for speedy transactions.

 

One-Click Ordering
The simple and easy layout of the app makes checkout easier. So, you should offer your customers one button as a one-click ordering option.

 
Reduce cart abandonment rates
If we check the past records, we will find that mobile apps have lower car abandonment rates because of a simple checkout process. The system stores shipping and payment details that permit the users to checkout with just one click. This allows customers to complete checkout faster with no distractions.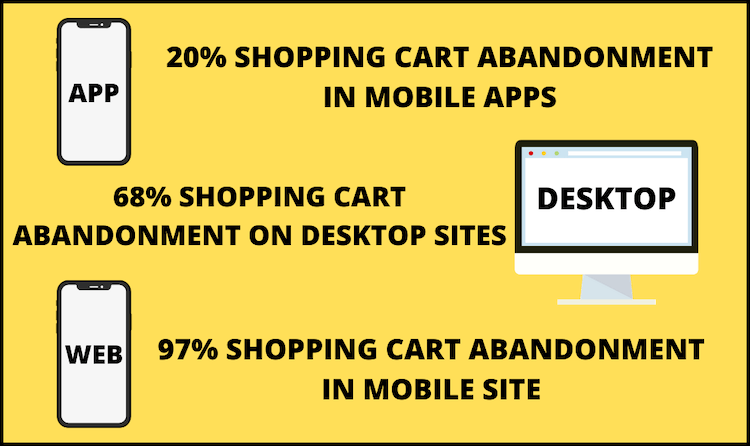 Moreover, when users don't know what they need and they access a store, they usually don't complete their purchases. Well, more than mobile apps, the desktop version of your site boosts this behavior. The customers who access your eStore via their app are expected to come well-prepared and may buy from your store. 
Offer personalized shopping experience to customers
Here, you can include related suggestions and prioritize features to provide your customers' personalized shopping experience. You may take the advantage of the information customers offer in the app.
Increased loyal customer base
As customers spend hours on mobile apps, just be sure that your brand should offer product details, contact details, and encourage them to buy. Following are a few ways that you may follow to boost your customer loyalty with a mobile eCommerce application.
A constant brand value by maintaining an appealing layout and design on a mobile platform so that your customers may become habitual to it.
You can help your customer revisit by conducting loyalty programs, such as offers, discounts, a new collection, sales, and bonuses.

 

Maintain 24*7 communication support between your brand and consumers to resolve their queries via chatbot or live chat.

 
Increase Retention Rates
Let's cover some perfect ways to increase client retention with your mobile app. 
Exclusive Content
You may implement the offers that they may avail only via mobile app.

 

Reward System
You can make your customers visit again by conducting loyalty programs. It can be in a points pattern that they can use to win a free item or offer them first access to a new season collection, or bonuses on their future purchases.

 

Advanced Support
Well, good customer service goes long. You should establish perfect communication between your customers and store. Despite switching to the desktop version, customers should be offered resolutions to their issues in the app only via chatbot or live chat.

 
Better efficiency & increased revenues
An amazing mobile app with the right functionality and concept attracts more customers, and more customers lead to more orders, which in the end increases profits. Also, with push notifications, businesses can offer information to their customers and encourage them to make immediate orders.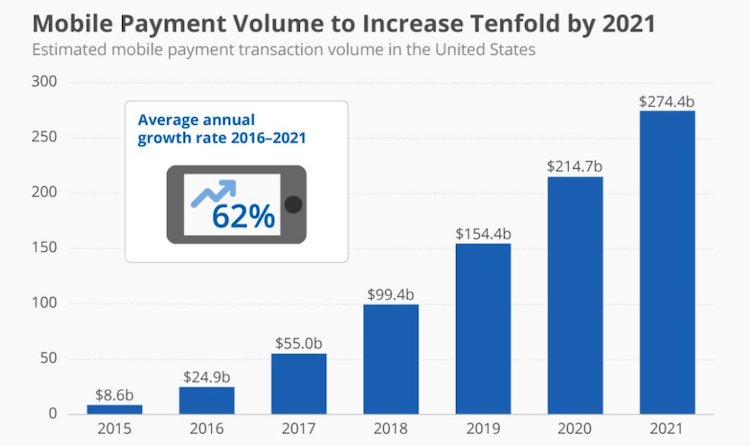 Source: Statista
Wrapping Up
We all know that it's not easy for every eCommerce store to accomplish success, but still, you should catch up with every opportunity that may help in fulfilling the business goals. 
Considering all the aforementioned reasons favoring the development of businesses need to include eCommerce mobile apps, you may yourself decide if it's the right and best move for you. You may hire a leading eCommerce mobile app development company like Emizentech to get your job done easily and with no hassle. 
At Emizentech we have vast experience in developing astonishing mobile apps. You can reach the company at the following mail.