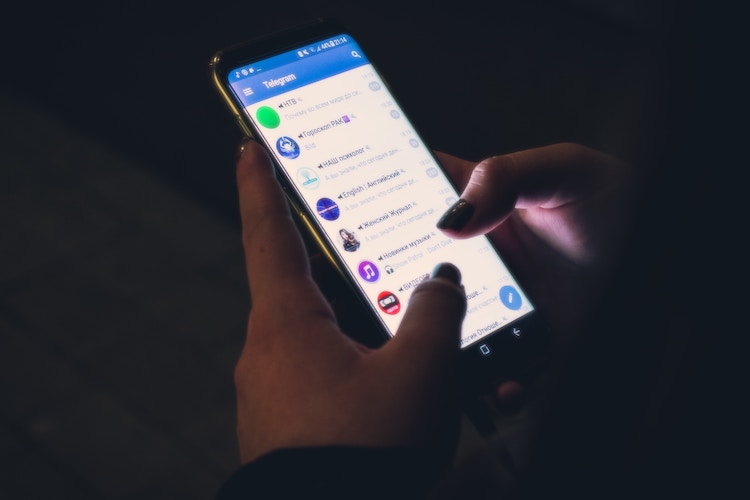 App Store Optimization (ASO) is an organic building block of mobile app user acquisition strategy that aims to increase traffic to an app store page, in order to generate more organic installs.
The impact of ASO is that you can become more relevant for the keywords that represent your app or game so that your offering will stand out as a stronger result for the algorithms of the App Store and Google Play Store. This will enable you to start getting more organic installs from users that are truly looking for an app like yours (aka high-value users). As they are organic installs, they are supposed to be more targeted users, getting publishers better retention from them and therefore, more revenue. 
In recent years, interest among marketers in understanding and utilizing ASO has exploded.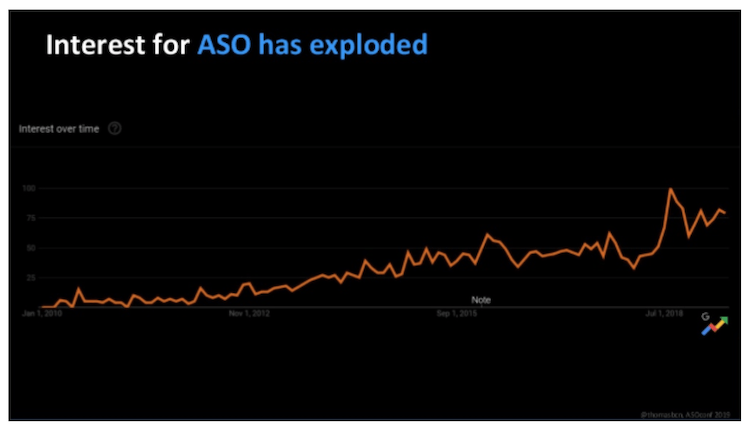 Source: © Thomasbcn 2019
What tricks can ASO specialists employ?
With ASO, the main factors you can adjust and optimize include the standard icon, title, screenshots, and keyword field. However, you don't always have to play by the rules as you can take advantage of user behavior and algorithms by "tricking" the app stores and their potential users. 
Here are some tricks that ASO specialists can employ: 
Use of keywords with errors: look into product queries that have spelling errors to find more new keywords and increase user reach.
Search queries with emojis: factor in how popular emojis are compared to plain text.
Character scarcity in metadata: free up room for keywords in the title by moving your brand onto the icon, while moving product name into the developer section. The free characters can then be used for other queries.
Use of diacritic characters (the ś and ó in Poland, ä and ö in Germany, etc.) to save on keyword characters, enabling users to find the app in the search more often.
Additional Key ASO Trends in 2019
Here are some of the top trends in ASO that you should also keep in mind:
Apple Search Ads Generate Organic Results
By investing in paid campaigns on Apple Search Ads, you can get organic results. This is one of the biggest trends right now.  When you use ASA, you are bidding for keywords – therefore, you will be more relevant for those keywords, as you are getting more installs (paid). As you become more relevant for that keyword, you will rank better for that keyword and then you will start getting more organic installs.
Ensure you have some budget set aside for these campaigns. It varies by industry, but for hyper-casual games, we estimate you'll need 20% to 25% of your monthly budget.
Look into CRO (Conversion Rate Optimization)
Focus on what are your relative keywords, localize your listings or focus on the keywords that match more with your goals: retention, IAP events, traffic, etc.
The Importance of Running UA Alongside ASO
Combine user acquisition expertise and premium player acquisition. How can you successfully link non-organic and organic, and what's the relation between paid campaigns and ASO?
A healthy CR (Conversion Rate) is one of the key KPIs for ASO, as you'll aim to get the highest number of organic installs from the users that get to your landing page organically, from search or explore. It is also one of the key KPIs for non-organic installs, that helps determine if you are focusing on the correct audience or using the best creatives. Once you have a healthy CR, you should start getting a lower CPI, which is one of the key KPIs linked to paid campaigns CRO.
For a successful CPI campaign set-up, at an early stage of your campaigns, focus on developing the right creatives, testing these and analyzing the results, to understand what your potential audience may be interested in. You can then apply this information to your ASO by adapting your stores' listings (App Store and Play Store) to the best-performing creatives. In addition, the more people land on your store listing, the more impressions you'll get, due to having higher relevancy from the stores algorithms. Note that at this stage, the algorithm doesn't care about organic or non-organic. This means that if you have done your CRO correctly and are bringing people to your store listing with paid campaigns, you should also see a boost in organic visits. At the end, this leads to more organic downloads (aka organic uplift). Organic uplift is a way to measure the relationship between paid and unpaid (organic) app installs, calculated as the number of organic users acquired per each non-organic user. 
And so the loop starts again: as you get more installs, you will become more relative for the stores' algorithms. The higher the organic uplift, the more organic installs and, so, the lower effective CPI.
Visual Optimization Trends
Graphics play a big part in ASO and should continuously be tested. For including screenshots of your app on the stores, make sure you look up the specifications for both the Google Play and App Store. Also, test what format works best for your app – usually, it works well when there is text in casual games that appears more visible. Check out a game from WeQ STUDIO Helix Madness in the Play Store with a horizontal intro video (below) and a mix of pictures and videos.
Be mindful of the quality of your screenshots and videos and consider how they can be improved. For iOS applications, you can test graphics through search ads, but it isn't free. You can also make use of third-party services and tools such as StoreMaven, SplitMetrics, or AppFollowPreview to test how the screenshots will look. Sometimes less is more – just take a look at the slide below:

Source: © Wolfgang Peters, Flaregames 2019
An interesting trick for Google Play, when you submit your app, add to your icon design a notification mark. It will make users think that they have something to collect inside your app and prompt them to click on it and open the app. This technique can give you a better indication of daily average sessions.

Source: © ASOdesk
Key Takeaways
Have realistic goals: don't try to get to the top of the app store from the very beginning. The growth of an app is a marathon, not a sprint! Start your ASO goals by focusing on low traffic competition and look at good chances to rank number one for different keywords, including long-tail keywords relevant to your app. Once you start ranking in the top eight with these keywords, go for the next level: mid traffic and mid competitors, and so on, until you reach high traffic and high competitors. 
Source: © Thomasbcn 2019
ASO is complicated – it is not a simple process and involves a lot of variables that should be taken into account during promotion. Ensure you are constantly testing hypotheses, alternating your keyword searches and keeping on top of the results. In order to help you increase your installs, you ultimately want to get to know your users better. Moreover, it is a delicate balance between paid and organic efforts, as seen here:
Once you have your ASO in place, the next step is to focus on your organic uplift. 
For long-term sustainable growth, you'll need to have a healthy organic uplift. In simple terms, this means a good balance between organic and paid installs. Essentially, it tells you if the market you are targeting actually likes the game and whether you will have success with the game in the mid/long-term. For hyper-casual games, this KPI is really important because it will likely affect your app store ranking for relevancy. In general, as a benchmark, for every two paid installs you will get one organic install in return, as this is the general state of the market. Keep in mind this relation when planning your strategy, and keep iterating for long-term growth and success.