Apple's Worldwide Developers Conference 2021 brought a host of exciting features for users and developers alike. App Store Optimization strategies will need to change as the App Store continues to evolve, and this year's WWDC had no shortage of updates to prepare for.
One such feature that developers and marketers can look forward to is In-app Events. In-app Events will provide users the ability to view upcoming timely events on the App Store across search results, product pages, and editorial tabs. TikTok's "Summer Camp" event premiered on select devices running iPadOS 15 recently as the first In-app Event card.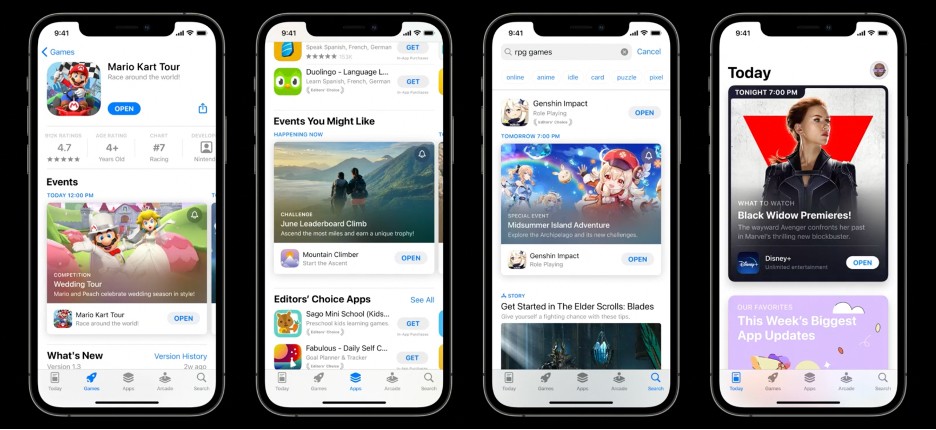 Developers will be able to connect with their users through In-app Events, with the means to attract new users, engage with active users, and bring back lapsed inactive users. Apple will provide performance insights for event campaigns in App Analytics on App Store Connect.
Creating New Events
Across the iOS and iPadOS App Stores, users will start seeing In-app Event cards in a few different conspicuous locations. As the first In-app Event for TikTok's "Summer Camp" demonstrated, these cards will appear in the editorial section on the Today, Games, and Apps Tabs, which could prove useful for new user acquisition.
Event cards will also be visible in search results and product pages, with a different presentation depending on if the user has downloaded the app or not. For existing users they will appear in search results in place of the app's current screenshots, while users who haven't installed the app will see the card below current screenshots. App product pages will allow up to five published events to be visible to all users, sorted first by priority then by start date.
Apple has made it easy to create and configure In-app Events in App Store Connect, where developers can create up to ten events and submit them for approval. There will be new metadata and creative required for events, which include an event card image, an event page image or video, and the event's name, short description, and long description. The name will be limited to 30 characters, the short description to 80 characters, and the long description will provide the most detail at 120 characters.
Each event can have a maximum duration of 30 days, and developers can set the start and end time in App Store Connect, as well as the priority, event cost, and a deep link that will direct users to a specific area within the app. Two new fields available will be the Event Badge and purpose. The Event Badge will indicate to users the type of event offered, while the purpose will be hidden from users and employed by Apple for personalized recommendations.
Event Badges:
Challenge

Competition
Live Event
Major Update
New Season
Premiere
Special Event
Event Purposes:
Suitable for All Users

Attract New Users
Bring Back Lapsed Users

Keep Active Users Informed
User Engagement
Developers can use In-app Events for a variety of user engagement purposes, including retaining existing users, bringing back lapsed users, and attracting new users.
To help build anticipation, an event can be promoted up to two weeks in advance and users can add a notification request for when the event starts with the "Notify Me" button on the event card. Active users will be launched directly into the event within the app upon notification, and new users will be brought to the event's details page. The ability to directly search for events on the App Store will also be available. All users, both active and new, will be shown the event card alongside the app upon searching.
Apple will use the editorial tabs to provide personalized recommendations to users for events that the algorithm suggests will be of interest. These recommendations will encompass events for apps that the user has currently or previously installed, as well as new apps that reflect a user's interests. Apple's editorial team will also curate a list of popular events on the Today, Games, and Apps tabs.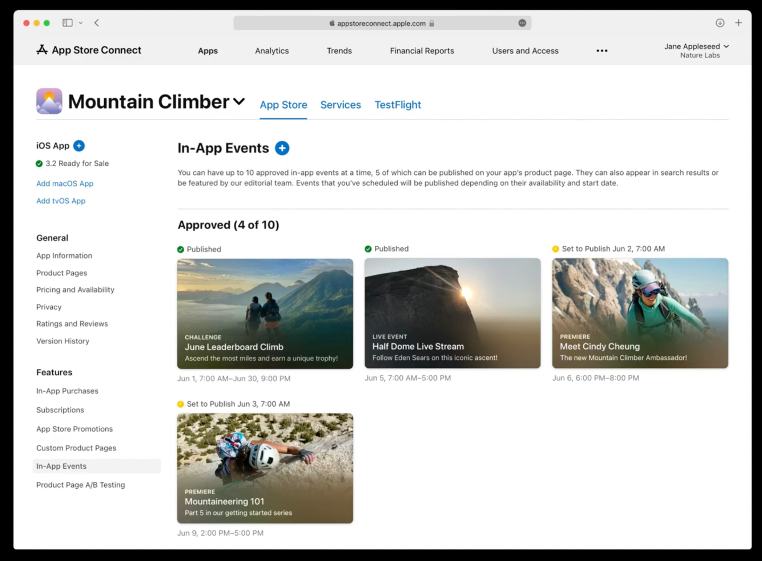 Performance Analytics
New performance metrics will be available to developers in App Store Analytics on the App Store Connect dashboard. This new data will include view impressions, event page views, engagement, and conversion metrics. Additionally, the number of users who chose to be notified when the event starts will be visible here. This performance data will be available during the event and upon its conclusion.
Valuable performance metrics measuring the success of different events will provide insight on how different metadata and creative applied to event cards are driving users to the details page to learn more. Developers can learn which events brought in the most new users resulting in increased App Units, and which events re-engaged the most lapsed users. Learnings tied to these KPIs can potentially be applied to an app's product page to increase overall conversion.
Overall
In-app Events were announced at Apple's WWDC21, and the first event cards have made their debut recently on devices running iPadOS 15. In-app Events will be easy for developers to create in App Store Connect, and will enable a new way to engage users whether they are new, active, or lapsed. Performance data tied to In-app Events will be visible in App Analytics, and the learnings here can provide insight on what is driving conversion and retention on the App Store.