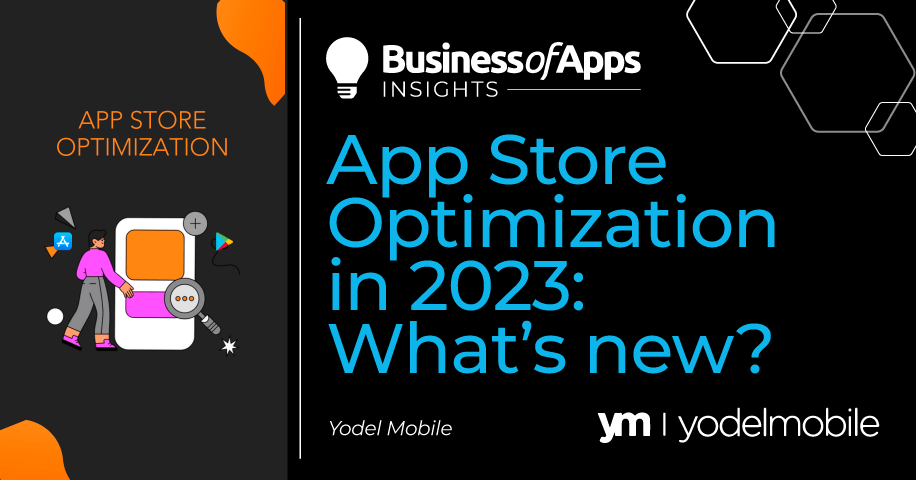 For app marketers to stay ahead of the game, it's important to stay on top of the new trends for App Store Optimization in 2023. In the past couple of years, Apple and Google have been releasing more sophisticated tools for App Store Optimization managers to use within their optimisation practices. There are now a wide range of ways to drive visibility and conversion on the stores, which, when utilised properly, can have a positive impact on your app's marketing performance. However, it also introduces a lot of complexity into the practice and those managing App Store Optimization and organic growth must keep on top of frequent updates to capabilities.
Let's look at the opportunities available on each store, and how these can be used to maximise impact for your App Store Optimization strategy in 2023.
App Store Optimization on the iOS App Store
While Apple has not made any major updates in the past year or so to the capabilities and tools they offer to publishers, there are several elements that apps should be utilising on an ongoing basis as part of their 2023 ASO strategy.
Keyword optimisation tactics on iOS
One of the classic elements of driving visibility through ASO is keyword optimisation, allowing an app to rank for relevant keywords in the app store search results. Unlike Google, which has a strong search background and a lot of technology to identify key terms within long-form text, Apple takes a simpler approach and takes keyword information from the title, subtitle, and backend keywords. Ongoing metadata optimisation is a crucial basis for ASO activity.
To make your keyword optimisations go further, we implement what we call Super-Geo Localisations here at Yodel Mobile. Limited to 180 keywords on the App Store with your title, subtitle and backend keywords, app marketers should implement clever ASO strategies of localising certain languages that are indexed for popular markets. That way, you can increase your available characters for keywords by up to 5x! This will allow you to supercharge your keyword indexing and ranking efforts.
Make in-app events standard practice
The introduction of In-app Events has driven new opportunities for visibility in a way that supports their curated approach to the "Explore" areas of the store (anywhere outside of the Search tab). So, what are they?
In-app events are creative-led cards which highlight events such as challenges, new content or new features.
With some metadata accompanying the creative, these cards open new avenues through which users can discover your app.
They can be highlighted within lists on the App or Games tabs, as well as the Today tab and the Search tab.
It's an opportunity to take up more real estate on the stores and drive awareness and acquisition. We also see these cards targeted towards users who already have the app, so they can also be effective as a re-engagement tool. Apps can run up to 5 events at one time, so an always-on strategy can be incredibly impactful in increasing organic traction overall.
Test, test, test!
Alongside new visibility opportunities, there are several tools built to improve the conversion of users from the listing to download. The first is Product Page Optimisation, allowing apps to run A/B testing of the listing to understand the impact of different elements. We find these to be most successful when testing creative-led elements such as video or screenshots, which helps us to drive an average win rate of 37% in comparison to the industry standard of 14% (Storemaven, 2022). Our tests have driven up to 40% improvement to overall CVR, which makes a massive impact on all acquisition performance including ROAS.
Take every opportunity to personalise
Apple also offers Custom Product Pages, which are essentially custom landing pages that can be used to align listings more closely with particular ad creative, messaging and contextual information from the source the user has come from. Being able to give users a comprehensive educational journey from acquisition source to listing to download is a big advantage which we've seen can reduce CPIs by up to a staggering 50%!
Custom Product Pages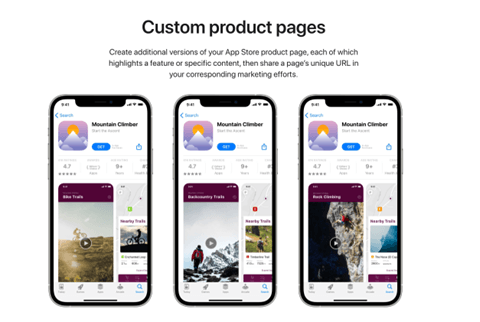 Source: Yodel Mobile
Top tip – don't just reiterate your creative messaging in the CPP but try to add to the educational journey. For example, a retailer may be trying to build credibility. They could use their breadth of brands in the ad creative, and testimonials in the CPP to drive trust from different angles.
With all the strategies above used in tandem, apps are now able to consistently improve visibility and conversion to drive strong organic traction, which is a key factor to business profitability for iOS apps.
App Store Optimization on the Google Play Store
Google recently held their annual I/O event, announcing a plethora of changes and additions to the capabilities available to ASO managers, alongside some other updates which have taken place this year, changing the game for ASO for Android apps.
Google Play Store

Source: Yodel Mobile
Keyword optimisation tactics on Android
As mentioned previously, keyword optimisation on Android works like SEO – the algorithm identifies key terms within the description and uses that to determine the keywords which may be relevant for an app to rank for.
The way this works is changing:
There is a larger emphasis on natural language to prioritise total text optimisation.
Rather than identifying keywords and using repetition within the description to increase keyword density, marketers will need to shift focus towards Google Natural Language performance scores.
It will also be more difficult for keyword ranking tools to drive the basis of optimisation strategies, as keyword optimisation will rely less on elements like keyword competition and focus more on Google's ability to glean context and relevance.
You guessed it… AI
AI is the talk of the town in 2023, and Google has also introduced more AI-led tools to help apps with their app store optimisation. With just a couple of prompts, the technology can write a complete store listing description for the app.
This is only available in English for now, but we expect to see this expanded out over time. It's worth noting that, as with most AI best practise, Google has emphasised that this tool should be used alongside human input, rather than instead of. It'll be crucial that marketers do not rely purely on AI and use their own learnings and understanding of their audience and brand to refine their descriptions.
Google wants you to go global
In addition to store descriptions, new translation models have been launched for 10 languages, to translate the app and listing in minutes – saving time and resources for global app marketers. This will reduce the barriers that apps experience around geographical expansion and could drive significantly more revenue through increased opportunities to grow the audience in target markets.
Promotional content for Android apps
Like Apple's In-app Events, Google has been testing Promotional Content and has launched new, dedicated high-traffic surfaces to drive visibility through these content cards. Interestingly, they have stipulated that only "high quality" apps will be featured in these new placements, with factors such as core value, technical quality and privacy and security feeding into this definition. Apps will have to adhere to high standards to benefit, but with such broad opportunities to appear in the store, the rewards are also high.
Promotional content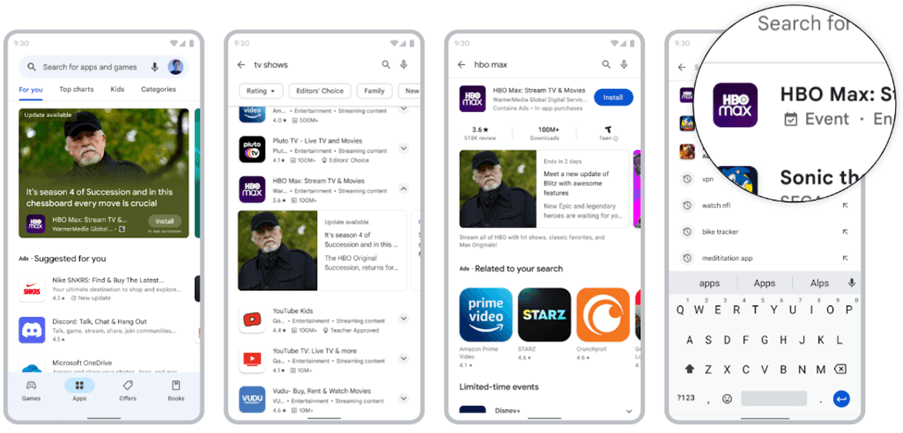 Source: Yodel Mobile
Further personalisation through Custom Store Listings
In terms of driving conversion, Google are updating Custom Store Listings (which are the equivalent to Custom Product Pages on the App Store). These have been available to tailor store listings by country and pre-registration status for a more personalised experience, but you will soon be able to customise your app store listing for inactive users, and Google Ads App campaign ad groups. There are strong opportunities here for both acquisition and re-engagement of users to effectively optimise your paid acquisition efforts also.
Winning the 2nd half of 2023
In summary, there are some exciting trends and opportunities available to app marketers in the ASO ecosystem across both platforms. The introduction of content cards (whether In-app Events or Promotional Content) opens opportunities for ASO to drive not only acquisition but also re-engagement of users. Tools such as Custom Product Pages and Custom Store Listings will be crucial to increase the personalisation of each user's experience, something we know they're coming to expect with all brand touchpoints.
And we can expect Google to continue their emphasis on AI-driven products and increased reliance on their machine learning through elements such as natural language optimisation. Overall, it's clear that there is a wide range of complexities within ASO practices today, but when utilised fully can be incredibly impactful in driving organic traction and improving ROI from all acquisition sources for your App Store Optimization strategy throughout 2023.
If you want help taking your ASO to the next level this year, contact Yodel Mobile's award-winning team today.