The ad creatives you see on social media, mobile apps, and various websites are more than just enticing visuals trying to sell you a game. Each creative is an important tool for user acquisition. If you want to create a successful ad video with over a million dollars in spend that will scale the UA campaigns and convert views into new players interested in the project, it's not enough to design charming characters and animated models.
In this article, Vitaly Gladkov, Head of Creatives & Production at AppQuantum, will unveil the secrets of making creatives and talk about his department's approach. It helped us form a hit concept—three ad videos for the Gold & Goblins project, with over $12,000,000 in total marketing spend.
They are the same picture
Source: AppQuantum
How did we do it?
Since the establishment of the department, we've aimed to build a cohesive team where everyone works as a single organism. Central to this vision is the belief that our people are our greatest asset. Over time, we've implemented various changes to processes, each playing a significant role in our future success.
We've eliminated individual KPIs
Teamwork lies at the heart of our operations. We've moved away from individual rewards for ideation, so we have abandoned personal bonuses. For instance, when one team member conceptualizes an idea, and another brings it to life, both are viewed as equal contributors. We don't destroy responsibility, instead, it fosters an environment of creativity. Here, every team member is acknowledged for their role in crafting high-quality products.
We benefit from controlled chaos in processes
Each team member has the freedom to pursue any creative task they wish. We encourage individuals to assume greater responsibilities if they feel prepared for them. Despite this, we remain aligned with a definitive vision. When exploring new strategies or approaches, a pivotal question we often pose is: What benefits will these changes deliver?
To answer this question, two of our departments, Creative and Production, merged into one team to take the process of creating ad videos to a new level. Previously, the Creative Team was in charge of generating ideas and writing scripts for creatives, while the Production Team helped us bring everything to life by creating videos according to our specifications.
Creative team vs. production team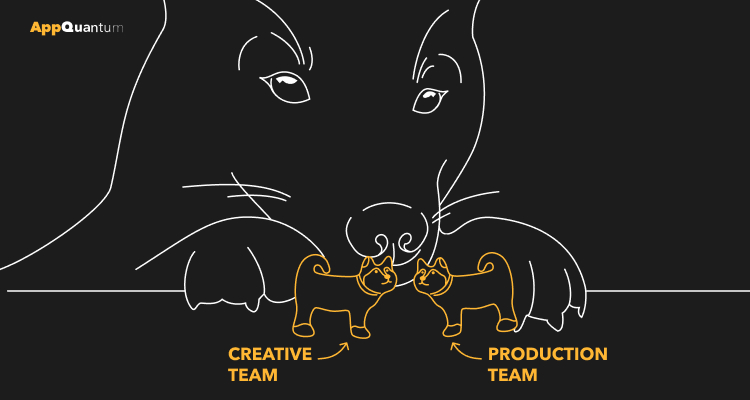 Source: AppQuantum
However, before the merger, the teams' goals were different, which led to occasional clashes in interest. We want to build all our work around common goals and close cooperation between employees with clear and transparent responsibility areas.
Since the merger, the department has expanded significantly, so some common methods are less effective for our larger team. For example, initially, we had a single team handling everything. However, as the team expanded, we found it more efficient to divide into several smaller teams, each focusing on a specific project or direction.
Now, such subteams focus on specific projects and have their own creative producers, which wasn't the case before. This producer creates a strategy and determines the overall direction of the work. However, we continue to discuss and do everything together. Creative producers don't put an end to collective decision-making.
Thanks to our constant discussions on trends and any topic we could think of, the first creative of our hit concept was born. Our faith in the team, coupled with our unique approach to materializing ideas, helped us make the right decisions.
Two of our members brought a reference with a mechanics set that we had already tested. While our earlier attempts hadn't panned out, they believed their refreshed concept had potential. Despite past setbacks, we chose to back their vision and gave their idea the green light.
This is how our department created and developed Creative 636. While it didn't skyrocket in popularity, it still generated several hundred thousand dollars for us and set the stage for our future benchmarks. Recognizing its potential, we chose to delve deeper into its success. We deconstruct it, analyzing the creative component, plot, motivation, and structure of the creative with its characters, etc.
This is like a constructor: we disassemble the video into its foundational "blocks" and then reassemble them, crafting a "castle" or a "car" if desired.
We elevate high department performance and strict metrics requirements
Our entire process is geared towards quickly producing creatives in large volumes. In 2022 alone, we made over 1,000. Thanks to our in-house production system and collaboration with freelancers (we have over 100 of them, and with all our partners, this number reaches almost 500!), we're able to produce about a hundred creatives each month.
Because of our large portfolio and constantly updated projects, we have a broad overview of the market, unlike companies working on a single game. Our team regularly tests many projects, accumulates expertise, finds successful ideas, and immediately transfers them to other genres, squeezing the maximum out of a successful concept.
Every creative we produce embarks on a rigorous journey: from the spark of brainstorming to measuring initial test results against our current top-performing benchmarks. If a creative doesn't meet our anticipated metrics yet shows promise, we send it back for refinement. We then analyze other metrics such as viewability, clickability, conversion to installs, etc., aiming to identify the idea's strengths and emphasize them in the next iterations.
Creatives performance comparison
Source: AppQuantum
When evaluating a creative, we focus on our main metric — IPM*Ret D1. IPM shows its advertising appeal, while Retention shows how interesting the game is to the creative's audience. So, for example, high IPM and low Retention tell us that the ad is too misleading: the ad brings nonrelevant audiences that aren't interested in our game and won't pay off in UA. At the same time, low IPM and high Retention won't allow for the scaling of UA spend.
In IPM and Retention, we are always looking for a balance of advertising appeal and relevance to the audience play. If the IPM*Ret D1 metric doesn't give us the data we need, we look at the creative through IPM*Ret D3. Extremely low results immediately reject the idea, and we don't get back to it.
The high speed and large work scale allow us to try the maximum amount of ideas and understand the product more deeply, rethinking it from time to time.
IMP*RET D1 and IMP*RET D3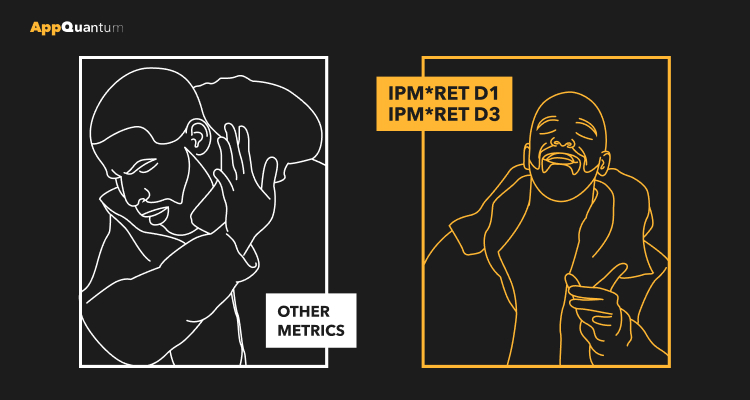 Source: AppQuantum
We use a personalized approach to users
When we want to engage a target audience, we need to follow their desires. Through our analysis, we deduced that for Gold & Goblins, it's more effective to avoid showcasing defeat in our creatives. Instead, our ad videos depict users confronting challenges and gradually overcoming them by completing various tasks.
How a user accomplishes these tasks affects our audience retention. We've observed that Gold & Goblins players relish reaching milestones, ticking off tasks on their to-do lists (regardless of the specific action), and accomplishing another grind quest to earn an Achievement — a primary motivator for our users. In other words, if players like meditative gameplay, we try to show something similar in our creatives.
We strive for balance when introducing new mechanics
When introducing new mechanics into a creative, we try to remove one of the existing ones, so as not to overload the video and simplify its perception. At the same time, the player has a new, comprehensible "problem" to deal with.
However, simplifying the video isn't a panacea for everyone. Even within the same genre, mobile gaming audiences can be quite diverse. So some players are drawn to intricate creatives packed with multiple mechanics, while others prefer more simplified versions. Our objective is to attract players who will be interested not only in the ad creative but also in the game itself. That's why we work on the potential users' attention, sidestepping the effort to engage those who might not truly resonate with the game's core gameplay.
Thanks to this principle, the 636th creative, the first in our hit concept, set the stage for the most popular creative for Gold & Goblins — the 867th (which we'll delve into shortly).
The 636th showed reasonably good metrics in UA campaigns, but was overcomplicated (lots of mechanics and actions in the scene) and fundamentally copied the reference.
We theorized that the creative could be enhanced in three distinct areas:
Amplifying emotional hooks: the most important elements and actions in the video
Simplifying mechanics: isolating core mechanics and focusing on them
Refining visuals: working with scene and game assets
To achieve this, we deconstruct the video into its essential elements:
Location
Control Mechanics
Objective
Obstacles
Game Character
In-game objects and interaction methods;
Action Sequence
Camera and angle
Visual elements, effects, and more
With these components in mind, we brainstormed alterations spanning one or more of the key areas (points/mechanics/visuals): changed the setting, replaced the assets and the main character, corrected the script, added new mechanics, and more. All these adjustments were informed by the successes of previous Gold & Goblins ad creatives and other projects.
During the final brainstorming stages, we filtered out the top ideas. In line with our aim to simplify the video, we eliminated concepts that made the original creative more intricate or strayed too far from the game's core mechanics.
The 636th reference implements a mechanic that allows you to place zones on the game location's floor, marked with a minimal UI — an outline and numbers in the center. If you drop resources into it in the right amount, the zone is filled with new game elements.
However, in our creative, we used it only for purchasing production objects or upgrading elements. It was from this adaptation that we conceived the idea of requiring a zone purchase as a prerequisite for resource harvesting. This concept became foundational for our upcoming benchmark.
The 626th creative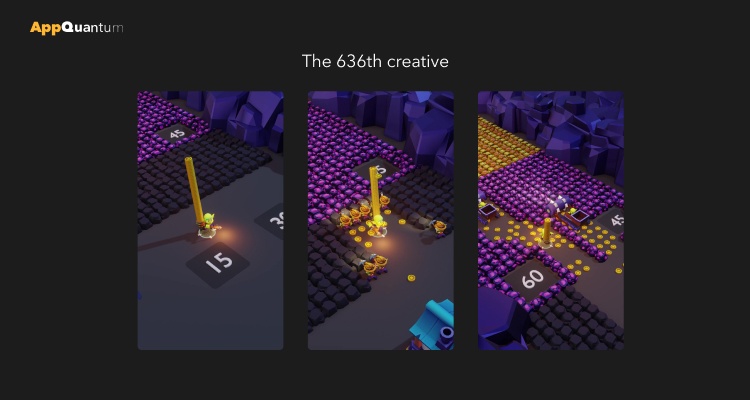 Source: AppQuantum
We always develop a successful idea
Collective creativity and a relentless drive for improvement gave rise to the 867th creative — a standout version that evolved from several iterations of the original 636. It emerged as a key ad creative in UA campaigns Gold & Goblins, exceeding the marketing spends on the original spot 13 times over — more than $7,500,000.
We never merely settle for success, instead, we continually strive to evolve our accomplishments, maximizing the potential of a winning concept. Further details about the test results and key metrics of our popular concept in the creative case.
The creation process of the 867th creative
The inspiration for the 867th creative sprang from a lone sticker on the MIRO board labeled "Land Purchase". At first, there was scepticism about its potential, so it was necessary to convince the team to realize the idea.
We implemented both major and minor refinements to the 636th creative, which fit an 18-page discussion (huh), and held several meetings. The script was drafted based on a storyboard that detailed the video's key events, gathered animation references, and specified essential assets. All scripts are developed together with the Art Lead — the director's co-author on the creative's visual part. He has broader expertise than freelance motion designers and is deeply immersed in the project (plus developing basic animations).
Once the producer greenlit the script, any remaining uncertainties were dispelled, and the idea transitioned into production. In this phase, the project manager handpicks the best-suited freelancer for each task based on their expertise, software proficiency, deadlines, and other factors.
Thanks to the high work intensity and general creative involvement, the video was ready in a week and safely went into testing. We conduct tests on install optimization (it's cheaper) in low-cost GEO with audience behavior similar to mainstream markets.
The tests indicated that 867th could become our new benchmark. At this point, the UA Team introduced an innovative idea we hadn't previously implemented with any benchmark: to increase the timing by extending the actions and events independent of the characters. We addressed the primary objectives of this concept and subsequently produced a new benchmark with the 1088th creative. This version had a duration of 45 seconds, instead of the previous 30 seconds.
Beyond just making minor and simple changes, we paid attention to major ones, deciding to use a complete departure from the original visuals and animations of the benchmark. As a result, we distinguished two global directions: harvesting and stacking — the main mechanics from the benchmark and a whole direction in modern mobile gameplay.
The 867th creative is a good example of collaboration within the department and the approaches and effectiveness that have been formed, which regularly prove that our ideas are really worth the resources spent.
The 867th creative
Source: AppQuantum
We work with every project on the publishing as if it were our own
Before making an ad creative, you need to dive deep into the project essence you're going to work with. No matter how close you are to the game's setting, whether you like narrative-oriented gameplay or more casual. We research every project we get our hands on in detail: we study the mechanics, strengths, and weaknesses, create an audience portrait, and research the market, because without that, you can't make a popular ad. Even an old and familiar game needs to be looked at from time to time as something unknown, in order to reset your perception and be inspired for new ideas.
Now, the Creative and Production Team is approaching Gold & Goblins as if it's an entirely new project, unfamiliar to us. The team aims to delve profoundly into the product to understand the nuances and developer's intentions. The overarching goal is to generate more successful concepts that can evolve into the next big hit.
Our focus primarily lies in a major direction: changing the mechanics, the video's visuals, and the main motivation of the player. Furthermore, we seek to enrich our own concepts with insights from our other projects. For instance, the team is currently exploring ways to integrate solutions to problems inside harvesting and stacking in Gold & Goblins.
Competitor comparison
Source: AppQuantum
Conclusion
Sadly, there's no one-size-fits-all formula for successful ad creative. We've shared insights into our unique approaches and team processes, which we refine and adapt daily in response to a shifting market, but without losing our uniqueness. Don't hesitate to experiment with even the most unbelievable ideas. If initial outcomes fall short of expectations, don't abandon a concept prematurely. Seek the extraordinary within the ordinary, and remember the importance of thorough research.
AppQuantum will continue to keep you updated on the latest trends in the mobile industry and share its insights. Let's make hits together!