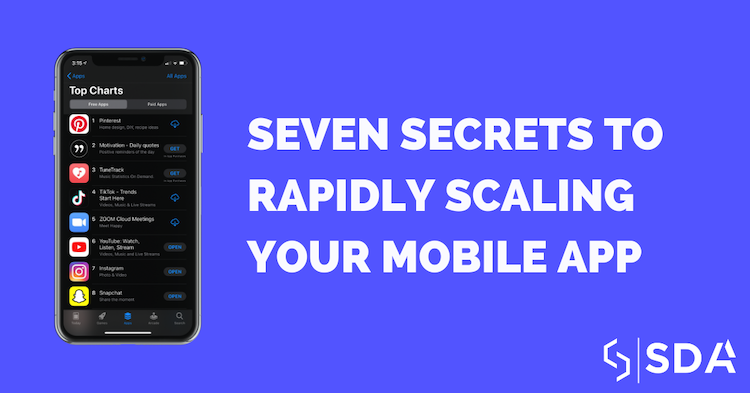 Whether you have a new app that recently secured funding or your app has been around for years, rapid growth is always necessary. I'm not talking about the type of rapid growth where users install your app and never use it, but quality new installs that can't wait to dive in and enjoy what you have worked hard building.
So how do you gain hundreds of thousands of new installs each month, without sacrificing on quality? If you are asking that question, then these 7 secrets are a must read.
Content should be more than an advertisement
 The days of relying on simple banner ads or even some rich media formats are nearing an end. With new apps launching every day, audiences are bombarded with ads that look just like the last one they DIDN'T click. Why would they? You only have a split second to capture a user's attention and the market is extremely competitive. So what do you do?
 Leveraging powerful UGC (user-generated content) to not only entertain but also educate your target on why they should install your app is quickly becoming more necessary – especially for complex apps that require the user to take specific actions after the download. People know they are being advertised to, so don't speak to them in a way that feels salesy. Use real people to show the key features and benefits of the app, in common language. Using content that speaks to an audience in a way they are comfortable with, similar to how people talk between friends, immediately removes the skepticism that comes with most advertising.
Optimization goes far beyond targeting
Along the same lines of the importance of content, continually creating variations of top performing content is one of the most impactful ways to optimize your acquisition campaigns. Finding nuances and subtle differences between a top performing and a low performing ad that targets the same audience is a data point you should always look to scale upon.
By creating up to 40+ video assets for your user acquisition campaign, you will not only find efficiencies in CPI and increased retention, but you will also see a significant lift in organic downloads due to the nature of video. Specifically, social video.
Know your numbers
 This may be an obvious one, but how else can you responsibly scale your app without knowing what your acquisition costs should be? Even if those numbers are goals and not yet proven, it is paramount that you first establish primary KPI targets prior to investing in rapid growth.
KPI Targets to Consider:
Average Monthly Organic Growth
D-1, D-7 and D-30 Retention
LTV (lifetime value)
Target MAUs
CPI
In-App Conversion Rates
 The metrics listed above are important to understand in order to scale your app in a way that does not only grow users but grows your business as a whole.
Experiment with new channels
Your target audience exists across multiple channels and platforms but likely engages differently with advertisements and content on each channel. Expanding your presence into new channels consistently allows your target to see your app "everywhere". This expansion further establishes credibility and ultimately drives CPI costs down in lower-funnel tactics.

In addition, adding new channels to the mix can allow you to discover new audiences. You may be surprised to learn that who you have been targeting so strictly on other platforms may not be the best performing audience after all. Experimenting with new channels is a great way to continually hone in on who your most valuable user really is.
Optimize your user experience
Immediately after the download, the first impression of how to use the app is critical. Whether the user came from an ad or downloaded organically, identifying and removing friction points will drastically increase retention, making it more likely for new fans to talk about the app with their friends.
Keep it simple. Mobile users move quickly between apps and are much more likely to abandon when things get confusing. Make sure to have clear instructions on how to use the app because new users are quick to start exploring aimlessly. The more simple and clear direction that can be given once opening the app, the better!
Encourage sharing
People love to share quality experiences with others. Oftentimes, this spreads organically with word-of-mouth, but motivating users to get their friends to download increases brand loyalty.
It doesn't always have to be financially rewarding a user to share a download link with a friend. Start by looking at the key benefits of why someone would want to use your app and align your incentive with those benefits. This could be virtual rewards, a verification badge or even something as simple as a free t-shirt. Encouraging sharing adds new users to your app efficiently and creates raving fans out of your existing user base. 
This is also a major factor as it relates to what you would be willing to invest in on a CPI basis. Knowing that you will increase organic downloads alongside your acquisition marketing warrants an ability to invest in a higher CPI.
Establish long-term partnerships
 Lastly, the absolute best way to rapidly scale your app is to find and establish true growth partners. SDA Media is the leading app growth marketing company because it believes the only way to grow its business is to also grow its clients' businesses – focusing purely on results.
SDA Media developed a proprietary app growth program that has proven to grow clients' mobile apps with millions of new, quality users. When choosing a partner to help scale your app, why not pick one that only works based off of performance? SDA Media is one of the few companies that is willing to contract on a CPI basis and work directly to ensure that the installs driven meet your quality standards.
For qualifying clients, SDA Media will also start with a free test to prove its services. This free test is meant to demonstrate SDA Media's ability to beat your goals, move quickly, and set the foundation for a rapid growth path thereafter. See if your app qualifies for a free test by filling out the form here.