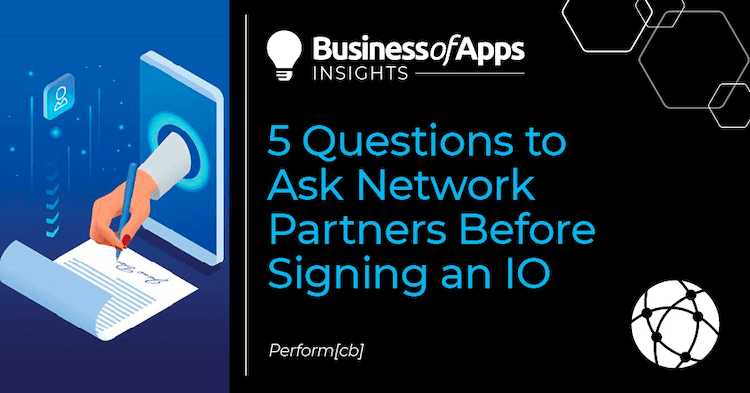 Mobile marketers are presented with a myriad of options when partnering with a mobile network. Although marketers are often looking for one simple answer to help them choose the right network to partner with, finding the best fit before signing an IO is a process. There are several factors marketers should consider when deciding which network is the best choice for them. Recognized as a Top Media Partner by AppsFlyer's Performance Index since 2016, Perform[cb] has assembled a list of questions marketers should be asking when searching for the right network partner.
What tracking technology does your network offer?
Asking a potential network partner about any in-house or proprietary technology they offer can help narrow a marketer's search. While most network partners work with all major MMPs, it's important to confirm the network in question will recommend the best attribution platform to support any tracking needs. In-house technology can offer mobile marketers the ability to monitor and measure their campaign results, pay their affiliate partners, and optimize their offers without having to employ and pay for multiple third-party platforms.
Platforms such as Perform[cb]'s PerformLEAP® puts the power into the hands of the marketer, featuring a custom dashboard that enables marketers to adjust their budget, creative, and more. Not only do in-house tracking platforms like PerformLEAP save marketers time, but they also provide financial efficiency as marketers won't need to employ a third-party service to track campaign performance or partner activity. Learn more about the necessities of great performance marketing technology here to ensure you're in the know.
What payment models do you offer?
As a mobile marketer, it's important to understand which payment model best fits your user acquisition goals. When utilizing performance marketing channels, marketers have minimal risk, given they won't spend a dime until their desired conversion point has been achieved. An experienced network partner should provide recommendations as to which payment models would reap the marketer's desired results.
The most widely used pricing model for mobile user acquisition campaigns is known as Cost-Per-Install (CPI). Within the CPI model, marketers only pay their third-party partners once they've driven a legitimate app install. This acquisition model is commonly used by marketers across all verticals within the mobile space, but especially by those who may have recently launched a new app. Mobile marketers benefit from the CPI pricing model because, when operating on a performance-basis, they only pay once a user completes an install.
Cost-Per-Engagement (CPE) is another common payout model used across the performance marketing industry to drive post-install events for mobile marketers. When employing the CPE model, a marketer pays when a third-party partner drives a user to complete an action such as an in-app purchase or registration. This model is often used by mobile marketers within the ride-share and finance verticals to drive engagements such as first-time rides or bank account linking. Consistent with the CPI model, CPE campaigns running on a performance model only require marketers to pay once their desired conversion point is reached, further reinforcing the low-risk, high-reward nature of the performance channel.
How will your network continuously optimize to meet my goals?
While Cost-Per-Install (CPI) and Cost-Per-Engagement (CPE) campaigns are viable ways to enhance reach and drive app installs, continuously optimizing is key to success. When joining a network, marketers will be paired with an account manager who will oversee all campaign goals and objectives. Account managers act as a liaison between the client and their organization to resolve issues, carefully listen to clients, and ensure understanding of KPIs. Reliable account managers can help guide clients to success, and ensure they're using the best optimization practices to meet their goals. If the network in question has strong, experienced account managers, the marketer should see it as a major plus.
Networks with account managers who stay up to date with current mobile trends should provide recommendations for up-and-coming tactics, such as app store optimization (ASO) campaigns. Similar to desktop SEO strategy, mobile marketers can utilize ASO tactics to ensure maximum searchability and visibility to potential users. Given 70% of app store visitors use search to find apps, it's clear that mobile marketers who aren't utilizing ASO strategies are losing users to their competition. Marketers looking to boost their app store ranking should include top keywords in their app name and listing description, in addition to relevant imagery and the correct primary and secondary app categories.
What is your industry experience?
Marketers must find a network that they feel can support and guide them, while navigating and optimizing their campaigns for success. Vetting networks based on their years of experience is simple, however, marketers should also request evidence of past, and more importantly, recent client success. This success is often illustrated in the form of case studies, reports, or whitepapers. An experienced network partner should have these assets prepared to share; if that's not the case, marketers should plan to request insightful resources or reports that depict results relevant to their acquisition goals.
For example, for marketers within the Finance or Insurance verticals looking to increase lead generation, it could be helpful to look at an auto insurance case study. If a marketer within the Entertainment and Lifestyle vertical is looking to increase app installs, the network may provide insight into a past campaign with similar goals, such as Spotify achieving a 532% increase in installs. At Perform[cb], we frequently share vertical-specific case studies to provide additional resources and information on the results we've driven for our marketers.

What are your best safety and compliance practices?
Perhaps the most important topic to broach with a network is their approach to compliance and fraud prevention. A network must take all matters of security, privacy, and compliance seriously. When mobile marketers are investigating a network partner's brand safety practices, the network should provide the marketer with a solid understanding of which measures are taken to ensure a campaign's security. An experienced and trusted network will be aware of the ever-changing needs of fraud prevention, and should anticipate a marketer asking for a detailed understanding of the proactive measures that will be taken to battle fraudsters. Although many experienced marketers know the importance of fraud prevention and the potential threats that brands face, a detailed guide to better equip digital marketers with compliance is a helpful and resourceful tool. Marketers who partner with Perform[cb] will be protected by PerformSHIELD™ to proactively safeguard their campaigns from the costly hazards of ad fraud.
It's safe to say that by receiving answers to these questions, mobile marketers will be best positioned to make an informed decision when seeking a network partner. Technology, traffic accessibility, payment models, account management, optimization, and fraud prevention all play important roles and need to align with the marketer's acquisition goals.
Perform[cb] is a full-service mobile app marketing partner, providing app developers and brands with user acquisition services on a performance model. Are you a mobile marketer looking to partner with the right performance marketing network? Reach out now to Perform[cb]'s team of mobile marketing experts to learn more about optimizing your campaign goals to increase ROI, or apply to be a Perform[cb] marketer now!