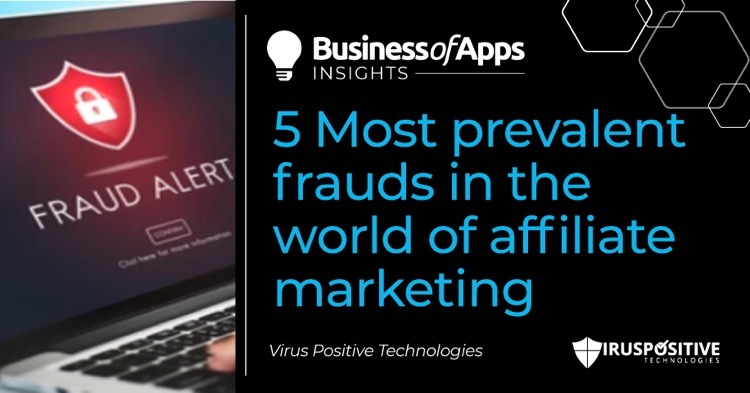 As per a Business Insider report, affiliate marketing makes up 15% of the total revenue of the global digital media industry. Affiliate marketing has become an integral part of the online advertising industry and will continue to grow in the coming era.
Advertisers pay commissions to get legitimate user traffic to their websites. The affiliates get tempted to use unscrupulous ways of extracting money from the brands, adversely impacting their marketing budgets and brand reputation.
Affiliate frauds are illegitimate techniques that affiliates use to attract traffic for advertisers and earn a commission. These techniques involve injecting affiliate cookies into the user's systems through Adware, displaying unauthorized advertisements, using expired or non-existing coupons, buying misspelled domains to redirect the users, and more. Let us now see the five types of affiliate fraud most prevalent in the digital marketing world.
Many kinds of scams might be used against your campaigns because scammers constantly evolve their tactics to make themselves harder to detect and counter.
The best way to combat fraud is to identify why fraud is occurring in the first place and then develop strategies to prevent and protect against these attacks to secure your online business. While there are countless schemes that fraudsters can use, we want to highlight some of the most common types of performance marketing fraud.
Cookie insertion fraud
Cookies can store details of online user activity and serve as an essential medium of tracking in affiliate marketing. Digital marketers use cookies to track the affiliate's links and monitor their traffic sources. The affiliates are then paid for the user traffic they get for the advertisers.
Affiliates insert their cookies at the browser or system level and intend to monetize the users' online purchases. They are considered malicious only when affiliates use illegitimate ways to inject these cookies. Cookie Stuffing addresses fraud when malicious affiliates try to overwrite legitimate affiliate cookies and earn commissions without driving user traffic to the advertiser's website. Either they tend to hijack the traffic coming directly to the advertiser's website or through other affiliates. The common tactics used by fraudsters to stuff cookies are:
pop-up advertisements
iframes embedding
JavaScript
CSS stylesheets
Zero Pixel Images   
Adware fraud
Adware refers to a type of malware that displays unwanted advertisements on your computer or device. It has the potential to become malicious and harm your device by slowing it down, hijacking your browser, and installing viruses or spyware.
The Adware usually gets installed on any user system bundled up with legitimate applications and injects affiliate cookies through pop-up ads, auto redirection, push ad notification, or click-jacking.
One common form of affiliate fraud is Adware Round Tripping. Adware Round Tripping is deceiving advertisers by stealing their genuine buyers. Affiliates use Adware to navigate users from the advertiser's website to their website and then direct them back to the advertiser's website, injecting affiliate cookies to monetize the sales.
Coupon fraud
As per a recent study by Valassis, more than 90% of shoppers search for and use coupons and deals while shopping online.
Marketers offer deals and coupons to attract more customers online. Advertisers offer direct coupons to their users, or there are also 3rd party companies providing coupons for different brands on their websites. Affiliates also use this marketing tactic to attract more user traffic and earn commissions. A common affiliate fraud associated with coupons is Misleading Deals.
Misleading deals are deceiving offers and coupons used by affiliates to attract buyers' attention, redirect traffic to an advertiser's website, increase fake user traffic, and earn a commission. The process includes displaying ads with discount coupons that are either expired or never existed. On clicking such advertisements, the user either lands on an irrelevant web page or receives a message for an invalid coupon code/sold-out items, and more.
Push-ad fraud
Companies are fighting to attract users to buy their products in today's digital era. Push-up advertisements are a forceful way of catching user attention by displaying ads on the user's screen, with or without their consent. Web push notifications are message alerts shown on a user's desktop or other devices when the user allows
The affiliates use mediums like their social media platforms, websites, and more to promote the advertiser's products and services. They add web push notifications on their website, already driving user traffic. Once users allow sending messages by opt-in process, they start pushing advertisements in the form of notifications.
These advertisements are lucrative and attractive and tend to grasp user attention. When the user clicks on any push notification, the affiliate cookie get's dropped, and they earn a commission from advertisers. 
Click fraud
In click fraud or cookie hijacking, the affiliates deliberately hijack the clicked element on an advertiser's website to insert affiliate cookies or redirect to another website.  In this process, the attackers control the user's entire session on the advertiser's site by modifying the stolen cookies.
Cookie hijacking exploits the web session control mechanism, usually managed by cookies. The process forges a valid cookie to steal the user data, bypass the security, or both.
The primary purpose of cookie hijacking is:
Auto-redirection: Users are redirected to different product pages by cookie hijacking. It can be on another product page or a similar page, as per the intent of the hijacker.
For example, the user visits Costco.com to buy groceries, but affiliates trap them by hijacking the search bar and dropping an affiliate cookie as the user clicks on the search icon.
Unexpected results: Click hijacking might entirely mismatch the customer's query. For example, the buyer searches for bags but receives results for clothing or shoes.
This ultimately hampers the brand reputation, image, loss of valued clientele, and eventually, the brand revenue.
The affiliate marketing industry has been victimized by fraud for almost a decade. It is estimated that the costs related to digital advertising fraud worldwide will grow exponentially within the four years between 2018 and 2023, from 35 billion to 100 billion U.S. dollars.
Brand compliance and marketing compliance monitoring is the only way out for brands to be vigilant and protect against online fraud.