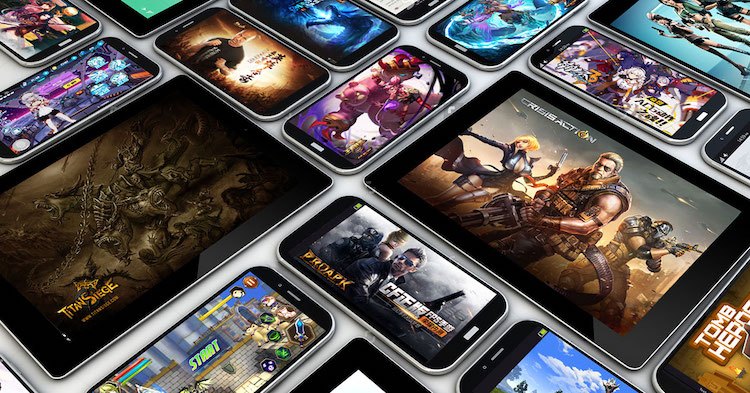 2019 was a big year in mobile games. Revenues continued to grow to another all-time high, and there continued to be plenty of experimentation and innovation, even as the industry continued to mature. It's no accident that we are now seeing big console and PC franchises copying elements of free to play gaming from mobile!
So with this in mind, we've pulled together what we see as some key trends from the last 12 months that we believe will impact mobile game design and monetization this year and beyond.
Hyper-casual v. idle games?
Hyper-casual games – usually what we consider lightweight games with mass appeal and simple mechanics such as "tap to play" – experienced significant growth in 2019. Games like Sky Ball, Flip the Gun and Helix Jump topped app charts around the world and rely on huge download volumes and ad-based monetization. 
Publishers such as Voodoo, Rollic and Ketchapp had a brilliant year in 2019 thanks to the success of hyper-casual. But it looks like the install numbers might have peaked – meaning that publishers are looking for the next big thing. Which brings us to a whole other category of games, called 'idle games'
Idle games – often referred to as incremental or "self-playing" games, might be a mobile gaming force to be reckoned with. Session data shows that their users appear to be more engaged than hyper-casual players, playing more frequently, with average sessions lasting up to 8 minutes (versus 4.5 min for hyper-casual).
The differences in retention, session length and engagement between hyper-casual and idle games could ultimately have an impact on their monetisation strategies and their efficiency – as the longer the average session, the more opportunities there are for different in-app purchases (IAP) to be presented. 
As the chart below shows, the D1 retention trend for idle games has remained pretty consistent since they first appeared on the apps stores. Whilst it's not shown much positive change over time, it's reasonable to think that these levels of retention are a solid baseline for publishers who are looking for 'the next big thing' to build on, and as such we think idle mechanics could offer a big area of growth in the year ahead.
Chart showing D1 retention rates for idle games between 2017-2019 (Source: GameAnalytics)
Live Ops and Events
While it's not a sudden new trend to appear in the gaming landscape, live operations (Live Ops) is becoming increasingly important to the make-up of games that have long-term success. Live Ops refers to ongoing updates and refinements to games over time, treating them as a "live" product to keep users engaged. Some games that are particularly skilled in the Live Ops front are Fortnite and Ninja Must Die 3. 
Striking the perfect balance in terms of Live Ops is not easy though. Developers have to find ways to continuously update the game while keeping all systems adaptable enough and gamers happy. Beside feature and content updates, running various kinds of live events has become an increasingly important part of mobile game monetization. For example, you'll have a hard time finding a top grossing match3 game that isn't constantly running one or several events when you open the app.
The big trend at the moment is not only live events, but all the other features game's bring around during these events. Exclusive live event characters, skins and items, event-gachas  and other event-related benefits are extremely powerful in boosting average user spending beyond their normal limits – just look how Dragon Ball Z Dokkan Battle surges through top grossing ranks every time it's running a new event. 
Guilds and co-operative elements in casual games
Casual games are often still misunderstood by many as simple, shallow titles with broad appeal to gamers and non-gamers alike. But that's not always the case, as they are now incorporating more and more features and mechanics inspired by other genres, such as the use of guilds – allowing for more engaging multiplayer modes and co-operation. Some major casual titles to include mid-core elements like guild features recently are Homescapes and Matchington Mansion.  
This chart shows the integration of guild mechanics in match 3 games in 2019

Adding guilds to a game is an effective method to present co-operative tasks, like in the following screenshots from Homescapes, in which players are encouraged to cooperate on specific gameplay tasks in order to receive in-game rewards. 
Recent GameRefinery data looking into match-3 games shows that games that included guild/co-operative elements grew almost three times in popularity within the top 100 grossing games last year. It will then be interesting to keep an eye on the evolution of this trend in 2020 and if it leads to further growth.    
The popularity of Match-3 games featuring co-operative tasks has increased by 36% in the past year

AR & location-based games in 2020
Do you remember the excitement around AR and Pokemon GO? Unfortunately, such buzz has not been replicated so far in the AR front and the game has become more of an anecdote than a trend-setter, failing to capture mobile gamers' attention. 
While 2019 saw the launch of new AR title Wizards Unite (part of the Harry Potter brand), Pokemon GO still accounts for 90% of the genre's revenues. So what can we learn from Wizards Unite about the future of location-based games? 
GameRefinery's 2019 analysis of key game features of leading location-based games (graph below) showed that PvP and co-operative elements are really important in elevating what is a very simple core gameplay mechanic. Both Pokémon GO and Jurassic World Alive have guild mechanics, different kinds of PvP modes, donating items/characters to other players, etc. These social elements make the games more interactive and special. 
Another important aspect these two games have in common is how their meta is based on collection as the main motivator for completion –  finding and collecting every Pokémon for example. In Wizards Unite the "foundables" collection meta is not nearly as powerful.
We will be keeping our eyes peeled in 2020, paying particular attention to new games challenging Pokemon GO's dominance – but we won't hold our breath just yet!
GameRefinery comparison chart showing the differences in social elements between Pokémon GO, Jurassic World Alive and Harry Potter: Wizards Unite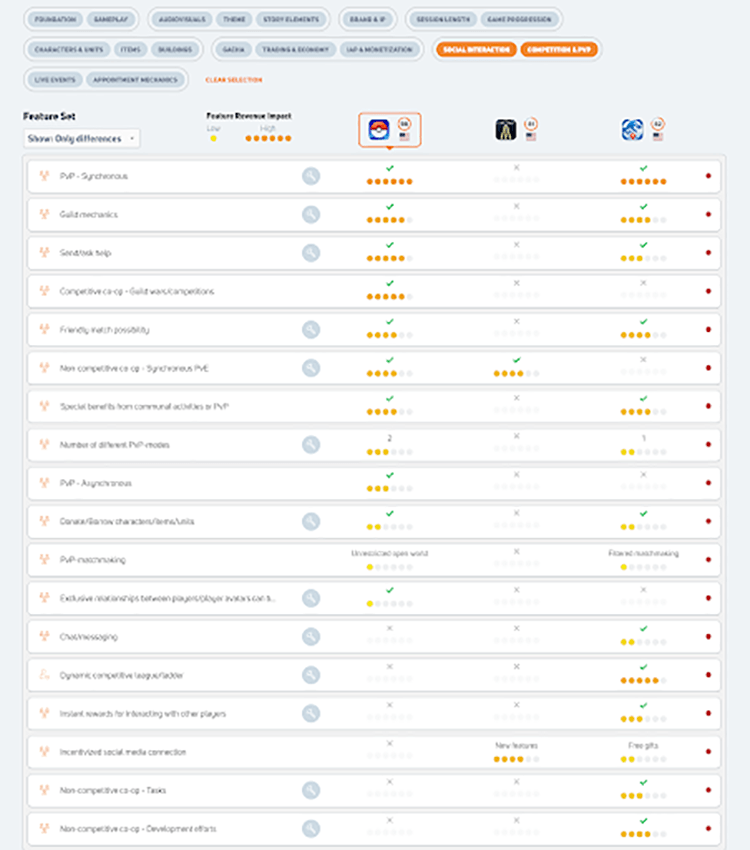 Blasting in match-3s
Match-3 games remain extremely popular, represented by four main matching types: swapping, linking, blasting and shooting. Swapping – where a player swipes to swap colored icons to complete rows and columns – is still the most used across games like Candy Crush Saga and Homescapes. 
But the second most used is blasting, like in Toon Blast and Lily's Garden. The chart below shows the popularity of these four mechanics and interestingly, every match 3 game launched in 2019 which made it into the top 200 grossing charts utilized blasting mechanics. It will be interesting to track closely what kind of matching games we will see dominating the graphs in 2020 – we definitely expect to see a blast. 
Chart showing the different mechanics used by the top 200 grossing match 3 games in 2019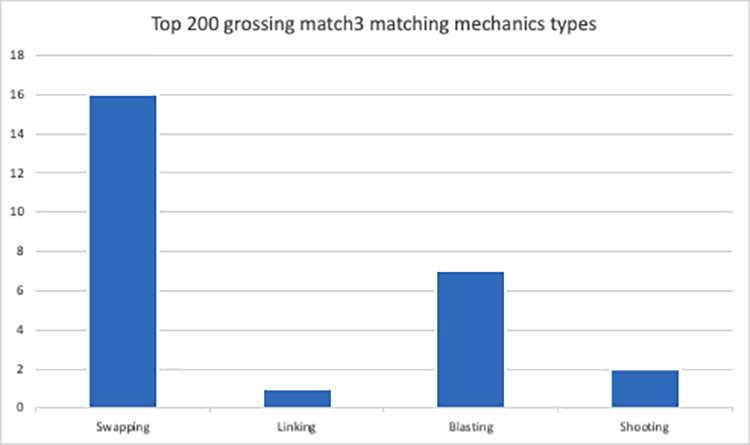 All top 200 grossing match 3s released during last year all feature a blasting mechanic

Summary
If we step back from the specifics of the trends we've looked at, there are three main takeaways. First, while there is always huge demand for deep and complex game genres like RPGs and strategy games, there is a huge audience for extremely simple, quick and repeatable games. The success of hyper-casual and idle games are certain to shape game design trends going forward.
Secondly, developers continue to try to find new ways to further user engagement, through ongoing processes like Live Ops and taking inspiration from other genres – resulting in interesting feature and meta-game combinations that are pushing familiar game genres in new ways.
Lastly, there appears to be a limit to how far gamers are willing to accommodate features like location-based gaming and AR. Our data shows that Pokemon Go continues to be an outlier, and it's unlikely that we will see any new games in 2020 that use these technologies with anything like as much success – despite the attempts of several big publishers and brands.