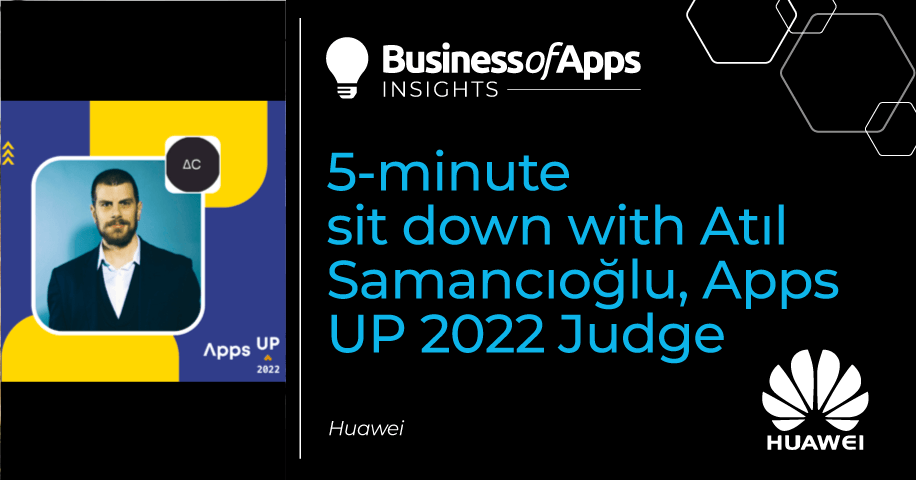 Huawei's global Apps UP competition is back for its third consecutive year, and it's bigger than ever. Huawei are calling all app developers across Europe to join its global innovative app contest for the chance to win from a $200,000 USD prize pool!
This year, they have a number of fantastic judges helping to choose the winning apps. Here, one of our judges, Atıl Samancıoğlu, co-founder and CEO of the Academy Club Worldwide, shares a few words on Apps UP and what he will be looking for in a winning submission.
This post was first published on aspiegel.com.
So Atıl, what is your impression of Apps UP?
For me, Apps UP encourages people to bring out the best developer in them to be part of a unique experience. It also proves that you do not need a huge capital investment to build an outstanding product. Not only does it benefit the developer community, but it can create a much better experience for digital app users with various features, contributing to an improved digital lifestyle.
What are you looking for when you try a new app?
Easiness to use, accessibility, performance and outstanding user experience are the top factors I look for when trying a new app. When it comes to creating the app, the most important things for a developer to begin with are the UX and then clean architecture for development.
Which award category are you most excited to receive submissions for and why?
Best Social Impact App. I really want to see social impact apps making lives better and receiving a prize for it. I believe that bringing a solution to a current problem in a way that makes users lives better than now is what makes an app the most innovative.
What is the best way for Apps UP contestants to make an impact and stand out with their app?
Don't just focus solely on the engineering but UX as well. User must feel good after using an app not frustrated. I recently used a banking application (which was not even my bank but I needed it for some reason) and it was extraordinary in terms of UX and made me want to switch banks to be honest.
What are some of the mistakes or common pitfalls you've seen developers make?
Not doing enough research for consumer needs and competitive analysis.
What have you learned from being part of the developer community that you want other people to know?
It is a CI/CD process in terms of continuous learning and continuous teaching. I helped hundreds of thousands of students across the world but I have learnt from them in the process and it made me a better developer in the end.
What other skills should great developers have apart from coding?
Surely developers should now about UX/UI a little bit to understand consumer needs better. Furthermore, they need to understand the need of great communication skills to make your agile team more agile.

Download our MMP Buyers Guide
Having a trusted partner for accurate, unbiased, indisputable data and real-time insights is no longer a nice-to-have, it's a must-have. Download our guide to help choose your next MMP provider.
DOWNLOAD
What are the positive impacts that a strong developer community can have on the future and potential of an app and app developers?
A good developer gives good insights, good vibes, and motivation to their teams. It leads to much better products with a fun process.
Which HMS Core Kit do you find most innovative?
Media & Entertainment kit seems perfect! It is a very hard module to develop on your own and HMS provides extraordinary features for developers to ease their burden in a substantial way!
Interested in submitting an app for Atil and the rest of the judging panel to review? There's still time to enter Huawei's Apps UP competition. Whether you have an existing app or a great concept for a new one, simply integrate HMS Core for a chance to win in one of the 8 award categories, ranging from Best Game, Best Student Innovation, Tech Women's Award, to Best Social Impact App (to name a few!). Register now for a chance to win here!