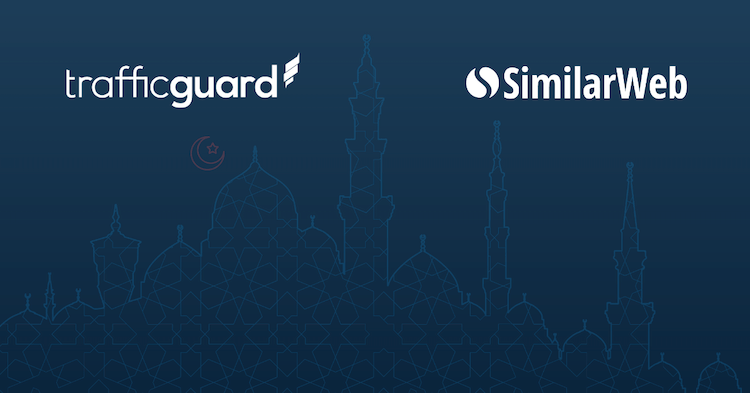 Cultural and religious events are known to drive surges in consumer spending, presenting a big opportunity for brands to reach an audience that has an inflated desire to shop. To effectively tap into these seasonal surges, marketers need to understand how consumer behavior and the perceived value of their offering are both influenced by such events. 
This article was originally published on TrafficGuard's blog
Ad fraud prevention specialists TrafficGuard, in collaboration with market intelligence platform, SimilarWeb, have released a guide to web and app user behavior in the weeks of and surrounding Ramadan.
Here are three stats from that guide that will play a crucial role in devising an effective marketing strategy this Ramadan. 
Ramadan sees app downloads surge 36.5%
As behaviours shift for Ramadan, and people look for entertainment, convenience and lifestyle solutions, app downloads surge. As a mobile app advertiser, this time presents a big opportunity for you to grow your app user bases and drive engagement. To capitalize on this increased demand, it is important to understand when your particular category is more in demand from your target audience. For example, Food and Drink apps see strong growth in the weeks approaching Ramadan, therefore aggressive user acquisition should start ahead of the holy month.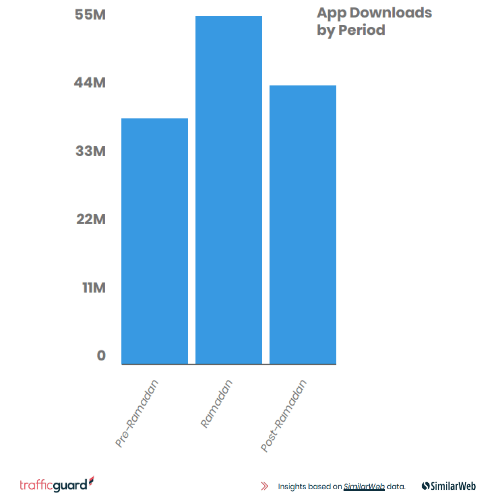 Timing is of the essence for social and eCommerce
Of all the app categories analyzed, social and eCommerce saw the biggest jumps in downloads over Ramadan, with download growth of 12% and 8% respectively. 
The growth of these two categories clearly demonstrates the fleeting nature of seasonal surges and the resulting importance of timing.  You can see that if advertising is timed poorly, it would be easy to miss the opportunity of attracting such a valuable user base. 
The red colour of these visualisations represents greater time in-app. For the best returns, you should invest heavily in user acquisition ahead of these times. After all, when demand picks up for your category, you want it to be your app that the user already has installed on their device. 
It may be tempting to run user acquisition throughout the whole period but by understanding when users download and engage with apps in your category, you can focus your efforts, time and budget for the best advertising return. 
The growth after Ramadan
In the month following Ramadan, all categories grew in downloads, with four categories above 10% growth. Local Travel, Entertainment, Food and Drink and Games saw impressive user growth.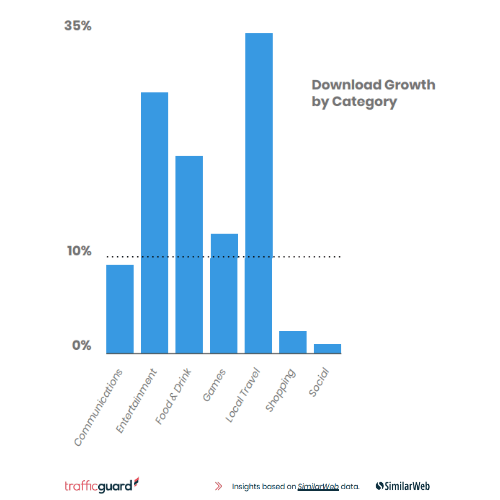 Most brands will concentrate their efforts in the 4 week period of Ramadan, making it a highly competitive time, pushing up media costs and making it harder to cut through. If you look beyond the obvious, opportunities for advertising and growth may present themselves in the surrounding weeks when media may be less expensive and it is easier for your brand to stand out. 
Download the full report, to find out more about key trends in web & app usage in the weeks of and surrounding  Ramadan and tips on how you can take advantage of the seasonal opportunity.
Methodology: The data for this report came from Market Intelligence platform, SimilarWeb. Mobile app analysis covered downloads and in-app activity of 184 Android apps across 7 categories and 3 countries with majority-Muslim populations. TrafficGuard examined activity for the 4 weeks of Ramadan, as well as the 4 weeks before and after for comparison. Both 2018 and 2019 data were analysed. Unless broken down by year, all analysis considers data from both 2018 and 2019. 
Download the guide to getting your advertising Ramadan ready