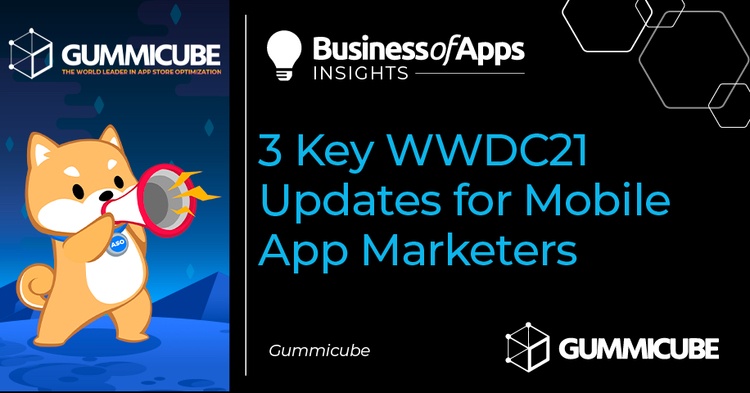 Apple's 2021 Worldwide Developers Conference debuted this week, and alongside some exciting features and updates geared toward users and developers, those involved in mobile app marketing will be getting some sharp new tools as well.
New features for running A/B tests in the App Store (at long last) were announced. In-App events will give developers a chance to engage with users through time-based event promotion. Additionally, new metrics available in the App Store Console will provide deeper insight into what drives conversion and how marketers can improve their KPIs.
A/B Testing & Custom Product Pages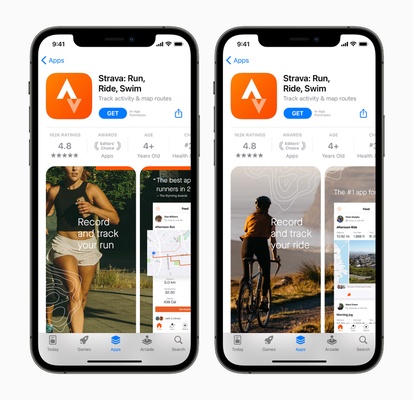 Later this year, Apple will be implementing new tools for testing creatives on the iOS and iPadOS App Stores in the form of Product Page Optimization and Custom Product Pages. When this update goes live, it will be easy for developers to test and deploy creative changes and compare performance on the App Analytics section in App Store Connect.
Product Page Optimization will allow developers to try out different app icons, screenshots, and app previews directly on the default product page. Up to three different treatments can be applied at a time to see which piece of metadata best drives conversion.
As recommended with any test, it is suggested to limit the number of elements tested at once to make it easier to isolate which individual changes lead to the best results. Performance can be compared against the original product page in App Analytics throughout the duration of each test, which can run up to 90 days.
Custom Product Pages are an exciting development in testing the impact of features and content across various demographics.
Along with A/B testing the default Product Page, Apple is also making it possible to publish up to 35 custom product pages at a time. Each can highlight different promotional text, screenshots, and app previews. For apps with clear subsets of demographics, this is huge news.
Whether it's a dating app that also has friend finding features, a photo editing app with some users who want to touch-up selfies and others looking to add stickers to travel photos, or in Apple's example, a sports app with fans of different teams, the applications are vast and varied. 
From Apple: 

"[Y]ou might promote a particular sports team in your marketing and link to the custom product page that highlights that team."
Product pages with unique URLs can be fully aligned with the interests of each demographic, rather than having a single page that must appeal to everyone.
On the App Analytics section, metrics such as impressions, downloads, conversion rate, retention data, and average proceeds will be visible. This will provide insight into which product pages are driving conversion for specific demographics.
Events
This fall, iOS 15 customers will be able to discover in-app events right on the iOS and iPadOS App Stores. Timely events – such as competitions, live steams, premieres, and more – will appear across the App Store as event cards that include images or video, the event name, and a short description. Users can tap the event card to open the event details page with a longer description and notes. Customers also have the option to opt-in to the event or download the app from either the event card or details page.
These events will be configured and managed in App Store Connect, where up to ten events can be submitted to Apple for approval. Five approved events can be published on the App Store at any one time. To configure a new event in App Store Connect, developers must add event specific metadata, regional availability, and any additional pertinent information.
When creating an event, new metadata fields must be populated with relevant information to help users understand its purpose. Such metadata includes the event name, short description, long description, and event badge. The event name may be up to 30 characters, the short description up to 50 characters, and the long description up to 120 characters. The event badge will display above the name on the event card and details page, and developers can choose from six event badge types: challenge, competition, live event, new season, premiere, and special event.
When configuring a new event, additional event details are to be included to determine how the event will be displayed in the App Store. Developers will choose the start and end dates for each event, with a maximum event duration of 31 days, and the events will appear chronologically according to start time. Promotion for in-app events may begin up to two weeks prior to the set start date.
Developers will also provide a deep link, allowing users to be directly taken to the pertinent event page. Additionally, there is the option to set an event as high priority, select the event cost, and indicate the event's purpose. Purposes include events that are geared toward all users, meant to attract new users, engage active users, or bring back lapsed users.
Previously, events like these were limited to a short 170 character blurb on the product page via the Promotional Text, or by changing other locked-in by release metadata and creative fields to reflect the latest updates and events. With these new features, the "standard" fields can cover more general concepts of an app, with the new areas covering more specific topics users may be interested in. This can help developers appeal to new users with the standard features, functionality and value propositions of the app, while potentially re-engaging existing users with the latest goings-on.
Event performance can be evaluated using App Analytics in App Store Connect, where developers can analyze view impressions, event page views, event engagement, and conversion data. 
New Metrics
Until now, "App Units" in App Analytics has reported on new users downloading the app for the first time. Among several changes coming to the App Analytics page of App Store Connect, "Re-Downloads" and "App Updates" will be reported.
Additional metrics which up to this point have not been available include total downloads, proceeds, ARPPU (average revenue per paying user) and pre-orders. These metrics can help give developers much needed insight directly from the App Analytics page.
It's important to keep in mind that unlike Impressions and App Units, which are metrics taken from the App Store app, these new metrics require an understanding of a user's behavior- such as if they have downloaded the app before, if they engaged with the app, etc.  Due to this, the metrics fall into Apple's opt-in only range of metrics. Only users who have agreed to share their diagnostics and usage information will be tagged here.
Fortunately, App Store Connect has a feature which allows developers to see what percentage of users over the past 30 days agreed to share their data to get a better understanding of what it means.
Overall
WWDC 2021 brought with it a host of new tools and technologies to help mobile app marketers improve their presence on the App Store. New A/B testing tools, abilities to promote upcoming and current events, and more granular data on user behavior (from those who agree to share it) will give more actionable insight into performance and how to adjust future iterations. While these features won't be coming out until later this year, it's critical to plan ahead for what is likely to be a seismic shift in the App Store ecosystem.