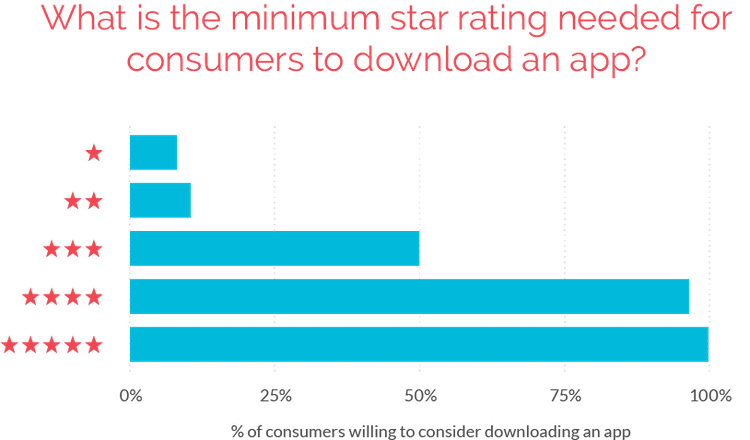 Consumers are skeptical of digital marketing, and peer recommendations in the form of app store ratings and reviews stand alone as the single greatest driver of discovery and conversion. Thanks to regulations like GDPR and CCPA, consumer privacy has moved to the forefront of marketing and product development, and a trusted recommendation in the form of a rating or review carries more weight than ever.
Based on data from Apptentive's 2020 Mobile App Engagement Benchmark Report, it's clear that app ratings and reviews aren't just vanity metrics; they have real consequences on conversion rates and brand reputation. When we asked, consumers were clear that the lower the star rating, the less likely they'd be to download the app. The opportunity cost of a star is huge. Moving a three-star app to four stars, for example, can lead to an 89% increase in conversion.
Read on for the 2020 ratings and reviews benchmarks for apps across all categories, along with ways you can promote more five-star ratings for your app.
Volume of Ratings and Reviews for iOS and Android Apps
The volume of iOS reviews per app increased by 35% from 2018 to 2019. The median volume increase of iOS apps was 31%. Android also saw a heavy increase in the volume of reviews at 52% across the same time period. The median volume increase for Android apps was drastic, at 110%.
In general, there have always been more reviews in Android than in iOS, mostly due to the demographic differences of their customer bases. Android users tend to be younger and much more likely to feel involved in the process. Because of this, they're also typically more critical (e.g. give lower ratings and more critical reviews).
But since the release of iOS11, we've also seen a downturn in the number of iOS reviews because the rating process was simplified. Because of how seamless leaving feedback on iOS apps now feels, customers feel like they're "done" with the process after providing a rating, thus leaving fewer reviews. In Android apps, people are made to leave the app in order to complete a rating and review, which makes them feel like more is required of them in order to complete their task. In iOS apps, the experience is not disrupted and they are not taken elsewhere, which makes people feel like a simple rating is enough to fulfil their input duties.
Average volume of star ratings per app saw similar year-over-year growth. The volume of star ratings in iOS apps grew by 158% from 2018 to 2019. The median volume of iOS app star ratings increased 260%. The volume of star ratings for Android apps increased 44% from 2018 to 2019. The median volume of Android app star ratings increased 108%.
Because the data above is based on absolute averages rather than number of reviews in the year, it's likely that the 2019 increases were impacted by:
Changes in publisher behavior. First, publishers reset their apps' all-time ratings and reviews more in 2018 than in 2019, which likely skewed the average numbers down. Second, there were more new apps published on the market in 2018, which could have drug down averages that then moved up in 2019.
Changes in Apple's behavior. 2018 was a chopping block year for Apple, which decreased the overall ecosystem numbers. We've watched them rebuild in 2019, which potentially contributed to the increases we see in the data.
Distribution of Star Ratings for iOS and Android Apps
Apps across both app stores saw changes to their total distribution of star ratings. From 2018 to 2019, iOS apps saw a 20% decrease in one-star ratings and a 7% increase in five-star ratings. During the same time period, Android apps saw a 14% increase in one-star ratings and a 3% increase in five-star ratings.
Ultimately, the data tells us ratings and reviews continue to play a major role in your app's growth long after consumers have found their way to your app store product page. They serve as social proof to indicate your app's quality in an otherwise blind evaluation process. And now, in both app stores, review recency matters more than ever before, which means being able to identify and activate your fans is critical.

Traditional ratings prompts can drive desired results for your app but, like most things, aren't a one-size-fits-all solution to your specific business needs. In order to truly understand customers, you need qualitative data to make sense of quantitative data, which doesn't happen without gauging sentiment directly through customer feedback.
For more on improving your app's ratings and reviews, check out Apptentive's 2020 guide Mobile App Ratings and Reviews: Where to Start and How to Win.