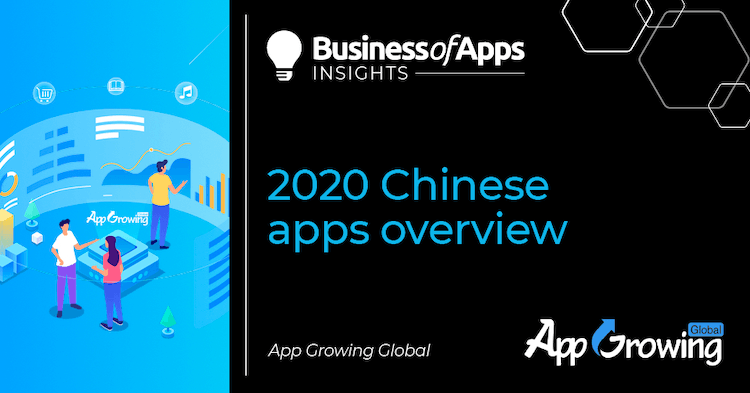 According to data of overseas Ad creative volume of the period from Jan to Oct 2020 provided by AppGrowing Global, Baijingapp selected the Top 100 Android non-gaming apps & Top 20 non-gaming app developers from China. Besides, a detailed analysis of the overseas performance of non-gaming apps from China in 2020 is also conducted from multiple angles.
Note: Ad creative volume is not perfectly related to overall adverting expenditure. However, it largely reflects the paid advertising intensity of apps and publishers.
With the ad budget cuts becoming the norm, which apps from China are doing advertising overseas?
First of all, the overall ad spend of the overseas market was shrinking in 2020. Take the US market for instance, according to data provided by Visual Capitalist, the total advertising spend from the top 100 national advertisers dropped by 13% compared to 2019, which is the steepest year-on-year decline during the recent decades.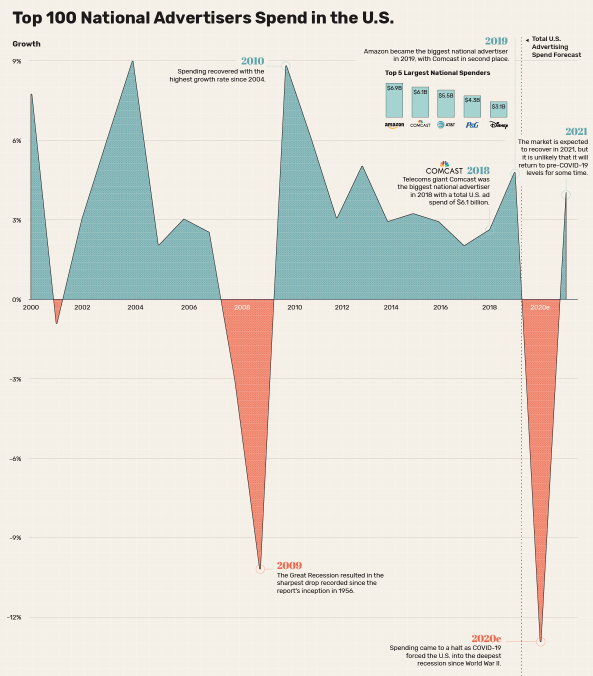 Source: Visual Capitalist
In terms of mobile advertising, eMarketer shows that in Mar 2020 when the epidemic was not that serious, US mobile ad spend was forecasted to grow by 20.7% versus a year ago. However, the year-on-year forecast growth deduced to 4.7% in June 2020.
Using our data at  AppGrowing Global, we analyzed the category distribution of the top advertising non-gaming apps and noticed that some radical changes.
2020 Top10 Ad Creative Volumes of Non-gaming Apps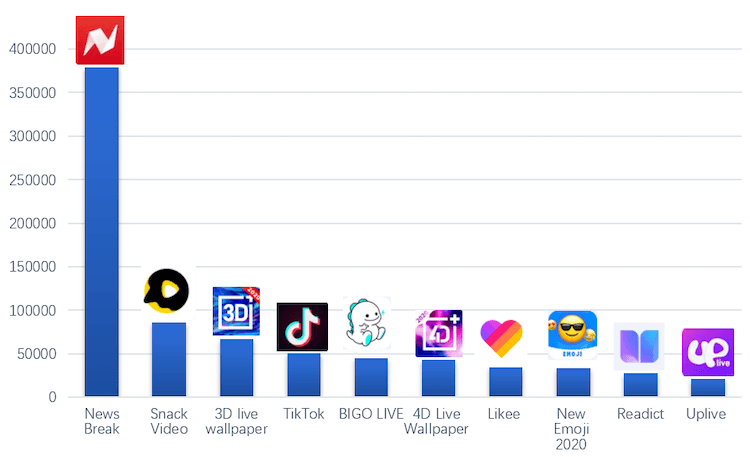 Source: App Growing Global
Categories of 2020 Top100 Ad Creative Volumes of Non-gaming Apps
Source: App Growing Global
The hottest category of non-gaming apps in 2020 is Reading apps
As we can see from the chart above, among the top 100 overseas non-gaming apps from China based on the ad creative volumes, 26 are reading apps. This distribution certainly has changed from last year when the hottest sector was short video editing apps.
Top3 Ad Creative Volumes of Reading Apps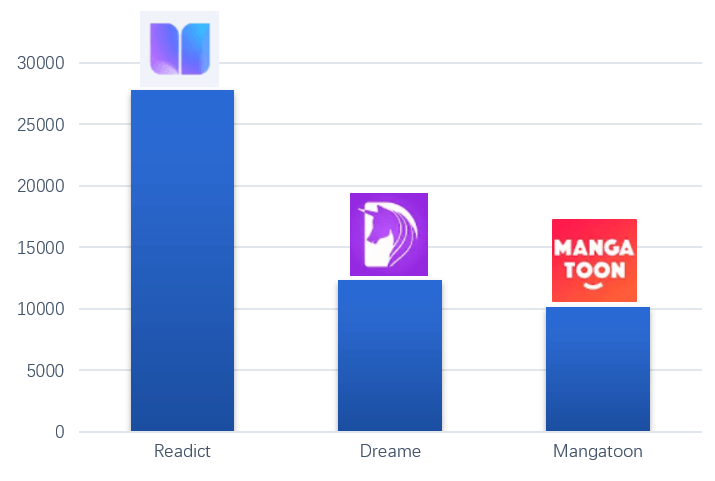 Source: App Growing Global
Video functions have become widespread in Social & Entertainment apps. The entertainment category is still a hot advertising sector
Except for Reading apps, the second & third hottest sectors are Social and Entertainment apps. It should be noted that the boundaries between social and entertainment are blurry, especially for live streaming apps.
Therefore, the ad creative volume of the Social & Entertainment apps featuring video functions is the biggest. In this article, live streaming apps without video chatting functions are classified as entertainment apps.
Top3 Ad Creative Volumes of Social Apps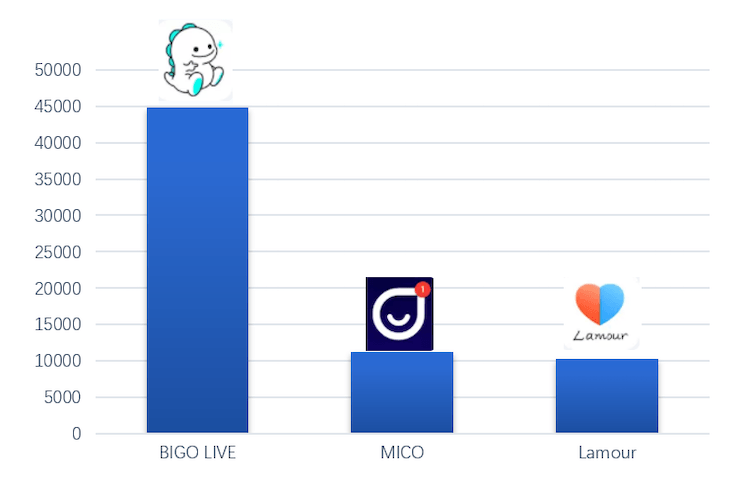 Source: App Growing Global
Let's take a look at Social apps first. There are 25 social apps on the Top 100 list, of which 84% have video chat functions that allow users to socialize with strangers. Among these 21 apps, some add live streaming features based on video chatting apps, and some do the opposite. For instance, Bigo Live is a live streaming app that can match strangers for random video chats.
Under the social category, there are top developers from both small innovative startups and giant app development enterprises, although the advertising performances are varied (this will be discussed in detail in the next article). But when it comes to the Entertainment sector, big enterprises seem to dominate the market.
Top3 Ad Creative Volumes of Entertainment Apps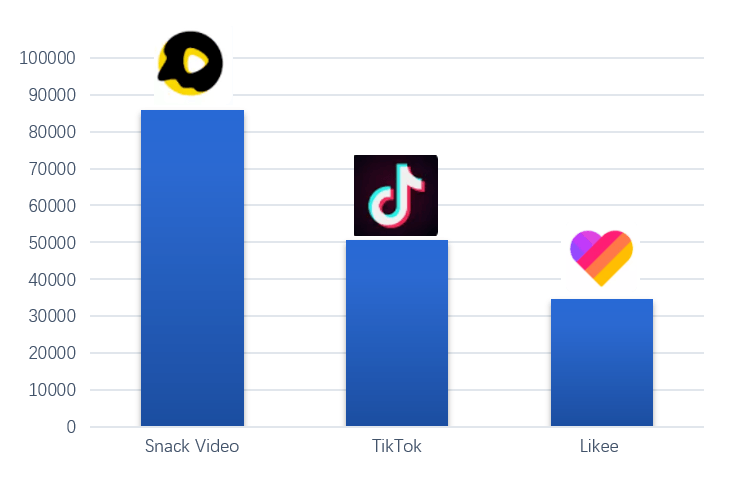 Source: App Growing Global
According to data from App Growing Global, the Entertainment category occupies 22 places in the Top 100 advertising list based on ad creative volumes. Among them, there are 8 short video apps, 8 live streaming apps, 3 long video apps, and 3 music-related apps (karaoke + streaming).
2020 Top 100 Category Proportion of Entertainment Apps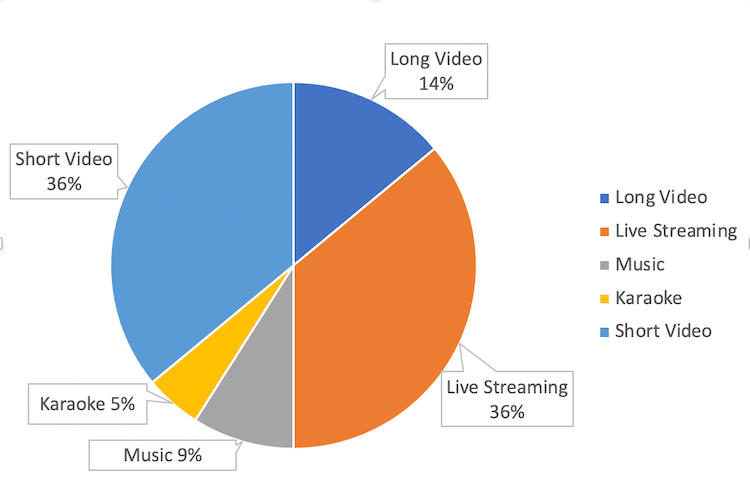 Source: App Growing Global
Among the 22 entertainment apps, 19 apps (86%) are from big app development companies. Kuaishou and Tencent each take 4 places. Companies like Kuaishou and Tencent are heavily investing in both app development and advertising.
App Proportion under 22 Developers of Entertainment Apps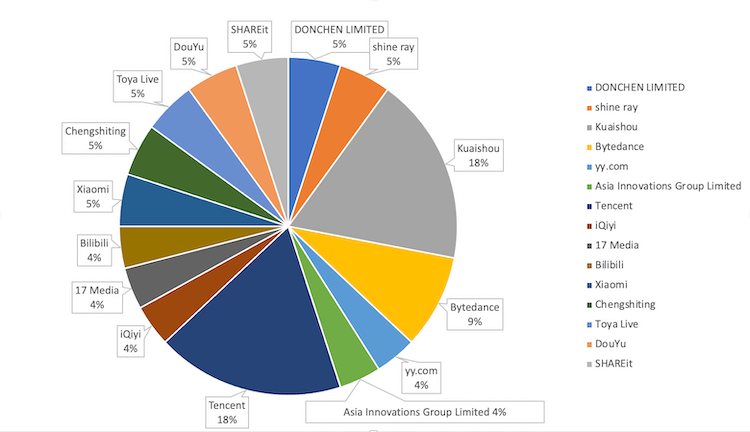 Source: App Growing Global
The performance of media buying activities of undifferentiated Video & Live streaming apps is getting worse
Driven by the epidemic, video chat, especially group video chat, has become a hit. This year we witnessed that the stock price of "ZOOM" soared, the launch of Facebook Rooms which supports 50 people chatting at the same time, and the rapid growth of Houseparty. Under these circumstances, a large amount of video chat apps increases investments in overseas mobile advertising.
As we mentioned earlier, a quarter of the Top 100 advertising non-gaming apps are sorted as social apps. Furthermore, 21 out of these social apps support video chat, accounting for 84%. A huge volume of ads is launched for live streaming and video chat apps, though the return on ad spend (ROAS) varies a lot.
For example, Uplive ranked 10th in the Top 100 adverting non-gaming app list with an ad volume of 21,000 in 2020. According to App Growing Global, a large amount of ad campaigns were launched for Uplive starting from Aug 2020 and hitting the peak in the period from mid-Sep to the beginning of Oct. 
The United States is the biggest ad market for Uplive as 16% of ad creatives were launched there according to App Growing Global. Part of the reason why Uplive is so active in this market is attributed to the success Bigo live achieved in the US market earlier.
Advertising Trend of Uplive Android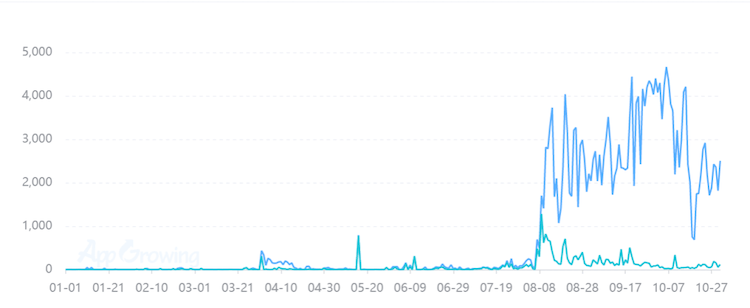 Source: App Growing Global
However, the ad exposure didn't help so much from the perspective of app store rankings. The highest rank of Uplive on Google Play Top App Ranking in the United States was 155th with a slight improvement in the last 90 days covering the period when the advertising volume hit the peak. Besides, Uplive didn't appear on the Top 100 non-gaming apps on Google Play. 
Which markets did big giants choose to launch ads for entertainment apps
Top3 Advertising Markets of Top 100 Entertainment Apps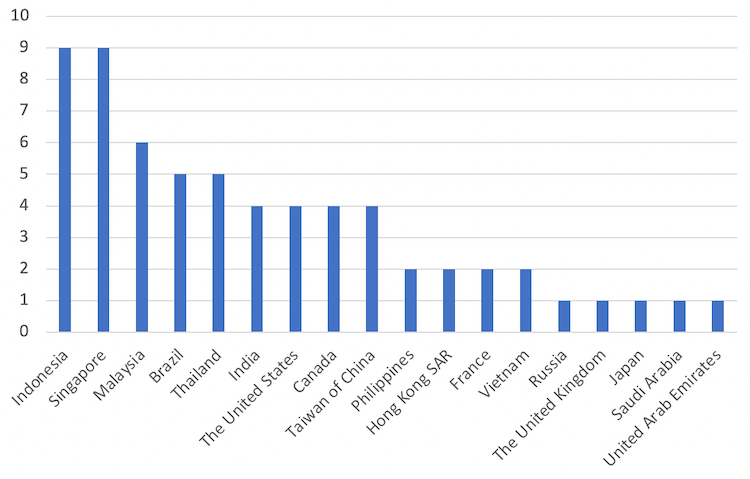 Source: App Growing Global
There are 22 entertainment apps on the Top 100 non-gaming advertising apps list. When analyzing the Top 3 advertising markets of each one of them with ad data collected by App Growing Global, we find that Indonesia and Singapore are the hottest markets for the entertainment category. Meanwhile, 4 out of the Top 5 advertising regions are Emerging Markets in this sector.
Top 3 Advertising Markets of Short Video Apps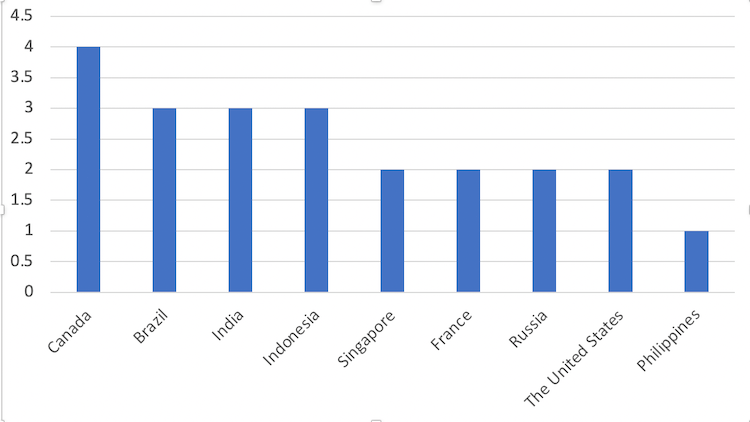 Source: App Growing Global
Short video and live streaming as the two hottest segments are quite different when it comes to target markets for advertising. Short video segment is dominated by giant companies with emerging markets as the current advertising focus, which can be revealed from the distribution of their ad spends. Although Canada is among the Top 3 markets for 4 short video apps on the list, none of them has the highest ad creative volume in Canada. It is more likely for them to use Canada as a testing market. 
On the contrary, their highest ad creative volumes all appear in emerging markets. However, each app seems to only concentrate on one specific market where we can see most of their ad creatives being used. Therefore, it's predicted that this year most short video apps from China would choose a single potential market to start overseas advertising.
For example, over the past year, Likee's biggest advertising market in Indonesia has more than twice ad creative volumes of second-placed market Russia.
Top 2 Advertising Markets of Likee

Source: App Growing Global
Similarly, last year TikTok shifted its focus to Russia, causing the ad creative volume in Russia is almost twice of the second-placed market Brazil.
Top 2 Advertising Markets of TikTok

Source: App Growing Global
Downloads of Snack video developed by Kuaishou are constantly higher than Tiktok in Indonesia where we found more than 71% ad creatives of Snack video.
Top 2 Advertising Markets of Snack Video

Source: App Growing Global
Emerging markets have a large user base and high demand for short video apps. However, due to the low user value in emerging markets, it is difficult to make profits out of the current monetization models, which also increases barriers for some small players. Therefore, especially in emerging markets, the competition in the short video apps segment may still be dominated by large enterprises.
But when it comes to live streaming apps, the situation is slightly different. Among the top 3 markets where live streaming apps were advertised, Malaysia and Taiwan made the most appearance. Three apps have Taiwan as their primary target market with the highest ad creative volumes.
Top3 Advertising Markets of Live Streaming Apps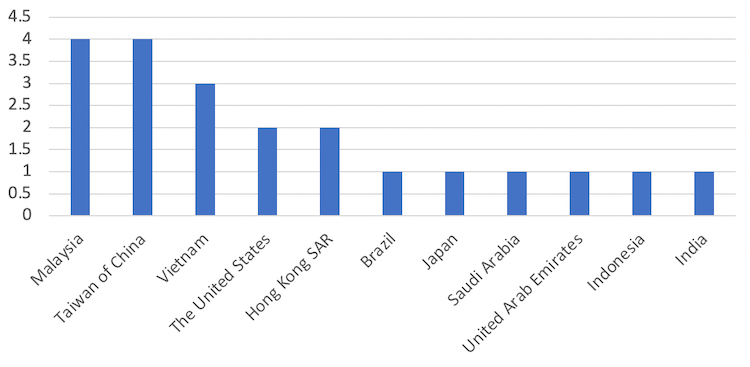 Source: App Growing Global
In addition, Uplive's primary market is the United States. Toya live takes Saudi Arabia as its main market. Nimolive of Huya and Nonolive of Douyu are mainly advertising in Vietnam and Indonesia respectively. Overall speaking, compared to short video apps, live streaming apps with an intuitive business model are more inclined to place ad spend in markets with higher user value.
Finally, let's take a look at long video and music apps (including the only karaoke app ). Long video and music apps have two characteristics in common. Firstly,these two segments are both dominated by giant companies. Three main players in the long video app field are iQiyi, Tencent, and Bilibili; of the three music apps, two are supported by Tencent, and the other is Resso under Bytedance.
Secondly, target markets of long video apps and music apps are mainly concentrated in emerging markets with Indonesia being the primary one, except Bilibili whose Top 3 advertising markets are Taiwan, Hongkong, and Malaysia (mainly for the Chinese group). Southeast Asia is currently the most popular market for long video and music apps.