Tata Sons Pvt. Ltd. unit, Tata Digital, rolled out India's first super app, Tata Neu.
Chairman of Tata Sons, N. Chandrasekaran, announced a super app launch, Tata Neu on LinkedIn, a professional networking website.
"It is a Neu day today! Tata Digital, the youngest member of the Tata family, brings you Tata Neu today. Tata Neu is an exciting platform that gathers all our brands into one powerful app," Chandrasekaran wrote.
Tata Neu facilitates the users to shop across varied categories ranging from groceries to hotels, goods, and more, combining every brand of the Tata group under one umbrella.
Additionally, this super provides a suite of financial services, embracing UPI payments, loans, insurance, bill payments, etc.
Well, there's much to know about the Tata Neu app.
Keep reading!
What Is Tata Neu From Tata Digital?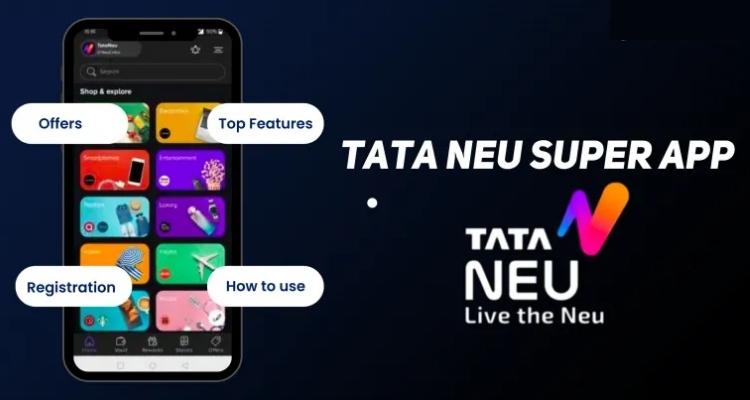 A world of rewarding experiences for customers, Tata Neu is a super app expanding worldwide. It facilitates travel booking, shopping, financial services, bill payments, rewards, exclusive offers, etc.
You can order groceries from BigBasket, shop the trending fashion from Westside and Tata Cliq, upgrade electronics with Croma, book AirAsia India flights, order lip-smacking food from Qmin, and reserve your stay at IHCL, much more.
Also, you can manage your Tata Play subscription, book AirAsia India flights, and meet your healthcare needs through 1mg on the Tata Neu app.
To secure app access, one can log in to the app through their name and mobile number and use the device's biometrics, like face ID on iPhones and fingerprint sensors on Android phones.
10 Things To Know About The Tata Super App Neu
On Tata Neu, you can access some amazing offers across various brands, such as AirAsia India, Croma, Tata CliQ, Croma, and more.
To ensure that you catch up with all the best offers from your favorite brands, the Tata Neu will share them before their availability. This way, you can grab the offers before they go out.
Through NeuPass, this super app will offer rewarding experiences to its customers. Once your NeuPass membership gets activated, it opens up a stack of benefits that would appear as a matchless experience that you have never witnessed.
You will earn at least 5% NeuCoins on every purchase on Tata Neu. You can use these global rewards points on the super app and partner brand. One NeuCoin is equal to one rupee. You can use them while booking flights and hotels, shopping, ordering food and groceries, and more on the Tata Neu app.
You can earn limitless NeuCoins and use them in your transactions; there is no limit. On shopping with TataCliQ on Tata Neu, for every ten thousand rupee expenditure, you will earn:

40 NeuCoins for Beauty
15 NeuCoins for Electronics
25 Neucoins for Luxury
40 NeuCoins for Fashion

Besides, this super app also provides a host of financial services. It can assist you in managing your finances and planning them as well. You can use this app to pay your bills and get instant access to funds in credit lines and personal loans format.
Other brands that fall under this group's portfolio, incorporating Air India, Tanishq, Tata Motors, Vistara, Titan, and Tata Motors, will soon join the app, said Chandrasekaran.
Also, using this super app, you can send money to your friends and family and whosoever you want directly to their bank account from yours using Tata Pay UPI.
Moreover, on TataNeu, you can secure your assets and increase your wealth through insurance plans customized specifically for you.
NeuCoins you earn will hold the validity of 365 days post your last transaction, including the use of NeuCoins or an eligible earn. The expiry of the NeuCoins will be mentioned at the issuance time.
Future Of Super App
As per the predictions, we can expect the super app trend to last for the next decade or even more.
As Google attained fame for organizing the globe's information better, Tata Neu, a super app, will manage the consumer's world better.
The app launched at the right time when customers' shopping behavior was changing, during the pandemic, making people buy online.
Moreover, the eCommerce market of India is all set to reach around $88 billion by FY25, ruling about 8% of the entire retail market.
In fact, various categories like grocery and food are likely to touch approximately $28 billion.
Currently, Tata Digital is in talks to increase funds from external investors to scale the super app up and allot a different value to it.
Recently, Tata Sons infused about Rs 5,882 crore into Tata Digital, the highest collection one invested in eCommerce in any single fiscal year.
Conclusion
Super apps emerge to benefit the customers with varied offerings under one roof. Moreover, it saves the storage and memory of smartphone apps by providing different services in a single spot. So, there's no need to download separate apps for every individual service.
However, this app has been under testing internally for more than six months.
Still, on its first day of launch, users complained about various issues on Tata Neu, such as slow app loading speed, app glitches, and login issues.
Although it has mended the things over the weekend only, we can be sure at this edge as Tata holds enough skilled resources who can work hard for days with sleepless nights to get the desired outcomes.
You can hire an excellent app development company like Emizentech to ensure you get your hands on a fully-functional and feature-packed app that meets the demands of your users.
At Emizentech we are proficient at creating unique mobile apps. You can reach the company at the following mail.