Music streaming has its roots in the peer-to-peer file sharing industry. Napster, Limewire and BitTorrent were at the forefront of changing the way people thought about music, and while they only lasted a few years before being taken down for unauthorised use of copyright material, it moved the industry towards new forms of accessibility.
Apple's iTunes store and iPod launched in 2001 and the success of the device was seen as a potential step forward from Napster, which had been forcibly closed down that same year, however, the internet was still rife with free music downloaders.
By the mid-2000s, Pandora and Spotify had both launched, which both tried to reshape the cost of music. Instead of paying for the song, Pandora and Spotify would pay a much smaller amount per stream to the record company.
This fundamentally changed how music is valued. Instead of sales, the emphasis was on repeated listens and getting a song in a popular playlist or radio station. The music industry shunned the new platforms at the start, with several artists blocking Spotify and Pandora from using their material.
YouTube also got its start in 2005 and by 2010 it was the most popular video service in the world, overtaking MTV and other channels as the premier place to watch music videos. Major music labels launched VEVO in 2009 as a way to control the distribution and revenue share of music videos on YouTube.
Even with the poor reception from the music industry, YouTube, Pandora and Spotify continued to grow in users. But it wouldn't be until the mid-2010s that music streaming became the dominant revenue generator for music labels, surpassing physical and digital.
Apple Music launched in 2015, further verifying streaming as the future of digital music.
In 2021, music streaming is far ahead of other forms of music distribution, however this has led to some artists losing income and having to find new ways to stay relevant. For some, that means more tours, merchandise and other fan interactions.
We have collected data and statistics on the music streaming sector. Read on below to find out more.
Key music streaming app statistics
Music streaming apps generated $43.3 billion revenue in 2022, a 15% increase on the year prior
Almost half of all music streaming app revenue was from the US
Spotify is the most popular streaming service in terms of subscribers
In terms of overall usage, YouTube is far ahead with 2.5 billion users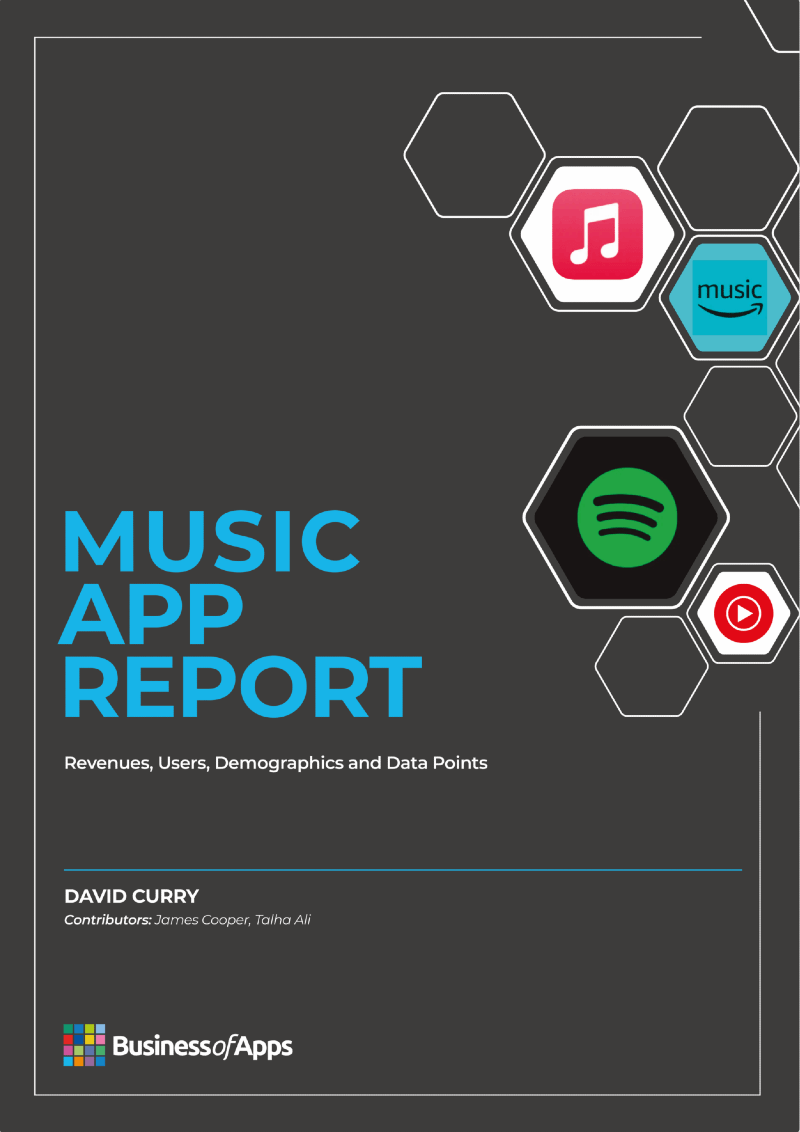 Music App Report 2023
Want to learn more about the music app industry? In our Music App Report, we cover financials, usage, downloads, and demographics by app and industry, alongside market share, engagement, and benchmarks.
Top music streaming apps
Title
Description
https://www.businessofapps.com/data/spotify-statistics/
Spotify
The most popular music streaming platform in the world, with over 350 million users and 150 million subscribers
https://www.businessofapps.com/data/apple-music-statistics/
Apple Music
Once the leader in digital music, Apple Music is behind Spotify in overall users but ahead in some countries
https://www.businessofapps.com/data/amazon-statistics/#:~:text=Source%3A%20Variety-,Amazon%20Prime%20Music%20users,-Prime%20Music%20has
Amazon Music
Amazon has quietly built up its userbase through Amazon Prime subscribers, with 55 million using the service
https://www.businessofapps.com/data/youtube-statistics/
YouTube
Far ahead of all others in total usage with two billion users, but behind Spotify and Apple in paid subscribers
https://www.businessofapps.com/data/pandora-statistics/
Pandora
One of the oldest streaming platforms still going, popular in the US with car drivers as an alternative to radio
https://www.businessofapps.com/data/soundcloud-statistics/
SoundCloud
A popular streaming platform for independent and undiscovered artists, which has seen limited monetary success
https://www.resso.com/in/
Resso
TikTok-creator ByteDance's music service has gained popularity in Brazil, India, and Indonesia
https://tidal.com/download
Tidal
Once marketed as the pro-artist music streaming platform, it is now owned by payment processing firm Square
https://www.tencentmusic.com/en-us/
Tencent Music
Tencent has three apps in China for music streaming: KuGou, QQ and Kuwo, which are the leaders in the category
https://gaana.com/
Gaana Music
India's most popular music streaming platform, with 185 million monthly active users
Music streaming revenue
Revenue from music streaming has increased every year since 2010. From 2014, it grew at an average rate of 43.9% and is the primary revenue source for music labels.
Global music streaming annual revenue 2012 to 2022 ($bn)
Music streaming annual revenue in United States 2015 to 2022 ($bn)
| Year | Revenue ($bn) |
| --- | --- |
| 2015 | 2.3 |
| 2016 | 4 |
| 2017 | 5.7 |
| 2018 | 7.3 |
| 2019 | 8.9 |
| 2020 | 10.1 |
| 2021 | 12.4 |
| 2022 | 13.7 |
Sources: RIAA, Music App Report
Music streaming income vs other formats
Music streaming is the dominant format in the US, with 83% of revenue coming from the format. Percentages are lower in Europe and Asia, although all countries are increasingly adopting streaming as their primary format for music listening.
Music streaming revenue in United States by format 2022 (%)
Music streaming marketshare
Spotify is the platform for about a third of all music streaming listeners worldwide, with Apple Music in second place. Tencent and Netease are the two key platforms in China, despite Spotify and Apple Music not being blocked by the Chinese government.
Global music streaming marketshare by subscribers 2022 (%)
Music streaming subscribers by app
As one of the first music streaming platforms, Spotify had over 50 million subscribers before Apple had launched its own platform. It has kept this lead, although marketshare has declined as more services have launched.
Music streaming subscribers by app 2016 to 2022 (mm)
Music streaming users by app
In terms of usage, YouTube is far ahead of other platforms, with two billion active users who listen to music. Tencent's various music platforms in China have over 800 million users, while Spotify free and paid users total 381 million.
Music streaming users by app 2022 (mm)
More Music & Audio App Data