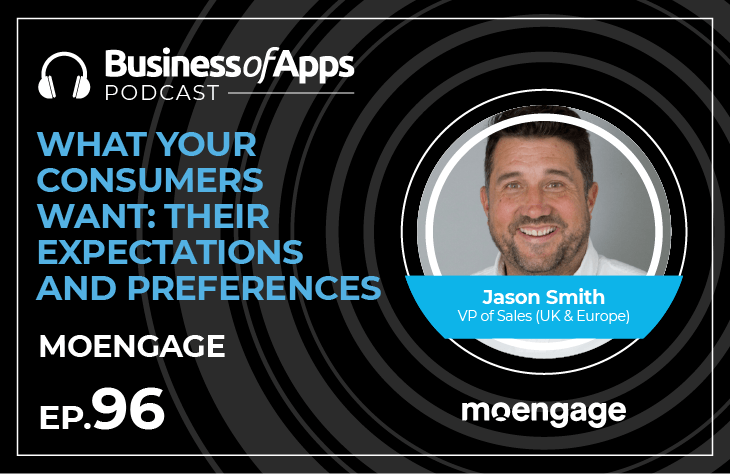 There is a good, very well-established principle in marketing – know your customers. Whatever app you need to market, your first priority needs to be to get to know people you'll be marketing your app to. It is how you will be able to find places online where to approach them, what ad creatives to use, and what tone of your ad should be to speak their language.
You need to answer the following question for yourself – what do your customers want?
Well, this is the question that is at the basis of the MoEngage, the leading customer engagement platform, recent research, built on the survey data gathered from 1,000 consumers in the United States, Canada, UK, and Germany.
Today's Topics Include:
Being a true tech geek in heart, Jason went a long way from being a software engineer in times when mainframe computers were a thing to  becoming VP of Sales in a leading mobile engagement platform
The major unexpected insight that came off the report is that people want both don't want to be tracked online and yet ads they see are personalized
The key figure from the report: 21% of consumers from North America and Europe have adopted mobile apps for shopping, 33% of North American and European consumers prefer email for communication.
What frustrates customers and how it varies between women and men
Kind of messages that help solidify brands' relationships with customers
Most popular value-added services
Top 3 preferred communication channels
How shopping behavior has changed since COVID-19 hit the world in 2020
New communication channel(s) adopted by consumers
What side of the Android & iOS duopoly Jason is? iOS
First mobile phone owned by Jason – the early Panasonic model available in 1988
What features would Jason miss most leaving his smartphone at home? A constant buzzing in his pocket caused by a stream of notifications
What new app technologies is Jason most excited about? Nothing really, everything is cool as it is.
Links and Resources:
Quotes from Jason Smith:
"What was really interesting in this particular research is how tuned in is consumers are when it comes to their data and how it's best used for personalization. And the expectation is that it's still 50% of customers or consumers that were surveyed still expect their message to be personalized based on their interests or behavior.
Inconsisent messaging really annoyes people, when men being targeted with female messaging and vise versa.
If you look at North America and Europe, 21% now have adopted a mobile app and email as new digital communication channels."
Follow the Business Of Apps podcast