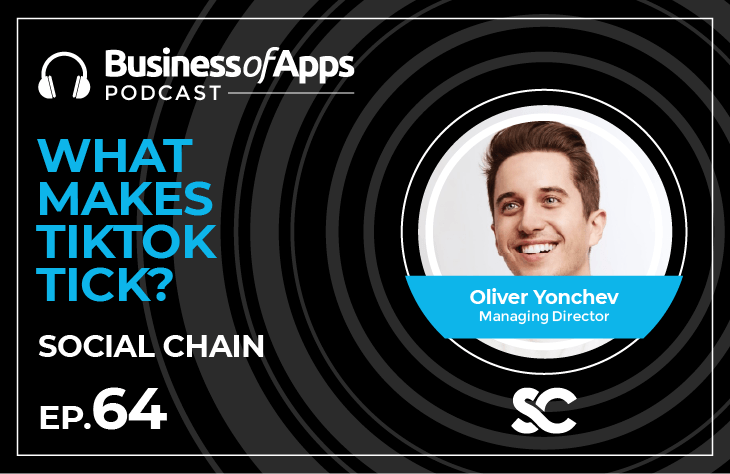 On this week episode we continue our coversation about TikTok and this time we're taking a close look at factors that have been fueling its exponential growth within just a couple years.
Today's guest is Oliver Yonchev, Managing Director at Social Chain, which uses media, marketing, and technology to build brands. Oliver talks about what makes TikTok tick.
How does the most successful Instagram and YouTube rival make its magic?
Today's Topics Include:
✔️ Social Chain: Social-first marketing services business (i.e., insights, strategy, creative)
✔️ Social Chain's Philosophy: Help brands stay at the forefront of what's possible
✔️ Vanity Ticks of Marketers: Trend on Twitter, go viral, and reach lots of people
✔️ Business Goals: Social Chain specializes in delivering results
✔️ Social Media Progression/Evolution: People still like the magic that is virality
✔️ Acknowledgement: Going viral and trending is not a predictable strategy
✔️ TikTok Numbers: Downloaded over 2-billion times and over 1-billion active monthly users
✔️ TikTok Users: Average user (not the crazy user) spends 52 minutes a day on the app
✔️ Demographic Data: Brands can benefit from but are slow to adopt platform and channel
✔️ Secret Sauce: Investment, user experience, unique algorithm, the current state of COVID
✔️ Myths/Memes: It's all kids, dancing, cute pets, and short-form content with no value
✔️ Top Tips: Try it, create with no ego, be native, put people over product, be intentional
✔️ Android or iOS? iOS
✔️ What apps and features would Oliver miss most? Diary and email
✔️ What is missing from mobile app technology? Augmented reality
Links and Resources:
Quotes from Oliver Yonchev:
"Keeping brands at the forefront of what's possible is really about helping unpick social media, find opportunities, and develop impactful strategies that really anchor to business goals."
"People still like the magic that is virality. This idea that you can create something, not pay a lot of money and reach tens of millions of people, is always going to be attractive."
"Going viral, trending is not strategy. That is a consequence of fortune, doing the right things, and having good values and great work. You can't predict it."
"If you have a product or a service that appeals to someone under 40 years old and they use it, and you're not using TikTok, you're missing out."
Follow the Business Of Apps podcast