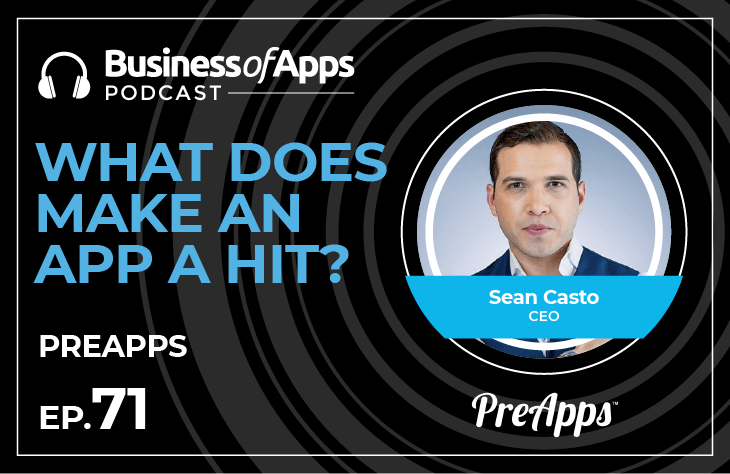 In the 1980s, the world was all about personal computers. In the 1990s, computer games became a thing. Starting in 2009, the last decade has been about mobile apps. Why do apps either have a short lifetime and fail to find space in people's lives, or are spectacularly successful because of implemented systems, processes, and frameworks?
Today's guest is Sean Casto, CEO at PreApps. Sean talks about the past, present, and future of the app marketing business. PreApps's mission is to continue to be the #1 app marketing agency that provides world-class services designed to help launch and grow app businesses.
Today's Topics Include:
✔️ Launch Status: Development was fairly easy, but marketing to consumers was more difficult
✔️ Why start PreApps? Support and implement the same systems, processes, and frameworks
✔️ PreApps Mission: Continue as #1 app marketing agency providing world-class services
✔️ Positive Impact: PreApps does what it does to transform the world for the better
✔️ People's Needs: Same fundamentals, always wanting app marketing roadmap and path
✔️ Common Traits: Successful app businesses have two basic principles around customers
✔️ How does app destruction work? Pure innovation and ability to adapt to changes
✔️ App Business Owners: Fall in love with users, not products to solve their problems
✔️ App Growth Marketing: Hacks are not sustainable, make app unique and irresistible
✔️ Pre-interested, pre-motivated, pre-qualified, and predisposed? Download app instantly
✔️ Virility and Retention: Apps don't really go viral by accident, there's a science to it
✔️ Win-Win Referral System: Incentives cause conversations, which lead to referrals
✔️ How apps make money? Value Ladder – combine every business model to make profit
✔️ App Features in the Future: Innovative technologies (i.e., cryptocurrency, AI, privacy)
✔️ Android or iOS? iOS
✔️ What app features would Sean miss most? Calendar
✔️ What is missing from mobile app technology?
✔️ Hardware: Make it thinner and lighter
✔️ Technology: Remove notifications and other distractions
Links and Resources:
Quotes from Sean Casto:
"Everyone was so passionate and excited about the products they were creating, but unfortunately, 98% of them failed to be discovered."
"It still continues to be the wild, wild west as Apple and Google algorithms continue to figure things out and adapt with modern times."
"Any successful app business really comes down to two basic principles: 1) Attract high-quality,  high-value customers at an affordable cost, and 2) Retain, nurture, and grow the value of your customers."
"Growth marketing is really the process of driving your users to your app to download your app and purchase what you're offering while increasing the appreciation of your app in the process."
Follow the Business Of Apps podcast