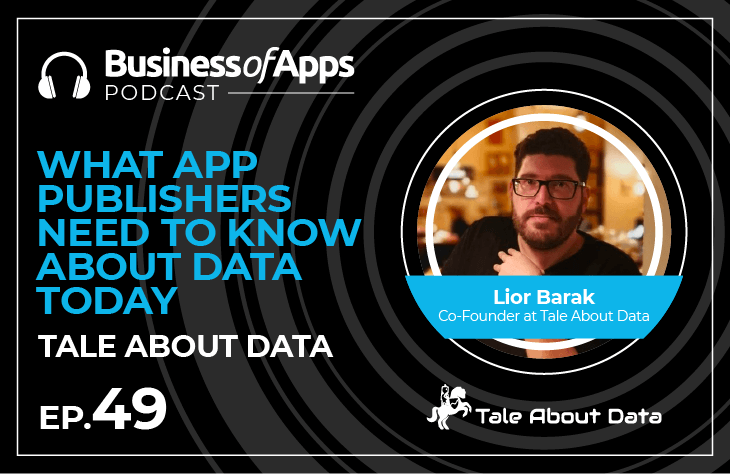 App data – how much does this notion actually tell you? It's been one of the most popular catch phrases but it seems its popularity doesn't really match its comprehension.
For the past 12 years, Apple has been establishing a huge mobile ecosystem with millions of developers building apps for iOS. What allows all those developers to build successful app businesses? Data for their app's performance on the market.
Today's guest is Lior Barak, author of Data is Like a Plate of Hummus and podcast host of WHAT The Data?! Lior talks about what app publishers need to know about data, today. Data runs the world and drives decisions.
Today's Topics Include:
✔️  Lior's Book: Data is Like a Plate of Hummus (a tasty dish that you can enjoy)
✔️  Data strategies should consist of five ingredients to collecting and storing data
✔️  WHAT The Data?! Lior's podcast covers various topics—from fake AI to privacy
✔️  Fate of iOS 14?
✔️  Happy that Apple's taking initiative, not being forced to do so
✔️  Disappointed by industry's reaction to Apple's privacy update
✔️  Data for App Publishers: Serve the user; user does not serve them
✔️  ROI: Focus on features, not revenues
✔️  KPIs: One size does not fit all or always scale; depend on needs, business, and growth
✔️  Analyze and Optimize: Fix mistakes made collecting data by understanding users
✔️  Android or iOS? Android
✔️ Favorite App(s): Vivino wine app
✔️  What's Lior looking forward to with app technology in the future? Holograms
Links and Resources:
Tweets/Quotes by Lior Barak:
"Be a little more relaxed when using data. This is our biggest problem as we go forward in this industry."
"Data is Like a Plate of Hummus—a tasty dish that you can eat and that you can enjoy."
"We have so much data out there that is collected and stored, but the reality is, we can't make sense of all of it."
"With using data, with understanding your user, you will be able to actually give them a much better product, much better features, instead of focusing on your revenues."
Follow the Business Of Apps podcast