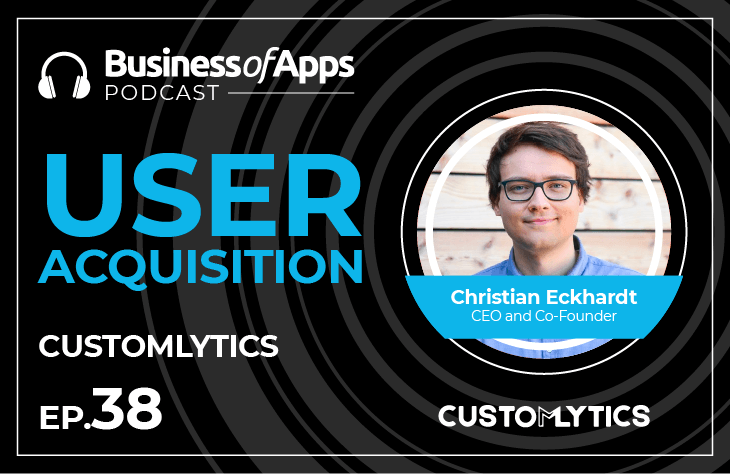 Conversations between app marketers often focus on user acquisition (UA) and if you happen to be listening to savvy app marketers, you may listen them discussing a conundrum – when it comes to a particular app marketing, turns out there's either not enough or too many choices to acquire mobile app users.
To resolve this puzzle, app marketers need to know what app user acquisition channels do work right now. So you need the expertise of somebody who's been keeping his or her hand on the pulse of various app user acquisition channels that have been pop up over the years.
Today's guest is Christian Eckhardt, CEO and co-founder of Customlytics. Christian shares practical advice on how to choose user acquisition channels, UA campaign optimization, how to add a new channel right
and more.
Today's Topics Include:
✔️  Mobile App Marketing: Track, measure, and optimize data efficiently to acquire users
✔️  CRM: Once users are acquired, retain them
✔️  Customlytics: Stays true to its core of making mobile marketing successful
✔️  Bottom Line: Pay attention to where users are spending their time
✔️  UA Channels: Social, search, and programmatic advertising space
✔️  App's Lifecycle: Start with mainstream channels, then narrow down to niche ones
✔️  Essentials to Execute: UA campaign app store optimization (ASO), KPIs, and mistakes
✔️  Touch Points: How and when it is appropriate to add channels and creatives
✔️  TikTok Thoughts: Brands should use platform to launch app campaigns and ads
Links and Resources:
Quotes by Christian Eckhardt:
"I went through the good school of touching every aspect of mobile marketing."
"You have to be where the attention of the user is."
Once users are acquired, retain them.
"What is actually influencing all those different metrics or KPIs?"
Follow the Business Of Apps podcast