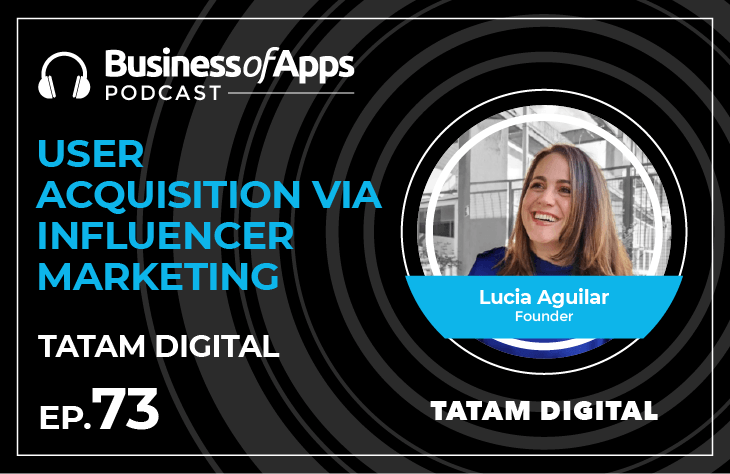 It's mostly certain that many of you may being following so-called influencers on social media. You may follow Kim Kardasian or The Rock on Instagram or one of the came-out-of-nowhere girl or guy on TikTok who turned out to be so cool. And every once in a while you may even buy something that they introduced you to in videos. In other words – you know what is Influencer marketing first hand.
By now – it's a huge industry.
On this episode we have Lucia of TATAM.digital influencer marketing agency to tell you about why and how this brand new kind of online marketing can help you
acquire users for your beloved app.
Today's Topics Include:
✔️ Lucia's path from Unilever to own influencer marketing agency to promote mobile apps
✔️ TATAM.digital – influencer marketing with focus on performance to advertise subscription-based mobile apps
✔️ Influencer marketing KPIs tracking is real. Full stop.
✔️ Influencer marketing powers incrementality for a mobile app user acquisition. It provides less intermediary steps between a person's intent and an instance of a mobile app download. 
✔️ Influencer marketing works for any kind of a mobile app.
✔️ Influencers can give future app users the best video intro that will make it crisp and clear what the app is about and how to use it.
✔️ In the world of iOS 14.5 Influencer marketing has a leg up against social media ad platforms and networks – it does not imply collecting and using mobile app users personal data.
✔️ As time goes by, more and more companies jump on using Influencer marketing to acquire users but still – marketers may don't use analytical tools to track Influencer marketing campaign performance
✔️ Scammers continue to muddy the water of Influencer marketing and this is what Lucia would really love to see going away.
✔️ iOS vs. Android: iOS
✔️ First mobile Lucia owned was Alcatel T-331
✔️ The mobile tech Lucia can't live without is Apple Pay. No cash. Mobile payments only.
Links and Resources:
Quotes from Lucia Aguilar:
I think they (people who believe it's impossible to track KPIs for Influencer marketing) like 60 years behind.
Great influencers are great content creators and communicators.
I haven't found one (an app category for which Influencer marketing doesn't work)
Follow the Business Of Apps podcast