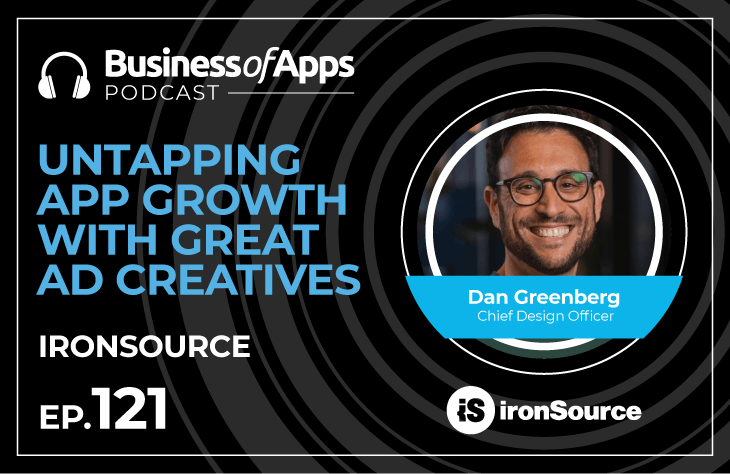 You've seen these great videos from Apple they tend to start with the WWDC event every summer, right?
Both indie app developers and big app powerhouses get a chance to share a bit of their experience of building an app business.
Do you know what's in common for such a broad spectrum of app developers? In one word – growth. The scale can be very different but the necessity to grow their user base is always there.
It's 2022 – pandemic, recession, wars, iOS 14.5, a huge competition, how do you grow your mobile app in this environment? Ad creatives are one of the answers, it may sound trivial to you but that's only when your ads do work when they do generate sales and revenue. When they don't – I bet you don't think it's trivial that a good ad can bring you sales.
In this episode, we've got Dan to tell us about the role of quality ad creatives in mobile app growth.
Today's Topics Include:
Born in Tel-Aviv, graduated as a graphic designer, and joined ironSource pretty much from day one to grow to its Chief Graphic Designer
What is in today's app marketer's toolbox
What makes an ad creative, pun intended, to click with people
What makes a mobile app's UI cool for Dan
Android or iOS? iOS on iPhone X
What features would Dan miss most? Easy – WhatsApp 🙂
What's missing from mobile app technology? More advances for AR and VR
Links and Resources:
Quotes from Dan Greenberg:
"4 years ago when apps and games were doing user acquisition, most of the creatives would imply investing a lot of money to create a kickass like the trailer but that would be just one creative. "
"In the end, creative, and you can say for some extent marketing, is something that we are always trying to quantify and turn into something that is machine-lead. "
"There are a lot of ads that take it to 11, meaning everything is exaggerated. If it's a game, for example, it would be something that looks epic and could be way more than the actual game."
Follow Business Of Apps podcast