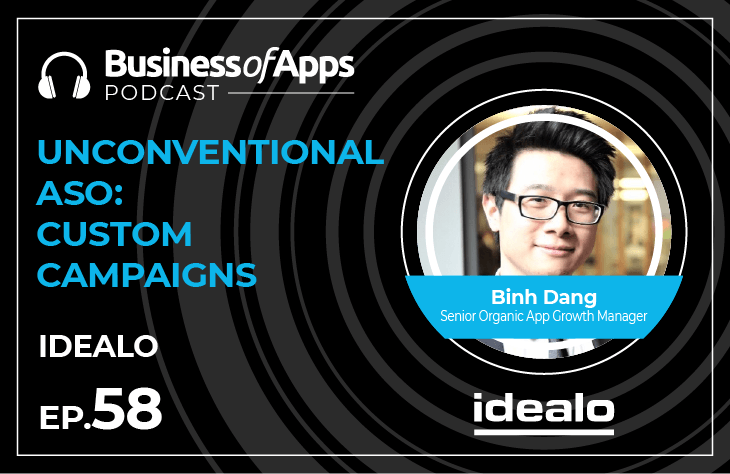 How do people discover mobile apps these days? Via a built-in search on the App Store and Google Play, about 65% of app downloads are powered by search. The other route – online ads in your Instagram feed, on YouTube, on TikTok, Snapchat, Twitter, Readit and on and on.
How do app marketers take advantage of search as an app marketing channel? Right – they do the App Store Optimization (aka ASO). But do you wonder if you're doing everything what is possible to do with ASO?
Today's guest is Binh Dang, Senior Organic App Growth Manager at Idealo will answer that question for you. Binh talks about his ASO custom campaigns concept. Find out what you're missing!
Today's Topics Include:
✔️ App Growth Marketing: Binh's two favorite things—games and marketing
✔️ Idealo: Leading price comparison online shopping platform in Germany
✔️ Idealo's Mission: Save money and buy stuff without causing damage to the environment
✔️ Standard ASO Steps: One-way road or repetitive loop processes for app store assets
✔️ Pros/Cons: Efficient system, a scientific testing method for improvements; diminishes ROI
✔️ Specific Purpose: ASO custom campaigns are short-term, story-driven sprint of activities
✔️ ASO Campaigns: Product marketing, seasonal promotion, brand communications, and extracurricular activities
✔️ Mistakes: Bad timing, confusing communication, and radical application of new method
✔️ Key Takeaways:
Talk to your peers across channels and departments
Use different processes in different contexts
Create campaign timeline and plan in advance Android or iOS? Partial to iOS, but prefers to be Android
✔️ Favorite mobile app(s)? Google Calendar
✔️ What technology would Binh find useful for everyday life? More wearable devices
Links and Resources:
Binh Dang on LinkedIn

Binh Dang's Email

Idealo

Quotes from Binh Dang:

"We help millions of users, mainly inside of Europe, make smarter shopping decisions. We will continue to reach out to more to advocate a more affordable and also sustainable lifestyle."

"A customized ASO campaign can be seen as a short-term, story-driven sprint of ASO activities."

"I have to be flexible enough with my ASO activities to serve multiple different purposes. So, when a new opportunity arises, I can capture it."

"I have at least four major types of campaigns. They basically serve four different purposes, and they answer four different types of strategic questions that users may ask."

Follow the Business Of Apps podcast