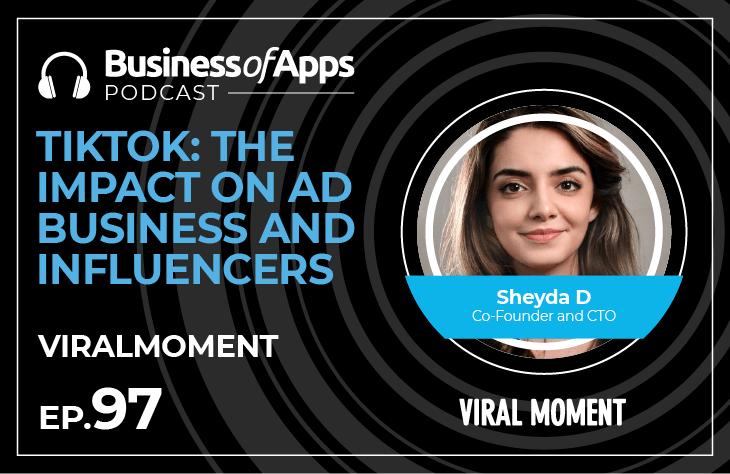 On one hand, ask your teenage daughter how her girlfriends spend time, quite often including school time, and she will tell you "well, they are fooling around with TikTok".
On the other hand, ask any brand marketer about TikTok and she or he will tell you whether they already use its advertising platform, try to go with it natively, or consider using it. So for the latter case wouldn't be great if there was an analytical tool to tell you what's trending on TikTok?
Well, lo and behold there is one and it's ViralMoment and we have Sheyda to tell us all about it.
Today's Topics Include:
Being a software engineer by training and liking to tackle hard problems, in early 2021 Sheyda was introduced to the idea to develop an analytical tool to measure video virality on TikTok subjectively, outside of the silos that the platform creates for individual users
What is ViralMoment
Does TikTok replace other ad platforms or compliment them for brands?
How does TikTok influence consumer behavior?
What is TikTok's impact on Influencers?
How ViralMoment can help to mitigate TikTok's externalities?
Sheyda's overall assessment of TikTok's impact on society
What side of the Android & iOS duopoly Jason is? iOS
First mobile phone owned by Sheyda – Nokia mobile phone with everyone's favorite Snake game on it 🙂
What features would Jason miss most leaving his smartphone at home? Not being able to get in touch with people, it's not about a specific app but the function
What new app technologies is Jason most excited about? More tech that would regulate smartphone usage (Think Siri telling you you should spend more time off your smartphone)
Links and Resources:
Quotes from Sheyda D:
"Back in January 2021, my co-founder Chelsey came to me with the idea for ViralMoment. She's been working in the Social Listening industry for a while and noticed that there was really no solution for visual-based social media.
We also work with non-profit organizations and we are also currently working with a research group out of Carnegie Mellon centered on identifying hate speech on TikTok.
If you are trying to buy a pair of shoes and I see a billboard for Nike – that is an advertising and once my friend tells me I have this pair of shoes, these are great! Which ones am I'm gonna left with? I'm gonna buy the ones my friend told me to. It's the same on TikTok – you're looking at these people as a part of your community that is telling you about what they are using."
Follow the Business Of Apps podcast