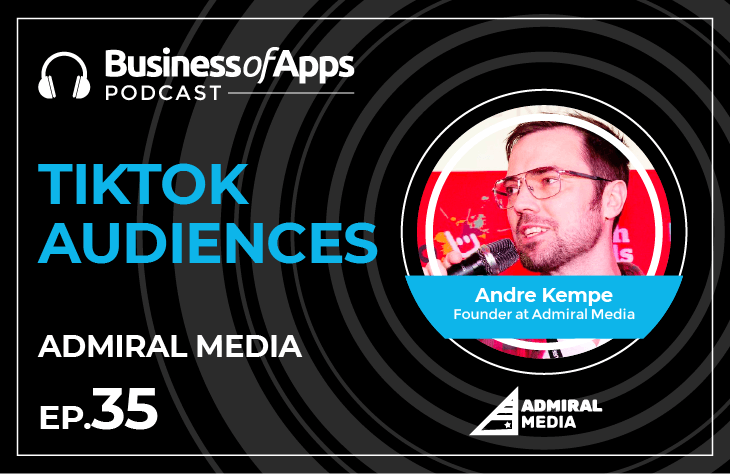 Are you on TikTok? Who isn't on TikTok? Although it's popular with younger audiences, it is possible to attract multiple generations with TikTok's advertising platform.
The story of early adoption by teenagers of YouTube, Instagram and Snapchat repeats itself with TikTok. Ask anybody on the street "Who is using TikTok?" and they would reply "Of course teens!". The thing is – it is not necessary truth, in fact the platform has not being solely used by Gen Z.
Today's guest is Andre Kempe, founder of Admiral Media, which now offers app brands the ability to launch TikTok ad campaigns to drive app installs. Andre covers multiple topics, giving a holistic view on video advertising  for mobile apps today.
Today's Topics Include:
✔️ App Advertising: Make TikTok video ads; image ads are not recommended/relevant
✔️ Career Changes: Dynamic advertising, creatives, quality, and mobile developed quickly
✔️ Attention Span: Short videos and willingness to consume creatives dominate advertising
✔️ Ages/Audiences: Which channel has massive reach, more likes, and less competition?
✔️ Real-life Testimonials: Creators and viewers gain/give attention and generate followers
✔️ Brand Advertising: Super-effective reach and frequency ads are possible
Links and Resources:
Tweets/Quotes by Andre Kempe:
"I grew up in a world with no mobile phones. I come from eastern Germany. We didn't even have bananas."
"TikTok is dominating, at the moment, because the creators found a channel that was just massive in reach, and there was just literally not a lot of competition at the very beginning."
"You reach an audience that is not over-advertised yet, and you have quite exclusive access to this audience on a different day at a much cheaper price level. It's absolutely worth the effort."
Follow the Business Of Apps podcast